Weber Reported Strong Quarterly Momentum And Appears Undervalued (NYSE:WEBR)
Weber Inc. (WEBR) reported strong momentum in the last quarterly report. Management announced specific actions to modify its manufacturing and transportation operations to fight incoming inflation. In my view, if Weber opens new hubs like the new manufacturing facility in Europe, and acquires more competitors, I would expect sales to trend north. Under my best-case scenario, I believe that the company could reach a target price of $30. I obviously see some risks, but in my view, the upside potential appears more significant than the downside risk.
Weber
Founded in 1893, Weber presents itself as the leading outdoor cooking company in the global outdoor cooking market.
With more than 65 years in the same industry, I believe that management has access to significant know-how that other competitors don't have: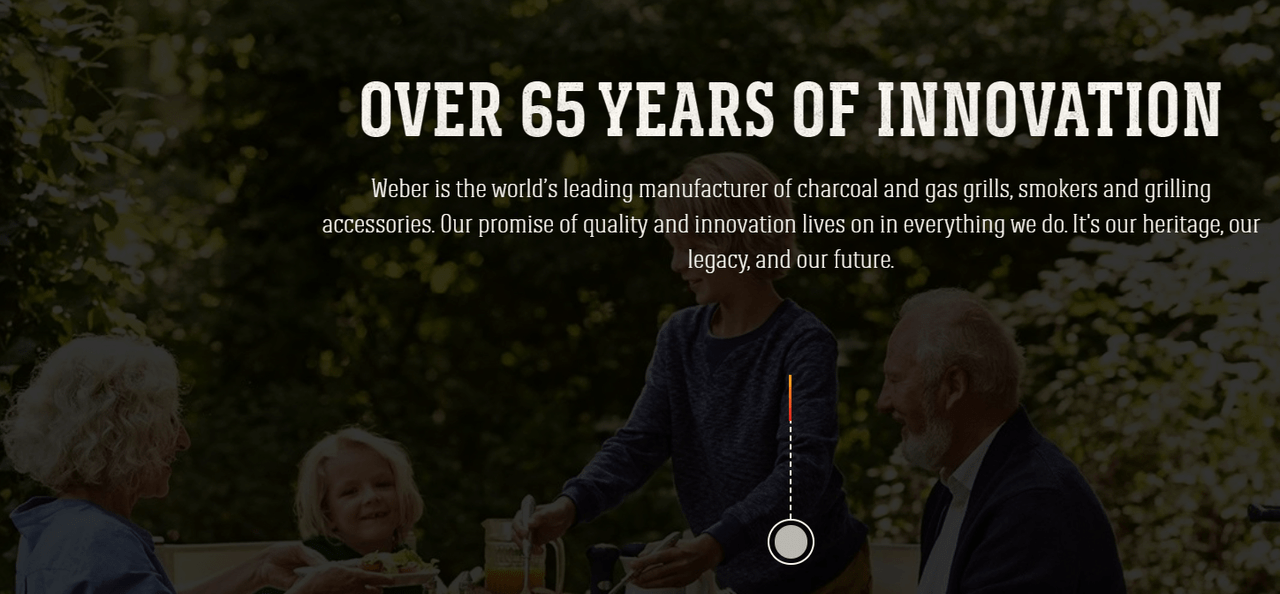 The list of products is extensive, so there is certain diversification. Weber's products include traditional charcoal grills, gas grills, and pellet and electric grills. The most remarkable is that Weber Inc. sells products in more than 78 countries, which offers substantial geographic diversification. As a result, we could expect the company's EBITDA and FCF to be a bit more stable than that of competitors who focus only on the United States market.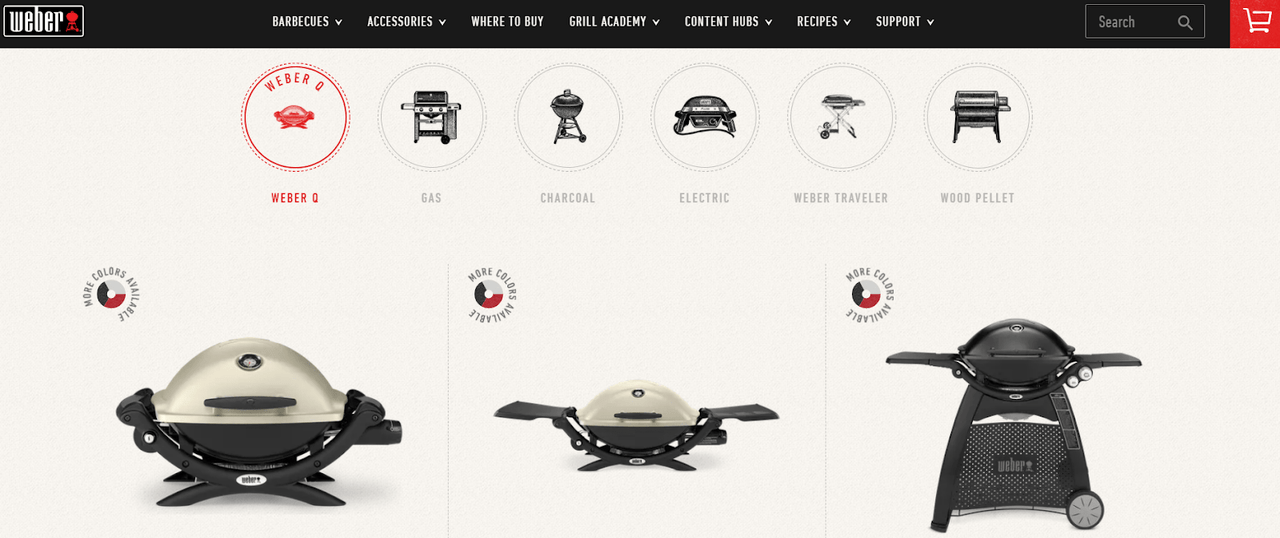 Base Case Scenario After Reviewing The Most Recent Quarterly Report
After carefully assessing the recent quarterly release, I decided to assess the company's future financial figures. The numbers and the sentiment transmitted by management improved as compared to that reported in 2021. First of all, management delivered solid sales performance in line with its objectives for the 2022 season. Even navigating a period of inflation and supply chain challenges in the quarter, management noted strong momentum, thanks to new product innovations. In my view, if momentum continues and revenue growth does not slow down, the fair valuation would most likely trend north:
Third is strong momentum and progress on our five key growth strategies, particularly the exciting new product innovations recently announced for the 2022 season. Source: 10-Q
The company also promised a return to normal outdoor cooking seasonality patterns and announced a number of operations to increase FCF margin. In my view, if management is successful in making changes in its manufacturing and transportation processes, we could see a significant increase in Weber's fair value:
We do believe we're now seeing a return to normal outdoor cooking seasonality patterns and retailer order timing with fiscal Q2 and Q3 being our peak sales quarters. Source: 10-Q

First, we're driving numerous activities in our manufacturing, sourcing and transportation operations to manage costs down, including shifting manufacturing for certain product lines to different sites in our network. Source: 10-Q
In my view, some of the company's increase in revenue could be explained by the fact that Weber is opening new stores. Besides, management is also launching a new social influencer programming, which will most likely generate both traffic and online sales from 2022:
We opened seven new Weber stores in the first quarter alone, bringing our total store count to 200 globally, and we're on track to launch substantial weber's site upgrades as well as new social influencer programming in all global markets in Q2. Source: 10-Q
Finally, what matters the most, in my view, is the recent guidance given by management, which includes Adjusted EBITDA between $275 million and $325 million. I tried to be as conservative as possible and included 2022 EBITDA close to $289 million. My numbers also included conservative sales growth so that 2023 sales would stand at $2.17 billion, and 2026 revenue would be equal to $2.7 billion. If we also assume an effective tax rate of 22%, 2026 EBITDA would stay close to $377 million. Finally, I also added conservative D&A, changes in accounts receivables, changes in inventories, payables, and CapEx around $63 and $51 million.
The resulting free cash flow would grow from close to $151 million in 2022 to more than $291 million in 2026. Notice that my expectations for Weber Inc. are not far from the figures reported by other investment analysts.
My CAPM model includes a beta of 1.1, cost of equity of 7.3%, and cost of debt of 5.8%, which imply a WACC of 6.7%. If we sum the FCF from 2022 to 2026 and use a discount of 6.7%, the implied valuation would be equal to $1 billion: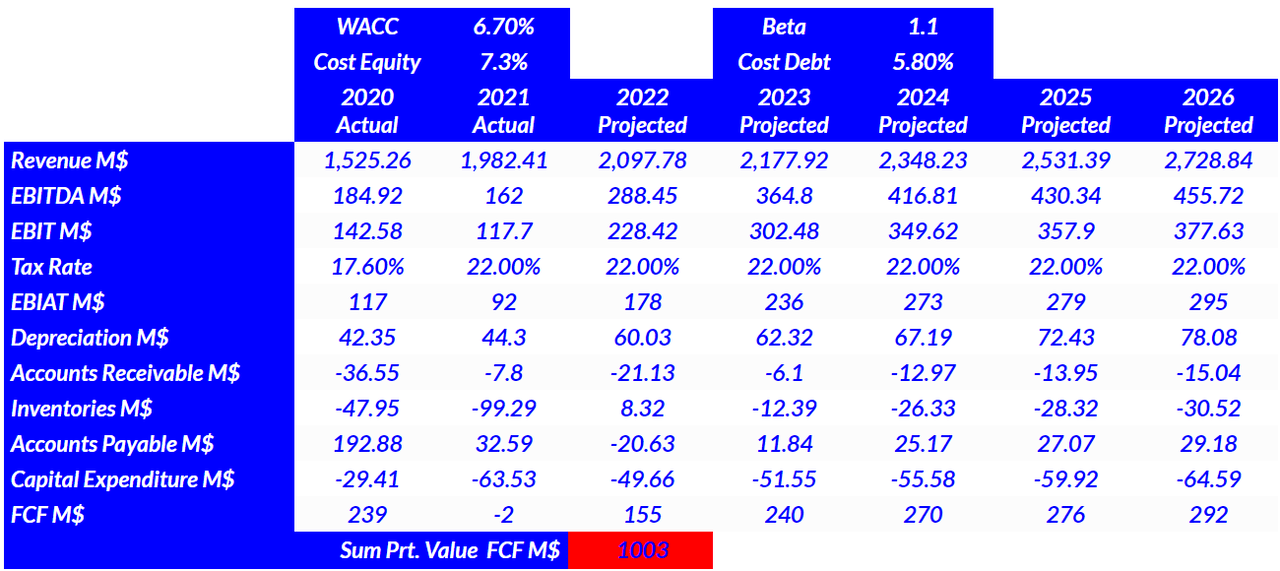 For the calculation of the exit multiple, I took a look at WEBR's EV/EBITDA multiple, which stands at approximately 5.59x, and the sector median, which stands at 9x. Given the previous sentiment transmitted by management, the new stores, and initiatives in the supply chain, I would assume a 2026 EV/EBITDA around 6x and 12x: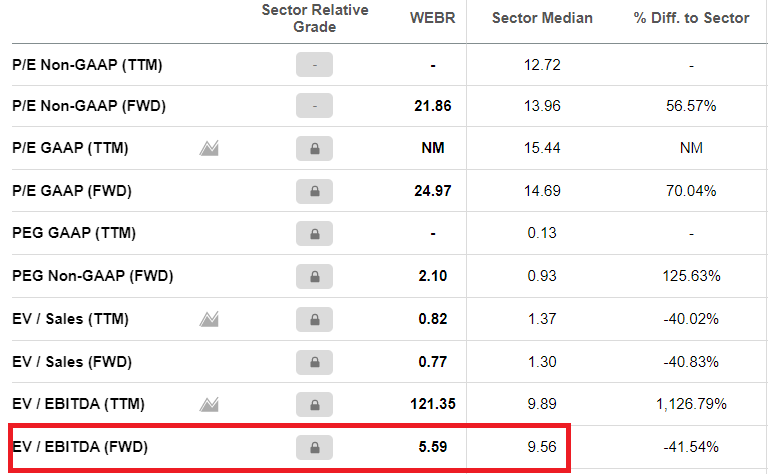 Putting everything together, using an EV/2026 EBITDA multiple of 6x, the terminal value would stand at $2.7 billion, and the equity value would be close to $2.09 billion. The implied share price would be $7. By using an EV/EBITDA of 12x, my results included an equity valuation of $4.3 billion and an implied share price of $15. If we take into account that supply chain risks may have disappeared in 2026, I would say that an exit multiple of 12x is more likely, so the company's fair price would be closer to $15: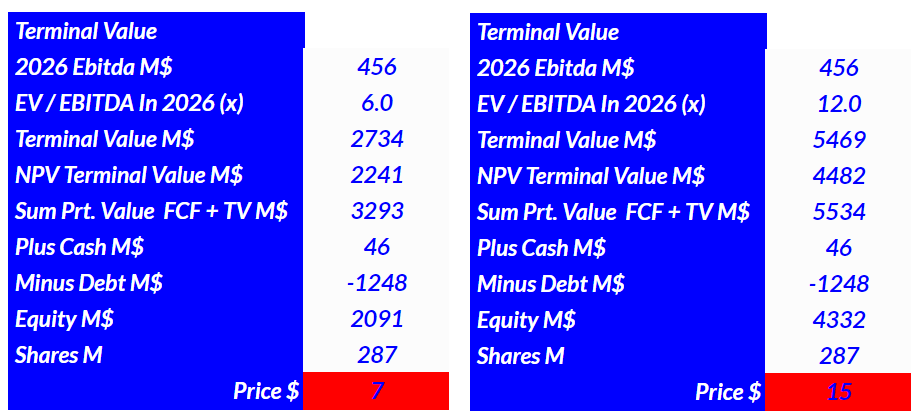 Best-Case Scenario Would Include New Acquisitions And Organic Growth In New Countries
After the acquisitions executed in 2021, I am quite optimistic about future inorganic growth. Note that Weber acquired revolutionary technologies that will most likely enhance sales growth in the coming years.
With the acquisition of June Life, Inc., Weber obtained a new technology to enhance the outdoor cooking experience. Besides, with the acquisition of R. McDonald Co. Pty. Ltd., Weber will most like obtain know-how about how to engage in sales and marketing in Australia and New Zealand:
On January 12, 2021, Weber acquired all of the outstanding stock of June Life, Inc. ("June"), a smart appliance and technology company. The acquisition aligns with the Company's strategy of revolutionizing the outdoor cooking experience through connected products, services and experiences that make grilling the perfect meal simple with our smartphone-enabled step-by-step cooking experience. Source: 10-k

On April 1, 2021, we acquired substantially all of the operations of R. McDonald Co. Pty. Ltd. ("RMC"), a sales and marketing company in Australia and New Zealand, for approximately $26.3 million in cash and $14.6 million in equity. Source: 10-k
I do believe that we will see more M&A growth because management promised to remain alert about new synergistic acquisitions. With more M&A operations, I would be expecting more sales growth and more FCF margins:
We remain open to synergistic acquisitions that enhance our product line, geographic reach, market share and operational capabilities. Source: 10-k
Under the best-case scenario, I would also expect more manufacturing and distribution hubs in Europe like that recently opened in Zabrze, Poland. In my opinion, with more than $46 million in cash, Weber Inc. has liquidity to open new manufacturing facilities all over the world. If management continues to do so, sales growth will most likely increase not only because capacity increases but also because the company would be closer to clients.
The strategic location of this facility will increase our manufacturing capacity, deliver working capital efficiencies, improve demand responsiveness in EMEA, reduce manufacturing and transportation costs and further diversify our global manufacturing footprint. Source: 10-k
Under this scenario, I believe that it is fair to expect revenue of $2.5 billion in 2023, close to $3.5 billion in 2025, and $4.35 billion in 2026. I also assumed 2026 EBITDA of $655 million and an effective tax rate of 20%. With 2026 D&A close to $125 million, inventories close to $115 million, and capital expenditures close to $100 billion, 2026 FCF would stand at approximately $380 million. I summed all the free cash flows from 2022 to 2026 and used a WACC of 5%, which resulted in $1.165 billion: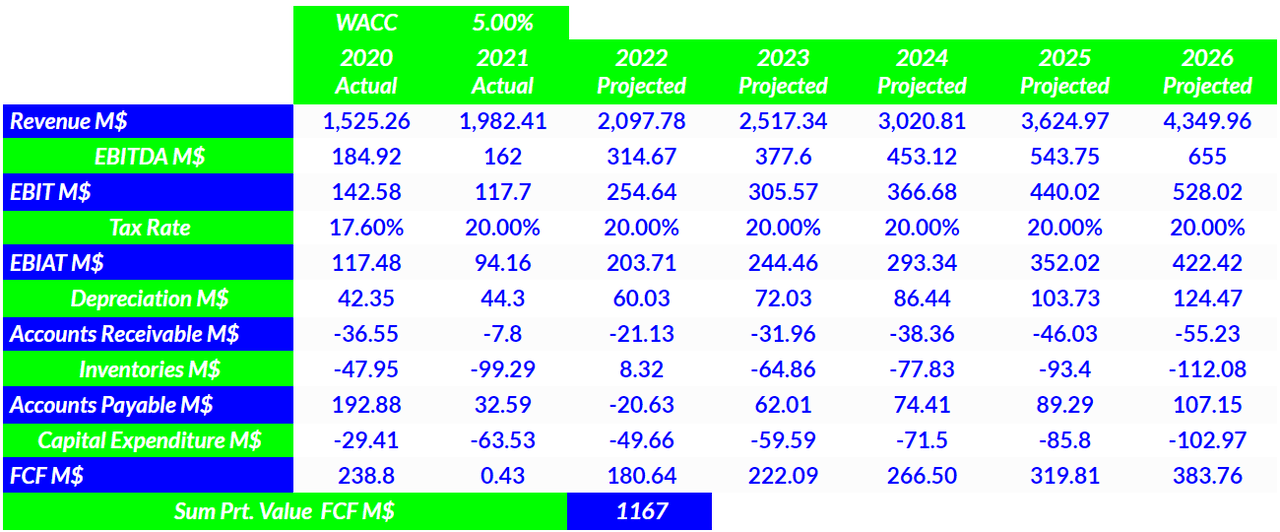 In my view, if the company delivers the previous figures, most investors will be interested in acquiring shares. With this in mind, I believe that Weber's EV/EBITDA multiple will increase. If we use an EV/EBITDA of 15x, the implied equity would be equal to $8.5 billion, and the fair price would be $30: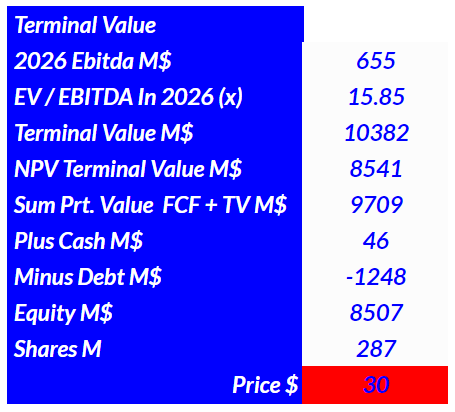 Balance Sheet: The Company Has A Considerable Amount Of Debt
As of December 31, 2021, Weber Inc. reported $46 million in cash, $1.69 billion in total assets, and total liabilities worth $1.86 billion: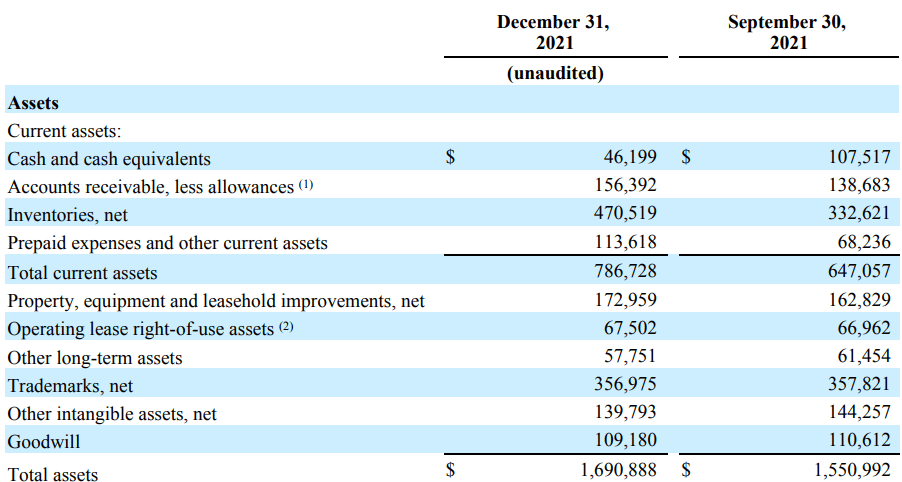 The company's total amount of debt does not seem small with $982 million in long-term debt. With that, I wouldn't worry much because I expect 2026 EBITDA to be close to $655 million. In my view, with the FCF to be generated in the next three to four years, Weber will most likely be able to pay its debts: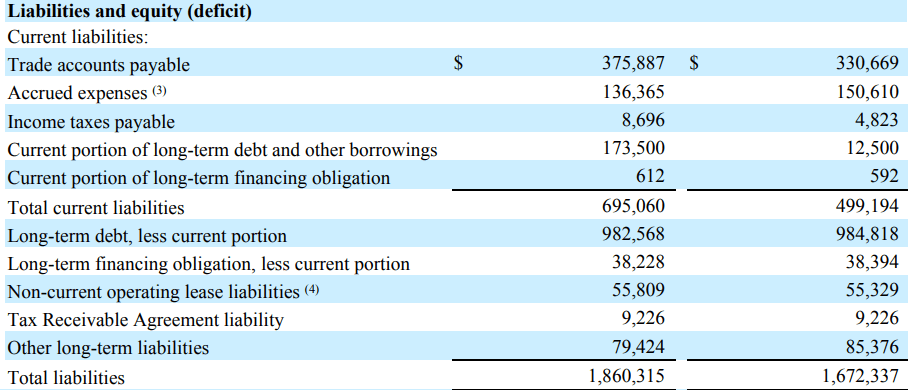 Risk Factors
Weber Inc. needs to successfully forecast customer preferences in order to report sales growth and growing FCF margins. New products will also need to be successful. Weber was very clear about potential risks arising from a failure of its business model. Unsuccessful product development would lead to a decrease in business expectations and a decline in the stock price:
Our success is also dependent on successful new product development undertaken in response to such changes, including in the outdoor cooking product space and the digital space, as well related product launches and relaunches. Source: 10-k
Shareholders may also suffer from negotiations with labor unions. If management has to increase salaries in order to retain talent, FCF margins could decline. The annual report was very clear about the company's collective bargaining agreements:
We are subject to separate collective bargaining agreements with certain labor unions in the United States, including with respect to employees in our Huntley, Illinois and Palatine, Illinois facilities, and works councils in Europe, as well as various other commitments regarding our workforce. Source: 10-k
I ran a DCF model including the previous risks, with an exit multiple of 5.5x 2026 EBITDA and a WACC of 10%. The result is an implied price of $5. Given these results, which I consider quite unlikely, and the previous fair price from previous case scenarios, I believe that there is more upside potential than downside risk: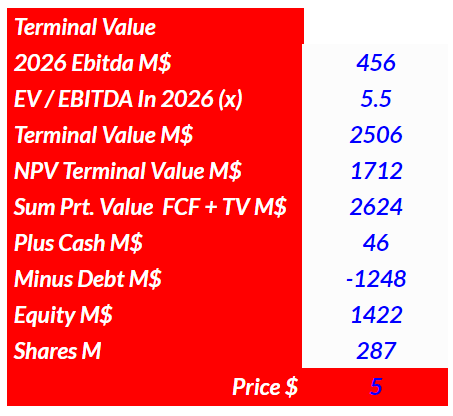 Conclusion
Weber Inc. reported strong momentum in the last quarterly report. Management also announced changes in its manufacturing and transportation processes to fight any future supply chain issue. With recent acquisitions and a new manufacturing hub in Europe, I would be expecting both inorganic and organic growth. In sum, under the best-case scenario, I believe that Weber's fair price could stand at approximately $30. I would expect certain risks, but the downside risk does seem limited.