Vanguard World Stock ETF: Switch To Shorter-Term Investing (NYSEARCA:VT)
If we pull up a chart of Vanguard Total World Stock Index Fund ETF Shares (VT), we can see that shares are now trading firmly below the ETF's major moving averages. Some profit-taking in VT had to be expected sooner rather than later given the significant gains the fund has made over the past 24 months or so. Considering the double top reversal pattern which recently played itself out in VT as well as the major overhead resistance that now comes as a consequence of this, we recommend that investors continue to look at VT from the long side but more from a short-term perspective. From our standpoint, we would need to see the share price take out the 30-day moving average ($101.18) convincingly before we would consider putting long deltas to work in here.
Before we get into the reasons why we are still bullish on this ETF, let's touch somewhat on the benefits of short-term investing over its long-term counterpart. As noted, the main reason why short-term (once we get a bottom) is more advantageous at present is the overhead resistance which is now prevalent on the technical chart. Here are other points also that aid the short-term investor in particular circumstances.
New investors can cut their teeth quickly in this industry by trading over the short-term instead. Multiple decisions over shorter periods bring badly needed experience to the table which would not have been garnered otherwise.
In terms of a business in this industry, short-term investing enables the investor adjust a respective position when something fundamentally or technically has changed. On the contrary, long-term holds are rarely watched as much which means, on occasion, temporary pullbacks can turn into sizable paper losses over time.
Suffice it to say, here is why we believe VT remains a strong short-term vehicle once the ETF gets back to bullish mode.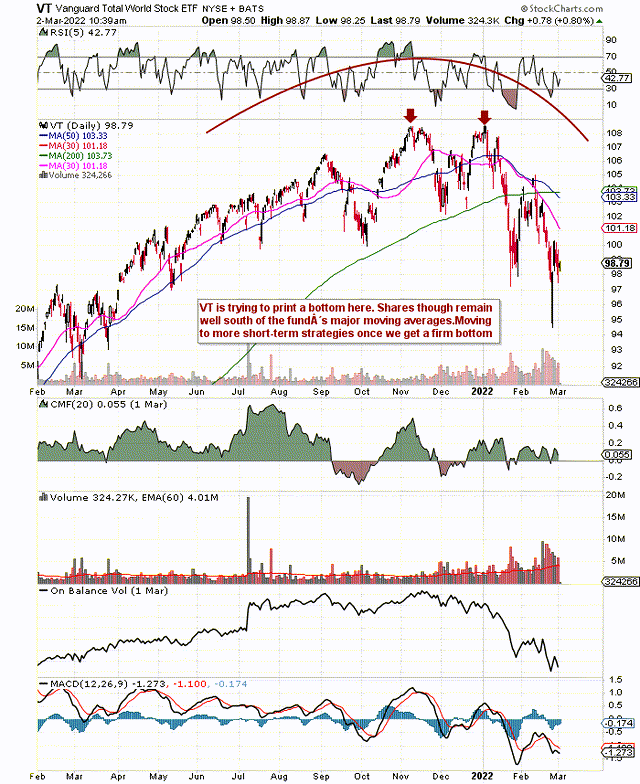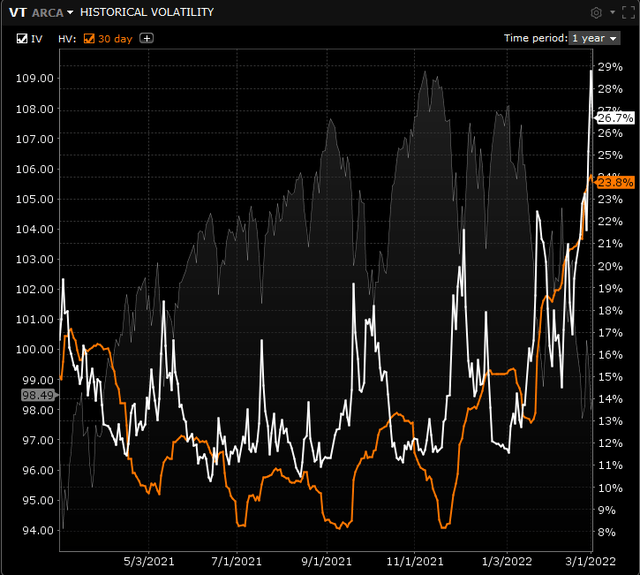 Therefore, to sum up, VT's dividend, liquidity, AUM growth, and low volatility all play into the bullish case for this particular fund. However, given how the ETF's technicals are shaping up at present, we believe investing in this vehicle over shorter timeframes will pay better dividends for some time to come. We look forward to continued coverage.