Upstart: 5 Factors Driving The Stock Down And What The Future Holds (NASDAQ:UPST)
Background
Upstart (NASDAQ:UPST) is down almost 75% after what was supposed to be a strong report in Q3 2021. This was a report that the business grew over 200%. Investors need to understand the factors driving down the stock.
I was bullish on UPST's stock in 2020 and 2021 at a price of around $120. One of my first articles on Seeking Alpha was written about the upcoming fintech credit player; past article can be found here.
What does Upstart do? Upstart is a leading AI-powered lending platform, using a machine learning model to assess the creditworthiness of a consumer and to determine their ability to pay back the loans with the ultimate goal of making credit assessments more accurate. Upstart uses around 1,600+ data points and over 10-million of trained data around repayment events to accurately identify and measure credit risks.
Five Factors driving the decline
1) Macroeconomic factors that could affect revenue
There are three primary macroeconomic factors that affect Upstart's business model. a) Quantitative Tapering which could limit institutional investor bids b) Interest rates should drive down loan activity, and c) Consumer sentiment and cyclicality.
First, it is important to understand that Upstart's business model involves a huge component of institutional investors. Over 70% of Upstart's loans are sold to investors/securitized after they are originated. This is a reason why Upstart doesn't hold as many liabilities or loans on their balance sheet compared to the likes of Affirm (NASDAQ:AFRM) which holds these loans on their books. Additionally, Upstart has a strong network of investors on the capital markets who either purchase loans, securities from Upstart's origination, or institutions investing based on asset-backed securitizations. In the latter half of 2020 and 2021 as the market saw record-low interest rates, the risk appetite amongst institutional investors was extraordinarily strong high considering the consumer books were supplemented by stimulus and high-savings rates. Unfortunately, 2022 appears the macro-environment might be the opposite of those years as the quantitative tapering by the Federal Reserve would make borrowing conditions much tighter amongst financial institutions in 2022 compared to the last two years.
Secondly, the Fed has signaled intentions to raise interest rates by three times in 2022 depending on inflation and economic conditions. As a result, higher interest rates suggest less borrowing/fewer spending conditions in the broader economy.
Thirdly, the consumer sentiment index hit one of its lowest amidst the end of stimulus cheques to consumers in the fall of 2021. The score hit 67.4%, this was the lowest since the pandemic started signaling consumer wariness about the pandemic or rising pricing conditions. As a result, the market is not pricing strong loan borrowing activities from consumers or banks.
Consumer Surplus Figures: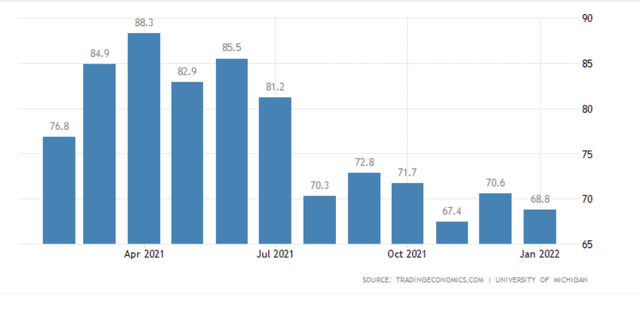 On their conference call, Sanjay Datta spoke about the fact that they were seeing signs of the consumer returning to more pre-pandemic liquidity levels. There are uncertainties around what Upstart's loan growth or default rates were pre-pandemic.
In summary, quantitative monetary tapering and higher interest rates which reduces demand from institutional investors together with negative consumer sentiment are multiple headwinds that have likely contributed the most to the significant downturn for the stock as the market struggles to value them.
2. Mild Revenue Earnings report: Deceleration
The Q3 2021 earnings began the severe decline experienced by the stock. Initially, Upstart guided to $210 million in quarterly revenue at the midpoint. Analysts were expecting $215M. The result came out as $228M beating its expectations shy of 8% and analyst estimates by 6%. Below is a table of the year-over-year revenue growth:
Although they posted 250% YOY Growth and these numbers are phenomenal, the market was hoping for a number closer to $240M due to past heightened expectations.

Below is a table of the quarter-over-quarter revenue growth. The QoQ growth numbers actually reveal the huge deceleration in revenue compared to previous quarters. Notice there was a deceleration in revenue going from 40% to 60% to 18% in the most recent quarter. The expectations were set extremely high and due to the fact that the results came in at 18% sequential growth and the subsequent guide for the next quarter was 16% (which might or might not come in at around 20% QoQ) – as a result of the following, the market had to significantly re-rerate the stock.

Finally, the market was hoping that new loans would be in around 400K, but they came in around 326K loans. Below is a table of their loan growth:

Additionally, some funds were hoping to see sequential net new loans would come in closer to 90-100K since in Q3 they did Net New 117K loans, unfortunately, they came in at 75K.
For some context now, Cross River Bank now originates around 60% of Upstart's volume vs. 79% a year ago. Credit Karma's traffic still accounts for over 49% of Upstart fees.
3. Unpredictability of Fintech and Non-Subscription Business Model
The high unpredictability of the business and the high level of exposure to macroeconomic indicators have made it difficult to value the stock appropriately. Similar to banks or other cyclical industry sectors that have elevated levels of external risk factors exposed beyond the business control, these types of businesses will struggle during periods like 2022 where there are high levels of uncertainty.
The market doesn't have an effective way of gauging the conversion rates based on the number of referral fees based on loan traffic on Upstart.com. Before Q3 Earnings, website data showed that many consumers were visiting Upstart's website, however, the loan conversions are important.
The business is not a SaaS-like or subscription-based business model. The challenge is that every quarter, Upstart must make that effort to start again from zero to earn their top-line growth. This makes the business metrics potentially have high levels of fluctuations.
4. Questions around Competitive Advantage & Optionality in Auto Loans
Another vital question that has arisen amidst the downturn in the stock is to evaluate whether Upstart has enough structurally competitive advantaged characteristics to the business that can enable them to overcome the external environment obstacles. In 2022, the market doubts that Upstart has a strong enough business model and optionality to weather against the macro-economic factors.
In an article I did on Upstart in March 2021, I discussed some key competitive advantages that I believed Upstart had over their competitors:
a) Data Moat & Advanced AI Models: Upstart was one of the first movers within this space within the lending market in the US. Their models are more efficient and effective. The 75% reduction in loss rates combined with over 70% of loans are performed without documents shows how their system is way more advanced than competitors based on key data points.
b) Switching costs: The value to banks is that Upstart's advanced machine learning increases more effective data-driven loans -> leading to lower loss/default/fraud rates -> leading to more loans approved for the right people -> which eventually leads to more money for the financial institutions -> ultimately, more revenues for Upstart. This looping process leads to high switching costs for banks since their platform is so effective and Upstart is embedded into the bank's credit process.
c)The Ease of Use, Build vs Lease: Upstart easily integrates with bank partners existing systems allowing the bank to input their variables and to define their own credit policies. It's a flexible choice for banks. For banks or credit unions to rebuild a model/system to recreate credit decisions is expensive but it's much easier to partner with Upstart to save costs which creates a win-win for banks and consumers.
In 2022, the market has doubts about the sustainability and durability of the following strengths.
Optionality
The market has doubts on whether Upstart has enough optionality in the Auto, Mortgage, and small loans market to capture a meaningful share to support earnings and strong this year. The management team has discussed how they are hoping for auto loans to contribute a decent share to revenue in 2022. The slide-deck below shows some of the highlights from Upstart's last earnings call.
This was a quote from the call on Auto Loans:
Upstart's auto retail product is on track to repeat the funnel gains that the personal loan product has delivered.
Management on the call mentioned that they had powered their first auto retail software loan and they saw triple the number of dealers YoY.
From where we stand it's crystal clear that a huge fraction of these million would-be homeowners are more than credit-worthy and deserve access to an affordable mortgage. This is an opportunity that we're excited about and we'll begin to invest in significantly throughout 2022. While this initiative has a longer time horizon on it, we felt it's important to share our intention right now.
Overall, management remains confident in its ability to ramp up high approvals on Auto, so the business remains a major contributor. Investors should watch this very closely.
Finally, Upstart developed a joint partnership with the National Bankers Association (NBA). The NBA is a nationwide group of minority-owned banks that has over 20+ banking partners with affiliates in 22 states. Upstart's partnership here is to help these institutions for approving smaller personal loans to "help borrowers recover from short-term setbacks, without paying high fees. In 2022, the market will be paying close attention to these different buckets to see how much they can drive future earnings growth.
5. Minor but an important contributor
Since September/October, there has been a relentless high amount of selling by Upstart's largest shareholders. Dan Loeb has sold over $500 million worth of shares. Founder and CEO Dave has also sold shares. Overall, although Upstart's total institutional investor base has grown, the shares of some of the biggest owners have severely affected the price.
Going forward, Upstart will need superior revenue and earnings growth to attract another round of institutional investors to buy shares which will help push the stock. Unfortunately, the process for institutions to build their positions takes time.
What does the future hold? – What we know Now
I continue to be fairly bullish on Upstart's long-term future. While I do not know what the short to intermediate-term holds, I will focus on current evidence of what we know today about their future.
Critically, they have increased the number of banks and credit union partners to 32 compared to 25 in Q2 2021 and only 10 in 2020.
As mentioned earlier, revenue growth estimates are set for a 206% YoY growth rate for the next quarter on Feb 15. Upstart guided to $255-$265M beating expectations. Below are the sequential growth rates for the upcoming quarters. Analysts expect them to grow over 50% in FY 2022 and closer to 30% in FY 2023.
This revenue growth is accompanied by robust EBITDA margins of the mid-to-low 20% which is still remarkably strong.

Valuation
The stock currently sells for a Forward PE Ratio of 50. NTM EV/Sales of 7x and even a price to future free cash-flows of <10. This is all available for a company that could do over $1.4billion in 2022.
The big risk with Upstart is that it is cheap or fairly valued based on the factors discussed above. If all the following indicators happen to continue to be a major headwind, there are always chances the stock goes lower in the short term. However, if your horizon is stretched out a few years out. The current sales and earnings multiple below suggest a decent long-term entry point.
Conclusion
In summary, an excessive level of enthusiasm together with a storm of headwinds has come together at the wrong time to hit Upstart's stock.
The Federal tightening policy, large insiders selling stock, an earnings report that was not able to justify the extremely high expectation set for the stock, the high level of unpredictability with the stock together with questions around its moat have mostly all contributed to the decline.
If those forward metrics for Upstart hold over the next twelve months, the long-term future for UPST should be bright.