U.S. Steel Stock: Consider Forging Ahead With This Steel Producer
First came the COVID pandemic causing a hiatus in the entire construction industry worldwide, then inflation began to steal the show, and now Russia invading Ukraine is the world news du jour. Those events first caused steel prices to crash, and now steel prices, especially in Europe, are skyrocketing, partly due to the pending ban of Russian steel products.
New measures banning finished Russian steel products from entering the European Union are expected to take effect soon and traders have hiked prices as they brace for reduced supply. The EU is a key market for Russian steelmakers — most of which are owned by Russian billionaires — and officials are trying to further pressure Moscow following the invasion of Ukraine.
Last year's passage of the Infrastructure bill was expected to create increased demand for steel and other construction products. But that news, although still in play, was delayed in part by ancillary global economic forces. With the Russian invasion of Ukraine continuing now almost a month later, economic sanctions are continuing to take a toll on exports of products that Russia provides, including steel in addition to other commodities like wheat, fertilizer, and oil and gas.
The increased demand for steel due in part to the pent-up construction demand, is now even greater with the prospect of a reduction in supply from Russia. At the start of 2022, Deloitte described the construction forecast (which in turn affects steel demand) in its report, 2022 engineering and construction industry outlook.
In 2022, as we move into the second year of recovery, the industry has a big role in supporting the nation's growth plan. The Infrastructure Investment and Jobs Act (IIJA), with investments across health care, public safety, and other public infrastructure, is expected to bode well for the E&C firms and is likely to accelerate recovery across the nonresidential segment. The residential segment is expected to stay strong and exhibit similar activity as it did in 2021.
On the supply side of the equation, US steel production has been down since 2020 with imported steel up 43% in 2021 compared to 2020, and only recently has begun to ramp back up, according to the American Iron and Steel Institute who track weekly raw steel production numbers.
Adjusted year-to-date production through March 5, 2022 was 16,324,000 net tons, at a capability utilization rate of 81.1 percent. That is up 2.6 percent from the 15,913,000 net tons during the same period last year, when the capability utilization rate was 76.8 percent.
Now I am not an expert on the steel industry, but I do have an ability to recognize market trends and investment opportunities that arise based on changing economic conditions and market forces. The supply demand imbalance in the steel market is obviously creating an opportunity and the stock market is reflecting the recognition of that opportunity.
As a result, several US steel producers including Nucor (NUE), Cleveland-Cliffs (CLF), Steel Dynamics (STLD), and US Steel Corp (NYSE:X), are seeing a big ramp up in their stock prices, while trading at or near historically low valuations. This momentum trend in steel stocks has been slowly gaining traction over the past six months, and especially since the start of the Russian invasion four weeks ago as shown in this chart. Currently leading the 4 is X with a 63% return versus the other 3 that are in the 45 to 50% range of total price return over the past 6 months.
Foreign steel producers like Vale (VALE), Ternium (TX) and Gerdau (GGB) are also starting to show upward movements in stock prices and offer large distributions, however, because they are foreign owned companies, I am not considering them for my investment purposes or in this comparison.
United States Steel – the Stock (X)
In comparing the 4 different US steel stocks, X is doing the best in terms of recent price performance. It is also the highest rated of the 4 by Quant factors.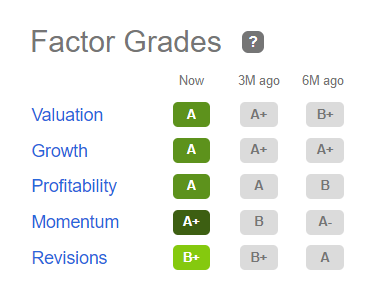 X has a forward P/E of only 3.4 according to SA. But it also has mixed Wall St analyst ratings, mixed buy/hold ratings by authors on SA, and short interest of 15%. The recent runup in price may be taking into account future good news that is now priced in, but upon further investigation I believe that the trend upward in X stock is really just getting started.
X has a market cap of about $9B, the smallest in size of the four that I compared and has been in existence since 1901. They also employ as many workers as CLF, who are twice the enterprise value.
From the investor overview page, the company summarizes how they are transforming their offerings into a world-competitive business, including an established presence in Europe.
United States Steel Corporation, with operations in the U.S. and Central Europe, is transforming itself into a customer-centric, world-competitive, Best of BothSM steelmaker. By combining the best of the integrated and mini mill steelmaking models, U. S. Steel will deliver unmatched process and product innovation for our customers.
I believe that the current global steel supply shortage expands the opportunity that X is already well positioned to take advantage of. I am cautiously bullish on X and would be a buyer under the $35 mark. The investor sentiment has been running very high driving up the market price in the past few weeks. I could see some profit taking drop the price again in the short term (before next earnings report), and that may be the time to load up.
US Steel – 2021 Results and Earnings Revisions
From the 4th quarter and full year 2021 earnings report, X announced record results for the quarter and for the year.
Fourth quarter 2021 net earnings of $1.069 billion, or $3.75 per diluted share; full-year 2021 net earnings of $4.174 billion, or $14.88 per diluted share.

Fourth quarter 2021 adjusted net earnings of $1.038 billion, or $3.64 per diluted share; full-year 2021 adjusted net earnings of $3.780 billion, or $13.48 per diluted share.

Fourth quarter 2021 adjusted EBITDA of $1.728 billion; full-year 2021 adjusted EBITDA of $5.592 billion.

Liquidity of $4.971 billion, including cash of $2.522 billion.
During the 4th quarter of 2021, the company repurchased $150M in common stock under the previous $300 million buyback authorization, and then extended another $500 million repurchase program to start in Q122.
Longer term, it seems that X has many of the pieces in place to position them for the next decade with increasing revenues, a new technologically advanced mill coming soon, and the 2021 acquisition of Big River Steel, however, some analysts cannot see past the drop-off in earnings expected after 2022, beginning with a YOY decline in 2023. The good news is that the revision trend has been upward so far for 2022, so perhaps by the end of the year those 2023 estimates will begin to see upward revisions, too.
But on March 17, X provided Q122 guidance that was below consensus analyst estimates of adjusted EPS of $3.77, to a range of $2.96 – $3.00. Regardless of that news, the stock surged higher in the days following, most likely because of the following statements that were included in the news release by President and CEO David B. Burritt:
At the beginning of the year, we communicated expected market softness for the first quarter, along with the normal seasonal impacts related to our mining operations. We are exiting the first quarter with spot business accelerating, steel prices rising, and the longest backlog at our Big River Steel operations since October. Additionally, as a result of continued execution of our differentiated commercial strategy, we are realizing significant upside on our fixed price contracts. We expect improving market conditions to continue into the second quarter as seasonal demand picks up and buyers begin to shift their attention to a more reliable, regional steel supply given the geopolitical risks and cost volatility which has increased in recent weeks.

Today's market dynamics reinforce what makes U. S. Steel's business model unique. Our low-cost, captive iron ore assets in Minnesota are a sustainable competitive advantage that cannot be replicated by the competition. We are increasingly translating this competitive advantage to our growing fleet of electric arc furnaces. We are building a pig iron machine at Gary Works to supply Big River Steel with up to 50% of its ore-based metallics needs by the first half of 2023 and will continue to identify additional opportunities to broaden our metallics strategy.
The news release also indicated that the company had repurchased $100 million in common stock (under the new authorized buyback program) and are authorized to purchase up to approximately $550M additional as of March 17, 2022.
Burritt also had this to say about guidance for the European segment, which also seemed to please investors as the shares continued to climb in price since March 17.
The European segment is expected to deliver adjusted EBITDA approaching fourth quarter levels and is expected to be the third best quarterly adjusted EBITDA. Steel prices and demand were stable throughout January and February and our European segment benefited from having its third blast furnace back on-line in February after a 60-day planned outage. Demand remains healthy from our facility in Slovakia in March, in light of the conflict in Ukraine, and our risk mitigation plans are working as we currently have inventory on site or in-transit to continue meeting customer demand. Alternate sources of supply are underway to continue meeting demand as we closely monitor the rapidly changing geopolitical situation.
Strong 2021 and Bullish Expectations for 2022
The company is bullish on their prospects for 2022, building upon a highly successful 2021, which investors did not reward them for until recently. In the Q421 earnings presentation they used the tag line, "Advancing towards our Best for All future, 2021 Successes Creating 2022 Opportunities".
The company delivered record financial performance in 2021 as shown in this slide from the Q421 presentation from January 28, 2022.
Due to structural demand factors that result in accelerated demand for higher fixed price OEM contracts, and enhanced partnerships with existing customers, X plans to build on the momentum from 2021 and forge ahead into 2022 with a disciplined capital allocation. They renewed annual fixed price contracts for flat-rolled segments resulting in higher realized selling prices in Q122. The company reduced debt to about $4B at the end of 2021 compared to LTM EBITDA of $5.5B, resulting in a leverage ratio of 0.7.
Risks and Challenges
The challenges of transitioning to less capital-intensive and lower carbon production capabilities are some of the factors that could detract from the company's rosy plans for expansion in 2022 and beyond. The competition faces similar challenges, and each is addressing them in various ways. The new mini mill in Arkansas is one approach that X is taking. Another approach is an initiative that X is involved in along with several other business in a new alliance launched in February to investigate a hub concept for carbon capture and hydrogen production.
The hub concept will include a focus on carbon capture, utilization & storage (CCUS), as well as hydrogen production and utilization. This large-scale, regional approach will require new levels of public-private partnerships across borders and sectors.
Other risks include potential impacts to the European operations if the war in Ukraine expands into other NATO countries. Of course, if that happens there may be bigger issues to worry about. For the moment the USSE segment seems to be performing well and the outlook is improving so far in 2022.
Another risk to consider is the commodity nature of steel as well as seasonality of spot prices and the extreme price fluctuations that can occur. It takes a large capital investment to build out new facilities, and it can take years to recover that investment, so a disciplined capital allocation strategy is critical. The management team at X appears to understand this enigma and are taking steps to mitigate the long-term risks while capitalizing on short-term steel spot price increases.
Conclusion
I began to look into steel stocks late last year and identified Nucor as a growing value pick for 2022, which I wrote about in this article that was published in January. Since that time, I also started to follow CLF and that led me to look into other steel stocks including STLD and now X. I really like CLF as well but have not done a deep dive on that stock.
And I am not convinced that X is the very best long-term investment in a US based steel stock, but I do think that right now it offers the best risk/reward profile based on current market conditions and geopolitical events that are impacting the steel industry. I would love to hear others' thoughts as I have made a personal investment in X and believe that it is a good decision, but I can be persuaded to believe otherwise. I present the facts as I see them, but I have not performed super-detailed research so if I missed anything important, please let me know in the comments section.