Two Harbors Stock: Betting Against The Numbers (NYSE:TWO)
Two Harbors Investment Corp. (NYSE: TWO) is an internally managed real estate investment trust founded in 2009 and located in Minnesota and New York. The company started as an external management corporation in 2009 and completed its transition into an internal management corporation in 2020, which enhances transparency and further aligns its goals with the goals of other stakeholders. It has grown into a leading residential mortgage real estate investment trust and has distinguished itself as a leading mortgage (REIT) and driven its growth through its unique strategy of pairing Agency residential mortgage-backed securities (RMBS) with mortgage servicing rights (MSR), robust and sophisticated risk management practices, dedication to stockholders' engagement and transparency, and commitment to the highest standards of corporate governance.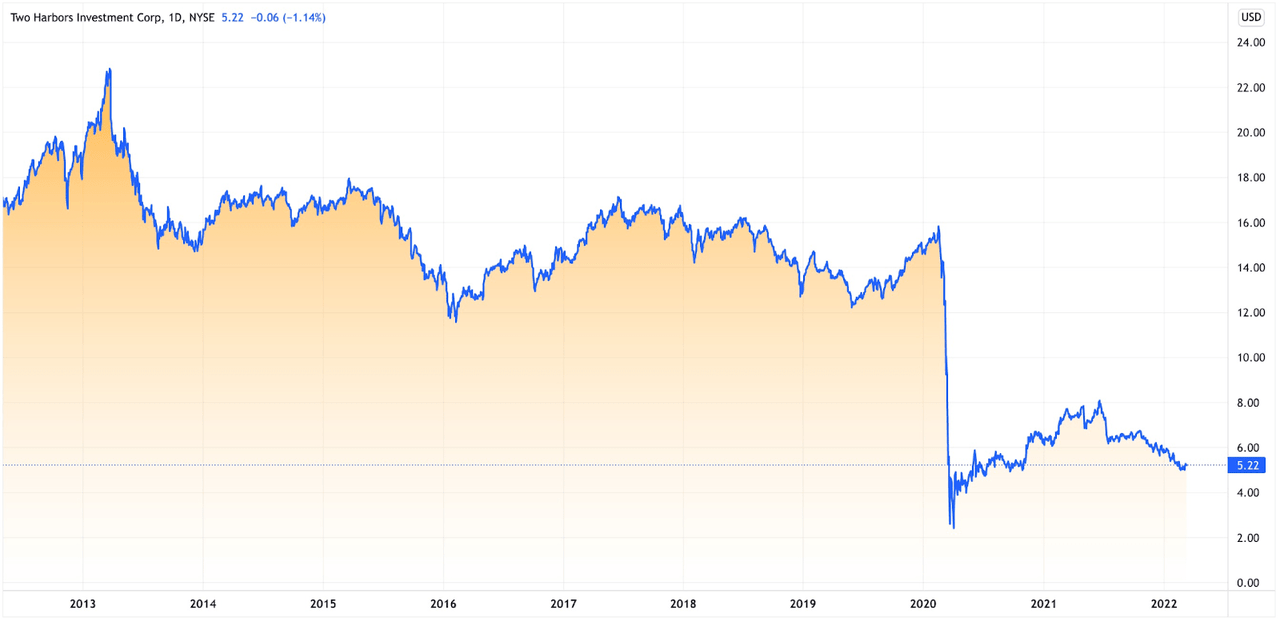 As one of the major players in the REIT market, Two Harbors is certainly one company to look out for, even as the entire industry recorded net losses in the final quarter of 2021. We will take a look at how Two Harbors' investment corporation can bring profits that are capable of attracting investors into taking a bullish position.
Two Harbors Investment –

Transition and Overview

Two Harbors Investment Corp. began with a differentiated hybrid approach of investing in agency and non-agency RMBS and sophisticated risk management and hedging in 2009 with a capital of $124 million. In 2010, the company steadily grew its marketing capitalization and raised $235 million through two common stock offerings. In 2011, it transferred its common stock listing to the New York Stock Exchange, announced its plan to establish a mortgage whole loan securitization program focused on price jumbo residential loans, and also began investing in single-family residential properties, holding the properties for investment and renting them for income.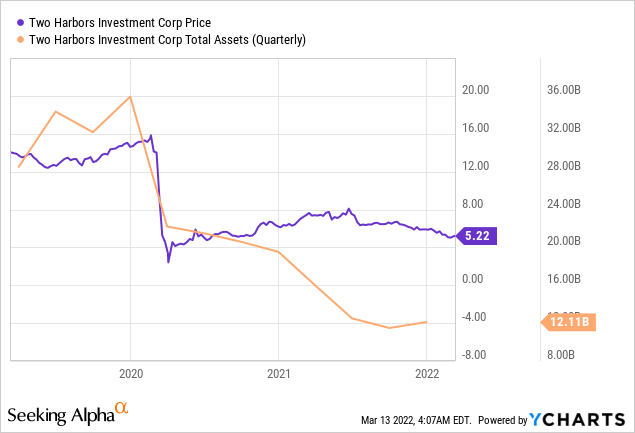 The corporation is one of the largest investment corporations on the New York Stock Exchange today. It operates as a real estate investment trust for U.S. federal income tax purposes. To qualify as a REIT, it was required to meet certain investment and operating tests and annual income distribution requirements. The corporation has kept up with its good records and annual reports in the stock market, which is very accountable and transparent. Its market summary shows an impressive record of revenue and net income generated. As of the 31st of December, 2021, the corporation had a portfolio of $13.6 billion, total assets of $12.1 billion, and total equity of $2.7 billion.
Two Harbors'

Annual Report

The annual summary reported a book value of $5.87 per common share compared to $7.63 on December 31, 2020, representing a 14.2% return on book value, and returned total dividends of $0.68 per common share, equivalent to an average dividend yield of 10%. The company acquired an $88.3 billion unpaid principal balance of MSR through flow and bulk channels, optimized liability, and capital structure. It also redeemed $75 million series D and $200 million series E preferred shares. It issued 70 million common shares for approximately $450 million net proceeds and issued a $287.5 million principal amount of 5-year convertible senior note due 2026. Two Harbors also repurchased and retired $144 million of convertible senior notes due in 2022.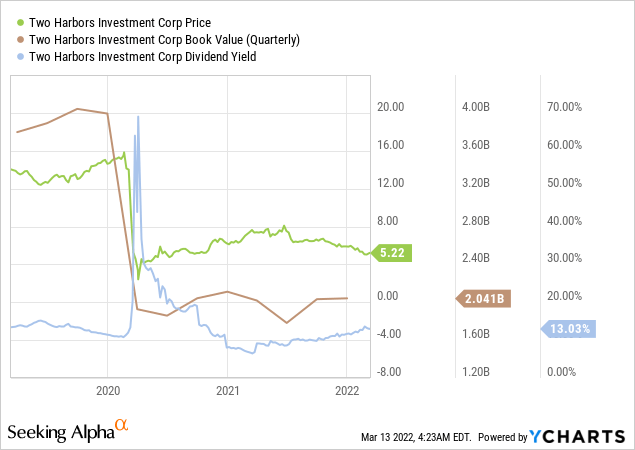 At the end of 2020, Two Harbors had $15.1 billion of outstanding balances under repurchase agreements with 20 counterparties with maximum net exposure to any single lender of $98.1 million, or 3.2%, of stakeholders' equity. On December 31, 2021, it had $7.7 billion of outstanding balances under repurchases agreements with 20 counterparties with maximum net exposure to any single lender of $354.0 million, or 12.9%, of stakeholders' equity. The final quarter reported $5.87 per common share, representing a 5.6% quarterly return on book value, and earnings available for distribution of $73.3 million, or $0.22 per weighted average basic common share. The annual report also declared a fourth-quarter common stock dividend of $0.17 per share, generated a comprehensive loss of $128.6 million, representing an annualized return on average common equity of 24.7%, and its continued strength in mortgage servicing rights flow program offset the impact of fast prepayment speeds.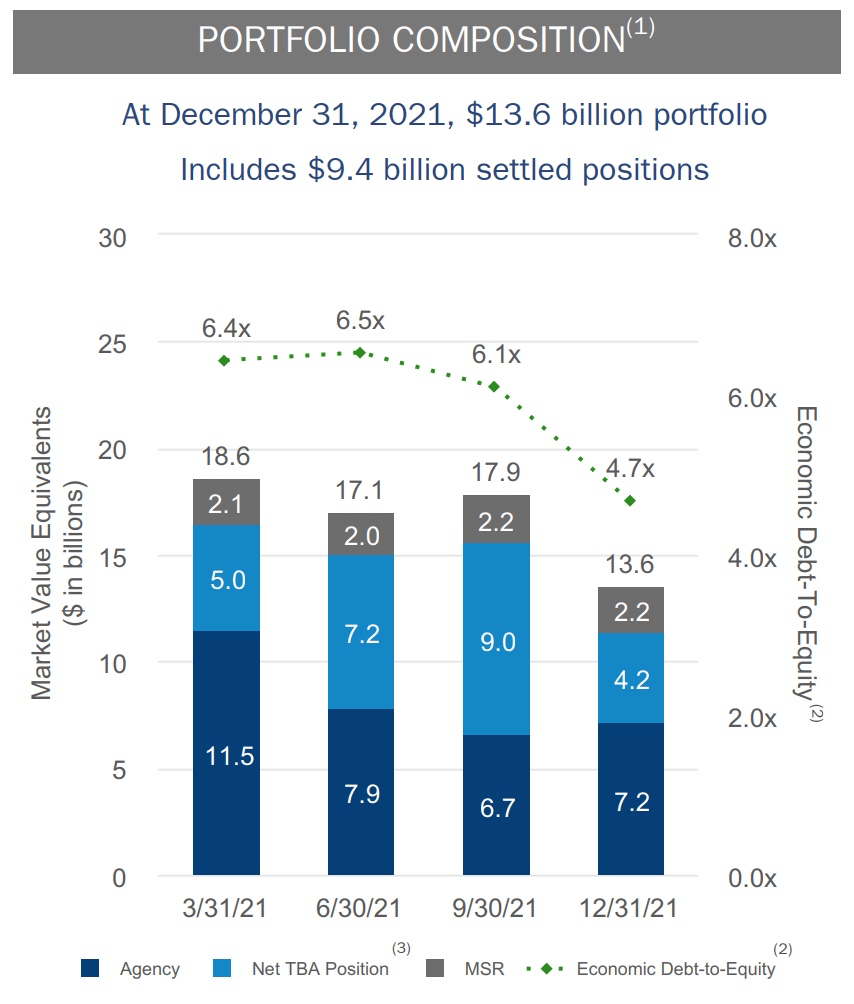 MSR's portfolio was essentially flat, at $2.2 billion with acquisitions replacing runoff, and the agency RMBS increased slightly to $7.2 billion. In anticipation of wider spreads caused by more active Fed policies, RMBS was sold in early December, reducing leverage from 6.1x to 4.7x. Additionally, options were utilized to reduce spreads while maintaining carry and convexity in the portfolio. The corporation's MSR portfolio growth was flat, with new volume replacing run-off, and the MSR price was unchanged at 4.2x as long end rates ended roughly unchanged. Loans in forbearance continued to decline and accounted for less than 1% of MSR portfolio by loan count. The investment corporation generated an estimated REIT taxable income of $63.9 million in 2021. In the same year, it distributed declarations for tax purposes totaling $256.2 million, which consisted of distributions to common shares of $192.5 million, $0.68 per common share, and distributions to preferred shares of $63.7 million. This marked a significant improvement from the second quarter, which saw massive losses, and demonstrated the company's ability to see through the losses in the final quarter at a more reasonable pace.
TWO – Outlook & Investments
Looking ahead, the corporation realized prepayment speeds in 2021 were much faster than expected due to home price appreciation, increased use of property inspection waivers, remote notarization, and program changes by the FHFA. Prepayment speeds are expected to slow significantly as rising rates and the re-striking of the mortgage universe have pushed the financeable share of loans to 11% as of the end of January 2022. Continuing this trend is 3.5% in coupons that are expected to slow from 33% to 20% CPR and 4.5% from 34% to 23% CPR. Slower speeds are expected to dramatically reduce runoff and meaningfully increase cash flow in the MSR portfolio.
High volatility and spread widening impacted Q4 figures. They were further made difficult by the challenges in RMBS investment, yet this wasn't enough to change the company's ability to manage its assets. Investors will find many encouraging factors, including net income recovering from the $1.706 billion dip in 2020 to a more reasonable $1.288 billion appreciation in 2021. The company has also expressed enthusiasm in their paired Agency + MSR strategy, which involves investing more capital, even as the Federal Reserve continues on the path of quantitative tightening.
Conclusion
Two Harbors Investment Corp. drives attractive long-term risk-adjusted total returns and leverages its core investment strategy, which pairs Agency RMBS with MSR intending to deliver attractive risk-adjusted returns to its shareholders over the long term. This supports a more optimistic outlook for the company, despite the losses registered in the previous quarter, which were also shared with competitors in the industry.
From the corporation's market summary, annual reports, profile, overview, and history, it is proven that Two Harbors is indeed a very profitable company, capable of ensuring that its stockholders get their returns accurately as per share. The transitioning of the company to internal management has encouraged transparency and alignment with the goals of other stakeholders, which is why investors should pursue a bullish position.