Twilio Stock: Solid Earnings, Cheap By Growth Standards, Buy Now (NYSE:TWLO)
Reversing last quarter's disappointing results, Twilio (TWLO) reported a stellar quarter and provided guidance ahead of estimates. After the results, the stock is up nearly 20%. We continue to remain bullish on Twilio, and we recommend investors buy shares. Twilio's next-generation communication software platform is fast becoming an industry standard. Driven by bi-directional messaging platforms and newer application services such as Segment, Flex, and Zipwhip, we expect Twilio to grow to about $7.7 billion in revenue by 2025. The core messaging platform is expected to grow at least 30%+ for the next three years. Layering in higher-growth products such as Segment, etc., which are growing north of 50%, we believe $7.7 billion in revenue by 2025 is not a stretch. The company also expects to become Non-GAAP profitable in 2023. Twilio shares are cheap at the current levels, and we believe the risk/reward is favorable to investors. Therefore, investors should back their trucks up and buy shares here aggressively.
Allround great quarter
Twilio reported revenue of about $843 million versus the consensus estimate of about $768 million. Organic revenue growth during the prior quarter was 34%, versus the consensus of 32%. Organic revenue was $685 million and was up from $606 in the preceding quarter. Excluding the political spending that drove revenue F4Q20, the organic revenue grew 39% during the quarter. EPS was -$0.20 versus a consensus of -$0.22. More importantly, Dollar Based Net Expansion was again 130%, excluding the political spending from the prior election year. The following chart illustrates the company's total and organic revenue growth rates.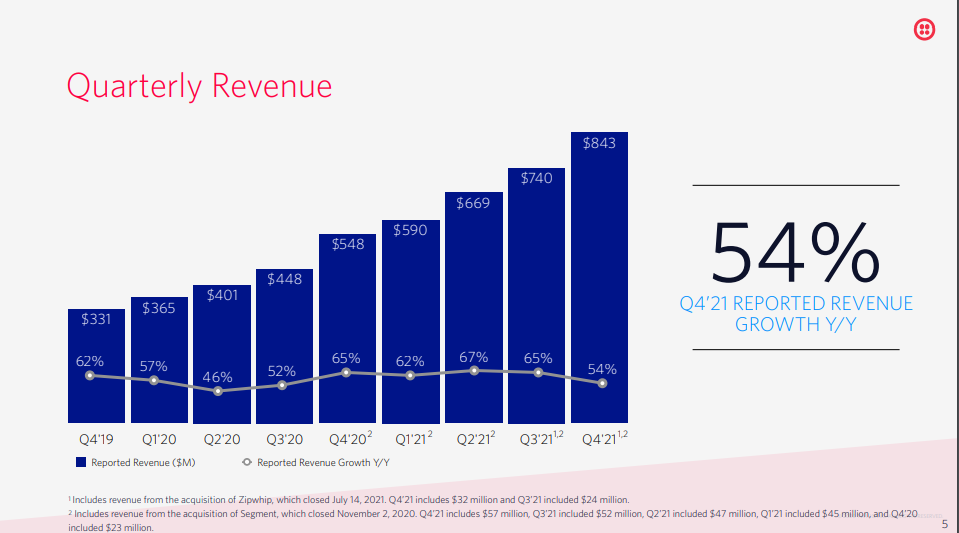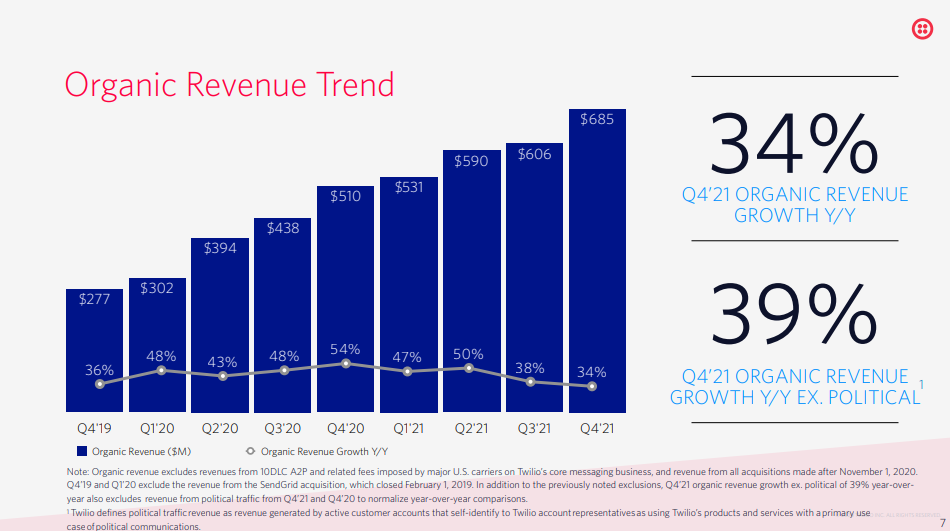 The following table illustrates results versus consensus estimates.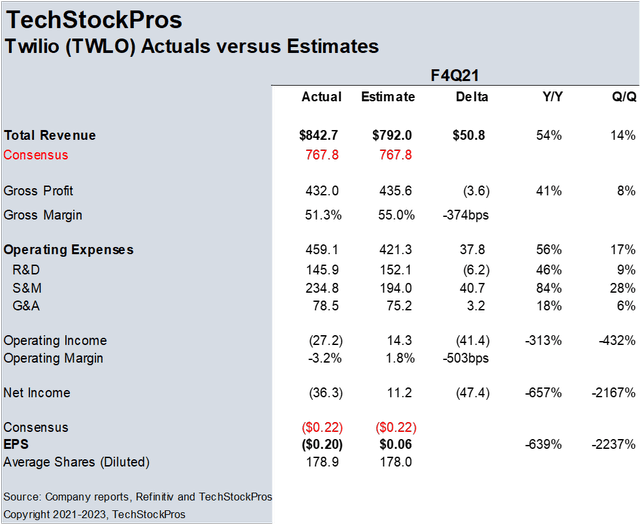 Guidance
Twilio expects revenue to grow 45-47% Y/Y to about $855-865 million versus the prior revenue consensus estimate of about $803 million. To prevent problems from arising like last quarter, the company is explicitly guiding organic revenue growth in the range of 32-34%. Non-GAAP EPS is expected to be in the range of -$0.26-to-$0.22, versus the prior consensus estimate of -$0.05. Revenue is expected to grow 32-34% on an organic basis, the most-watched metric by investors. Organic revenue now includes a contribution from Segment, the customer data platform. The following chart illustrates the company's guidance per 8-K Twilio filed with the SEC.

We model Twilio's revenue to grow to 35% to $3.8 billion in 2022, to nearly $5 billion in 2023, to $6.2 billion in 2024, and about $7.7 billion exiting 2025. We believe these estimates are not challenging given the high growth potential of its newer products such as Segment and Zipwhip and the core messaging platform. The Application services (Segment, Zipwhip, Flex, etc.) accounted for about 12% of revenue in 2021 and grew 66%, while the core organic messaging platform grew 52%. Hence our nearly $8 billion revenue estimate exiting F2025 is not unreasonable.

Valuation – Became way too cheap to ignore
YTD Twilio is down about 23%, and the stock is 56% below its 52-week high. Twilio is currently trading at 6.6x EV/C2023 sales of approximately $4.8 billion. The peer group is trading at about 16.8x, more than 2x Twilio's multiple. On a growth-adjusted basis, Twilio is trading at 0.2x versus the peer group average of 0.5x. We believe Twilio is now much more compelling on a valuation basis than ever before. This is especially true for a company that is expected to grow at 30% through 2024. The following chart illustrates the valuation of a high-growth peer group.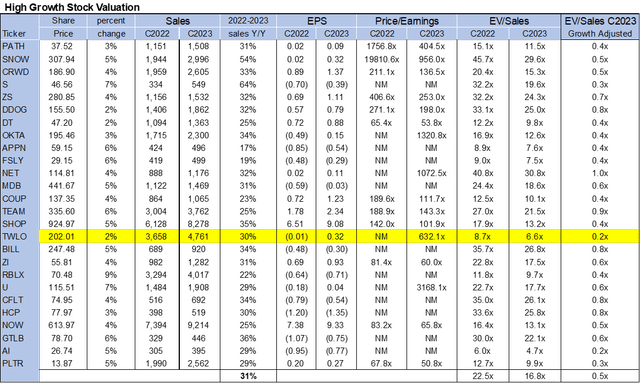 What to do with the stock
After F4Q results were reported, Twilio shares are up about 20%. Twilio shares are down 23% YTD and are about 56% below their 52-week high of $457. Twilio is expected to grow at least 30% for the next three years, in line with the peer group, yet, the stock is trading at a discount to the peer group and is one of the cheapest. Twilio also announced that it expects to be profitable for the year in F2023. We believe at the current trading levels, the stock has a much better risk/reward profile.
Twilio is a consensus long amongst both investors and wall street analysts. An overwhelming number of analysts are a Buy on the stock. The average price target is $366, and the median is $360, with an 83% upside from the current levels. The following chart illustrates sell-side ratings and price targets.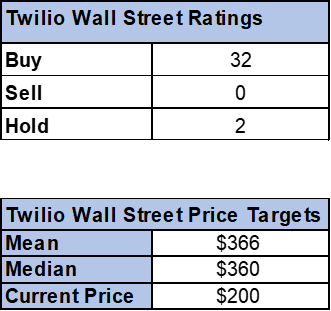 Twilio's platform is very sticky, and developers love it since it is easy to use and deploy. Once an enterprise deploys an application using Twilio's platform, it is tough to change, providing years of growth for the company. Twilio is one of the cheapest high-growth stocks in our coverage universe. Despite the recent hiccup (i.e., more of a communication hiccup rather than an execution one), the company is executing its products roadmap and go-to-market strategies well. The company continues to anticipate the pain points of its customers and build products to address them proactively. It is helping its customers compete well against large platforms such as Amazon. Twilio continues to invest in R&D, its partners and continues to deploy cash on its balance sheet by making tuck-in acquisitions to fill product gaps and enter new areas. We expect the shares to appreciate from the current levels driven by beat and raise quarters. With valuation remaining compelling, we would be buying shares here aggressively.