Torex Gold Resources: Waiting For The Media Luna Completion (OTCMKTS:TORXF)
Introduction
The Toronto-based Torex Gold Resources Inc. (OTCPK:TORXF) explores gold, silver, copper, and carbon deposits at the Morelos Gold property in Southern Mexico, comprising its El Limon Guajes mining complex – ELG for short – and the Media Luna deposit, where it holds 100% interests. It is called the Morelos Complex.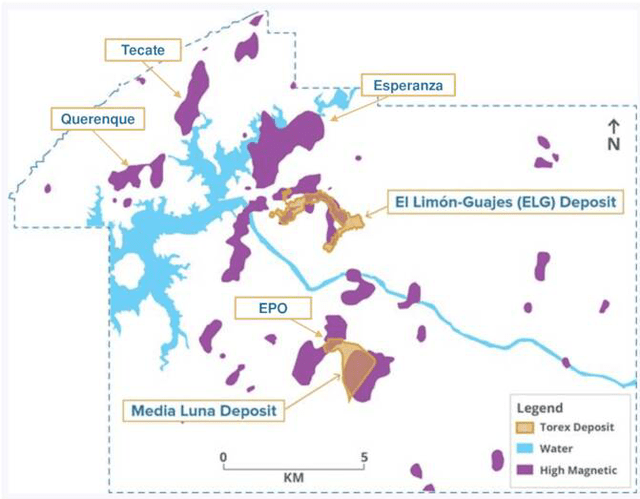 4Q21 Snapshot
On February 24, 2022, the company released its fourth-quarter and full-year 2021 results.
The company posted revenue of $202.0 million, down 6.8% sequentially, with a loss of $0.5 million or $0.01 per diluted share.
CEO Jody Kuzenko said in the conference call:
We delivered a new production record in 2021, coming in at 468,000 ounces poured, and at the very high end of the range of guidance for production. This was underpinned by new annual record out of the underground, at 1260 tons per day and a new annual milling record at 12,360 tons per day. We delivered total cash costs of $674 per ounce and all-in sustaining costs of $928 per ounce.
Torex Gold's priority over the last 12 months has been to optimize and extend mining operations at ELG to allow a smooth transition from ELG open pits and the ramp-up of Media Luna.
El Limón open pit is expected to add 150K Au oz of production through 2H 2024 and, combined with the high-grade ore from the underground, will help while waiting for output at Media Luna.
ELG's annual gold production at the midpoint of the outlook range is 450K Au ounces in 2022, 425K Au ounces in 2023, and 325K Au ounces in 2024, excluding equivalent production from Media Luna. The slight decrease in production in 2024 does not include any gold equivalent production from Media Luna.
Media Luna's first production is forecasted for 2024, and this production will be added to the 2024 outlook after an updated Technical Report (including a Feasibility Study).
Note: On February 28, 2022, Torex Gold announced an updated Mineral Resource estimate for the Media Luna project.
[G]old equivalent ("AuEq") Indicated Resource of 4.39 million ounces ("Moz") at an average grade of 5.38 grams per tonne ("g/t"). This reflects a 24% increase in contained AuEq metal in the Indicated Resource category compared to the April 30, 20212 resource estimate of 3.54 Moz AuEq at a grade of 5.27 g/t. Of the current Indicated Resource, 60% of the gold equivalent estimate is attributable to gold ("Au"), 33% to copper ("Cu") and the remainder to silver ("Ag").
Finally, on March 31, 2022, Torex Gold released the results of the Technical Report for the Morelos Complex and indicated a LOM through 2033 for the Media Luna Project.
Jody Kuzenko, President & CEO of Torex, stated:
we expect to fund the development of the ML Project using our robust balance sheet, strong forecasted cash flow, and a prudent level of debt. With over $405M of available liquidity at year-end (including $255M in cash), annual projected cash flow from ELG Mine Complex of $190M through year-end 2024 (prior to capital expenditures on the ML Project), and a goal of maintaining a minimum liquidity position of $100M, we are evaluating debt financing in the order of $250M to $300M. Multiple debt financing options are being considered, including a gold prepay, high yield debt, and an expanded credit facility. This financing decision will be made in the months to come.
Stock Performance Not stellar
The company's performance has been disappointing on a one-year basis, and the stock is down 7%, underperforming the VanEck Vectors Gold Miners ETF (NYSEARCA: GDX), as we can see below.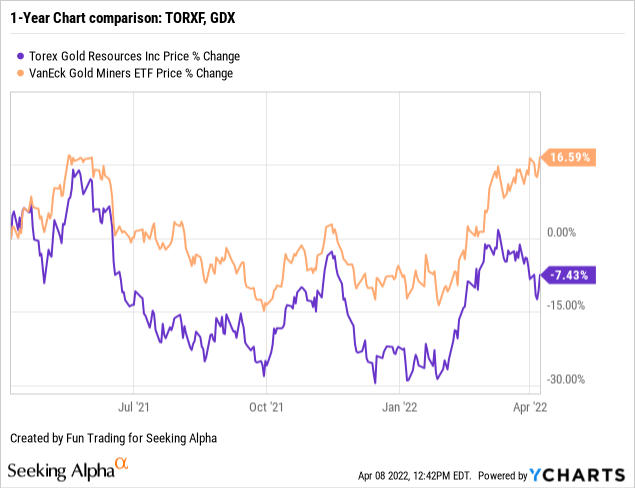 Investment Thesis
Torex Gold continues to generate steady free cash flow, good execution on the ground with costs discipline, and, above all, has no debt. I believe it is a good profile from a long-term investment perspective.
As I said in my preceding article, TORXF has a solid balance sheet and is on its way to completing the Media Luna project, which will provide an essential second productive mine.
Thus, it is reasonable to hold a medium position for the long term, significantly below $11.5. However, I also recommend using about 50%-60% of your holding to trade LIFO the short-term volatility and use your gain to increase your long-term exposure.
TORXF – Financial Snapshot 4Q21: The Raw Numbers
| | | | | | |
| --- | --- | --- | --- | --- | --- |
| Torex Gold | 4Q20 | 1Q21 | 2Q21 | 3Q21 | 4Q21 |
| Total Revenues $ million | 251.6 | 231.2 | 205.9 | 216.7 | 202.0 |
| Quarterly Earnings $ million | 91.9 | 55.0 | 60.7 | 36.5 | -0.5 |
| EBITDA $ million | 166.1 | 152.8 | 126.8 | 119.7 | 61.5 |
| EPS (diluted) $ per share | 1.07 | 0.62 | 0.69 | 0.41 | -0.01 |
| Operating Cash Flow $ million | 137.1 | 65.2 | 82.4 | 87.8 | 94.6 |
| CapEx in $ | 49 | 55.3 | 60.3 | 58.0 | 56.9 |
| Free Cash Flow in $million | 88.1 | 9.9 | 22.1 | 29.8 | 37.7 |
| Total Cash in $ million | 206.2 | 172.0 | 196.0 | 221.6 | 255.7 |
| Total LT Debt in $ million | 43.4 | 0 | 0 | 0 | 0 |
| Shares Outstanding (diluted) in million | 86.1 | 86.1 | 86.2 | 86.0 | 86.5 |
| TORXF Production | 4Q20 | 1Q21 | 2Q21 | 3Q21 | 4Q21 |
| Quarterly Production Oz | 130,649 | 129,509 | 118,054 | 111,229 | 109,411 |
| Gold Price in $/Oz | 1,847 | 1,778 | 1,816 | 1,786 | 1,798 |
| AISC in $/Oz | 886 | 854 | 897 | 900 | 1,079 |
Source: Company filing
Torex Gold Resources – Gold production and balance sheet details
1 – Revenues and Trends: Revenues were $202.0 million in 4Q21
Torex Gold posted $202.0 million in revenues this quarter, well below the $251.6 million indicated in the fourth quarter of 2020. The net income dropped to a loss of $0.5 million this quarter from an income of $91.9 million last year.
Below are the 2021 financial highlights: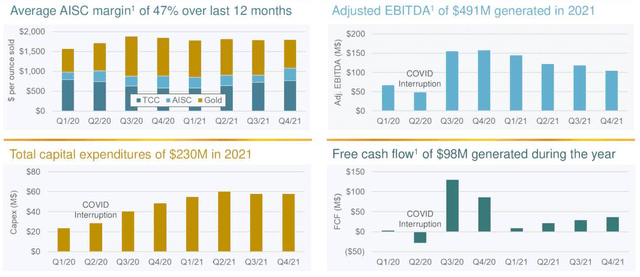 2 – Free cash flow was $37.7 million in 4Q21
Note: Generic free cash flow is the Cash from operations minus CapEx. It may differ from the company calculation.
Trailing 12-month free cash flow was $99.5 million, and the free cash flow for the fourth quarter was $37.7 million.
3 – Torex Gold's excellent position
Total Cash was $255.7 million at the end of December 2021 compared to $206.2 in the same quarter a year ago. Available liquidity is $406 million.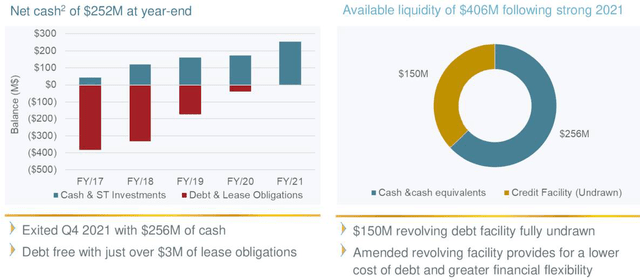 This robust balance sheet and a solid ongoing cash flow are anticipated from the ELG complex. I continue to expect Torex Gold to fully fund and bring Media Luna into production in early 2024.
4 – Gold production details: TORXF produced 109,411 Au Oz and sold 109,391 Au Oz in 4Q21.
Gold production weakened with 109,411 Au Oz, down 16.3% from the 4Q20. The company sold 109,391 Au Oz at a gold price of $1,798 per ounce.
CEO Jody Kuzenko said in the conference call:
We've met or exceeded guidance on all production and cost parameters for the third year in a row, and we are rolling stride for more of the same in 2022. Importantly, the Media Luna feasibility study is nearing completion.
5 – All-in Sustaining costs – AISC for 4Q21
Another sign of quality is an AISC of $1,070 per ounce achieved in 4Q21. The company expects a higher AISC in 2022.
CFO Andrew Snowden said in the conference call:
[C]osts trended higher in Q4, and you can see that within this quarter and as well. That's due to the expected lower head grade and higher waste tonnes mined owing to the El Limon push back that we saw through Q4. Looking ahead on costs, Jody has already commented on our guided 2022 cost ranges, which are moderately higher than 2021 due to higher labor Cyanide, and electricity cost expectations, and continued stripping related to the push back.
6 – 2022 guidance consistent with a guided range in 2021 and a 3-year outlook release the previous quarter.
CFO Andrew Snowden said in the conference call:
The strength of the balance sheet coupled with strong forecast cash flow from ELG, puts us in a strong position to be able to advance Media Luna. We do though continue to analyze what the optimal capital structure should be, unfold following finalization of the technical report in March, and we will be looking at whether to add a modest level of leverage to the balance sheet to support Media Luna build while expanding our exploration efforts and other strategic priorities.
Technical Analysis (Short Term) And Commentary
TORXF forms a descending channel pattern with resistance at $12.8 and support at $11.3.
The short-term trading strategy is to trade LIFO about 50%-60% of your position and keep a core long-term amount for a much higher payday. I suggest selling between $12.75 and $13 and waiting for a retracement below $11.5.
TORXF could experience a breakdown if the gold price loses momentum and retests the lower support around $9.50-$10. This level looks low right now, but depending on the circumstances, it can happen fast.
Conversely, if the gold price trades above $1,975 per ounce due to a frightening jump in inflation combined with an inadequate response from the Fed, then TORXF could reach $13.6 and eventually cross $14.
The gold price is quite strong now, supported by the ongoing conflict in Ukraine and despite a potential 50-point hike by the FED in May.
If the conflict in Ukraine continues uninterrupted, gold could stay above $1,975 per ounce. But it could quickly drop below $1,850 per ounce in any attempt to de-escalate the Ukraine conflict and end this war.
Warning: The TA chart must be updated frequently to be relevant. It is what I am doing in my stock tracker. The chart above has a possible validity of about a week. Remember, the TA chart is a tool only to help you adopt the right strategy. It is not a way to foresee the future. No one and nothing can.
Author's note: If you find value in this article and would like to encourage such continued efforts, please click the "Like" button below as a vote of support. Thanks!