There Are Many Risks Surrounding The Innovative Business Model Of Cian Stock (NYSE:CIAN)
Cian (NYSE:CIAN) runs quite an innovative business model, and delivers even triple digit sales growth in certain regions. With that, in my view, market participants dislike the stock because of the recent impairment of intangible assets acquired from N1 Group. I do celebrate the new acquisitions announced in 2022, and expect some others. However, I see many risks, which may push the stock price even more to the downside. I am not only considering eventual sanctions from Europe or the United States, but also eventual cyber-attacks to Cian's online platform. In sum, I appreciate Cian's business, but I see too many risks in the current environment.
Cian Reports Triple Digit Listing Revenue Growth In Some Regions
Cian is an online real estate classifieds platform in the Russian real estate classifieds market.
The company targets a massive market of more than $6 billion, and is an innovative group, which could bring significant revenue generation in the future:

The most recent numbers were quite beneficial. The company appears to be delivering 41% sales growth, and listing revenue growth close to 48%. Cian's mortgage marketplace was also said to be close to 177%. In my view, if the company continues delivering such revenue growth, the valuation should reach an impressively high level: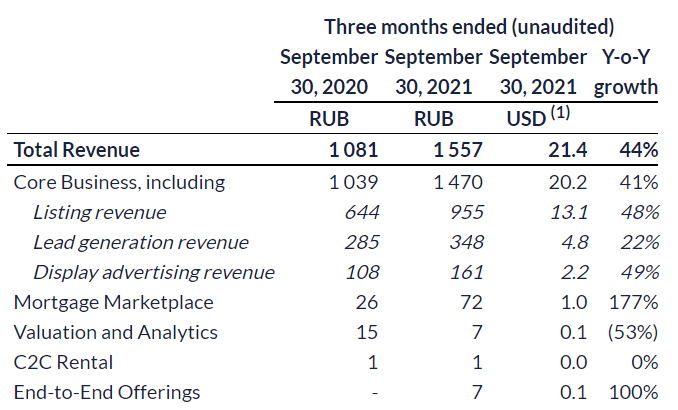 In the most recent quarterly release, Cian reported listing revenue growth of 137% in some Russian regions, and average daily revenue per listing of 86%. The numbers are quite impressive: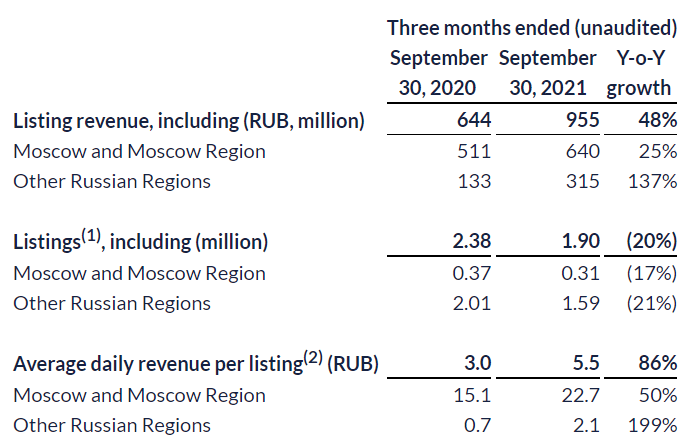 Analysts Were Expecting 32% Sale Growth In 2023, But The Current Valuation Fails To Recognize The Good Expectations Of The Market
I believe that the invasion of Ukraine may change the future market estimates. However, with the previous numbers delivered a few months ago, analysts seemed to be quite optimistic about Cian.
Net sales growth in 2023 is expected to be equal to 32%, and 2023 EBITDA margin would stand at close to 18.2%. Finally, analysts are also expecting that free cash flow would increase from RUB453 million in 2022 to RUB1.5 billion in 2023. We would be talking about a ROE of 20%, which is quite impressive:

With that about the expectations of the market, the company's EV/Sales ratio and the stock price are a bit less optimistic. The EV/Sales declined from close to 20x in 2021 to less than 4x in 2022. I don't believe that market participants were expecting, in 2021, the invasion of Ukraine. For some reason, traders didn't believe the expectations of analysts. Closer review of the financial accounts shows that there are more risks than only the sanctions from the EU and USA on Russia: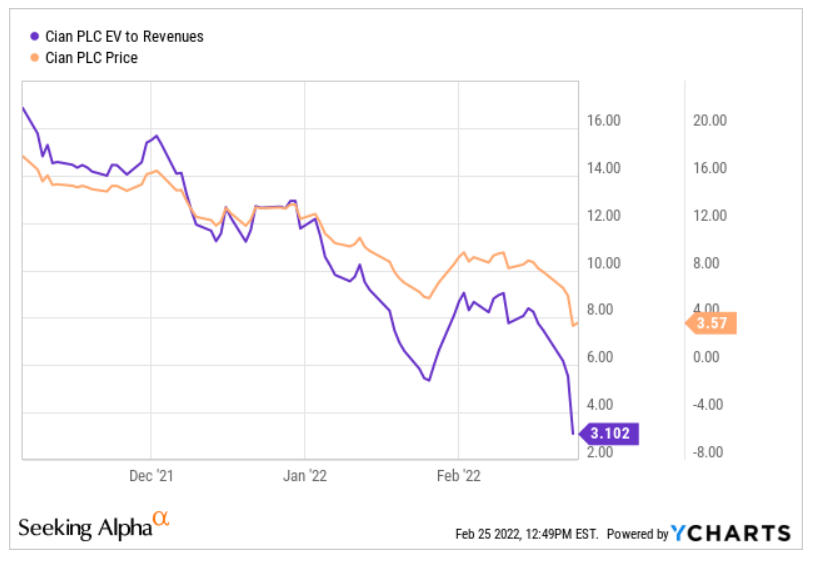 The Balance Sheet Shows A Significant Increase In Intangible Assets Because Of A Recent Acquisition
Total assets increased quite a bit in 2021, from RUB1.37 billion to more than RUB3.7 billion. The reason behind this increase is the acquisition of the N1 Group, which brought a significant amount of goodwill and intangible assets: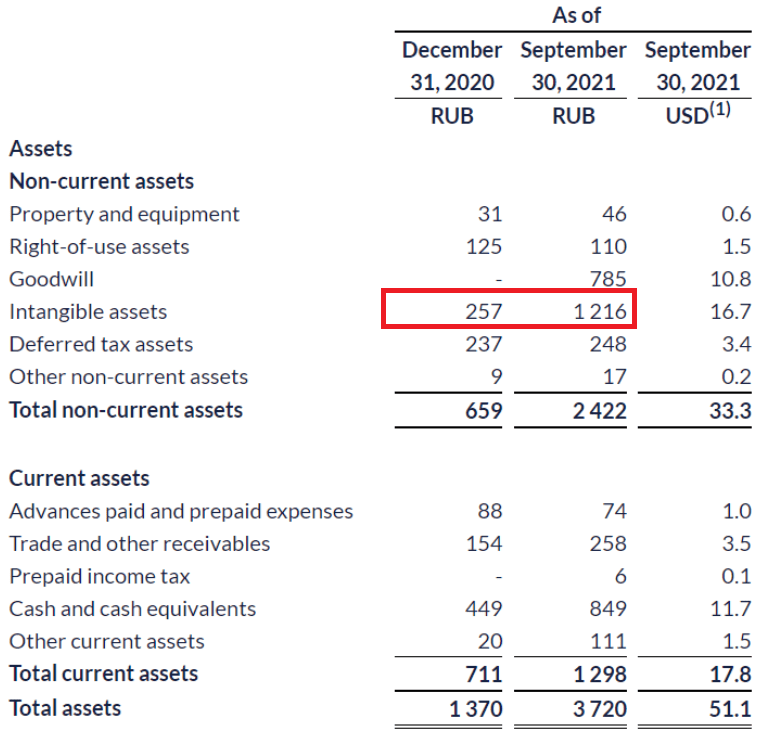 I don't believe that the financial obligations made the share price decline because Cian reported a significant decrease in borrowings in 2021. In the last report, long-term borrowings were equal to RUB450 million: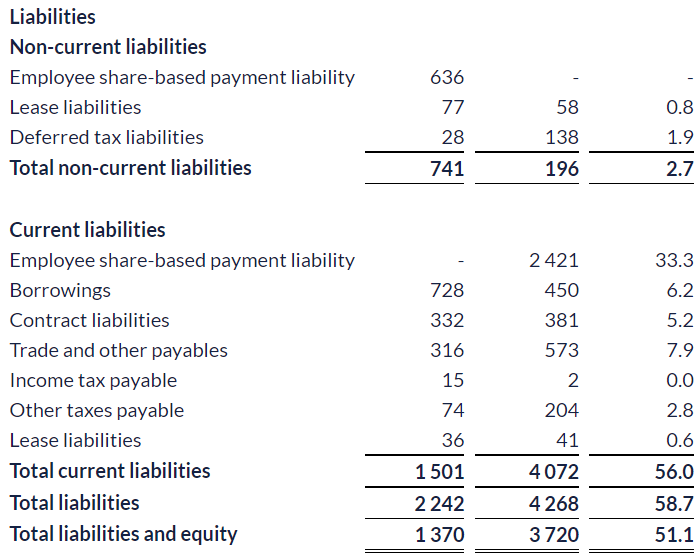 In My View, The Market Disliked The Acquisition Of N1 Group, And There Is A Risk Of Impairment
Cian PLC issued stock to pay for N1. Cian paid a total of RUB1.785 billion. I am not sure whether the price paid was competitive enough:
On February 5, 2021, the Cian Group acquired 100% of the voting shares of the N1 Group, one of the leading regional online real estate classifieds in Russia, for total cash consideration of RUB 1,785 million. The Cian Group financed the acquisition through the issuance of 281 ordinary shares (5,566,900 after the share split) for RUB 2,265 million in cash pursuant to the Investment Agreement. Source: Prospectus
N1's historical revenue is meant to be RUB563 million, which means that Cian paid close to 3.3x sales, which, in my view, is not cheap considering that the target was not a massive corporation. I wonder whether more negotiations would have led to a better price. The net income of the target was equal to RUB58 million, so Cian bought the target at 30x N1's profit for the year.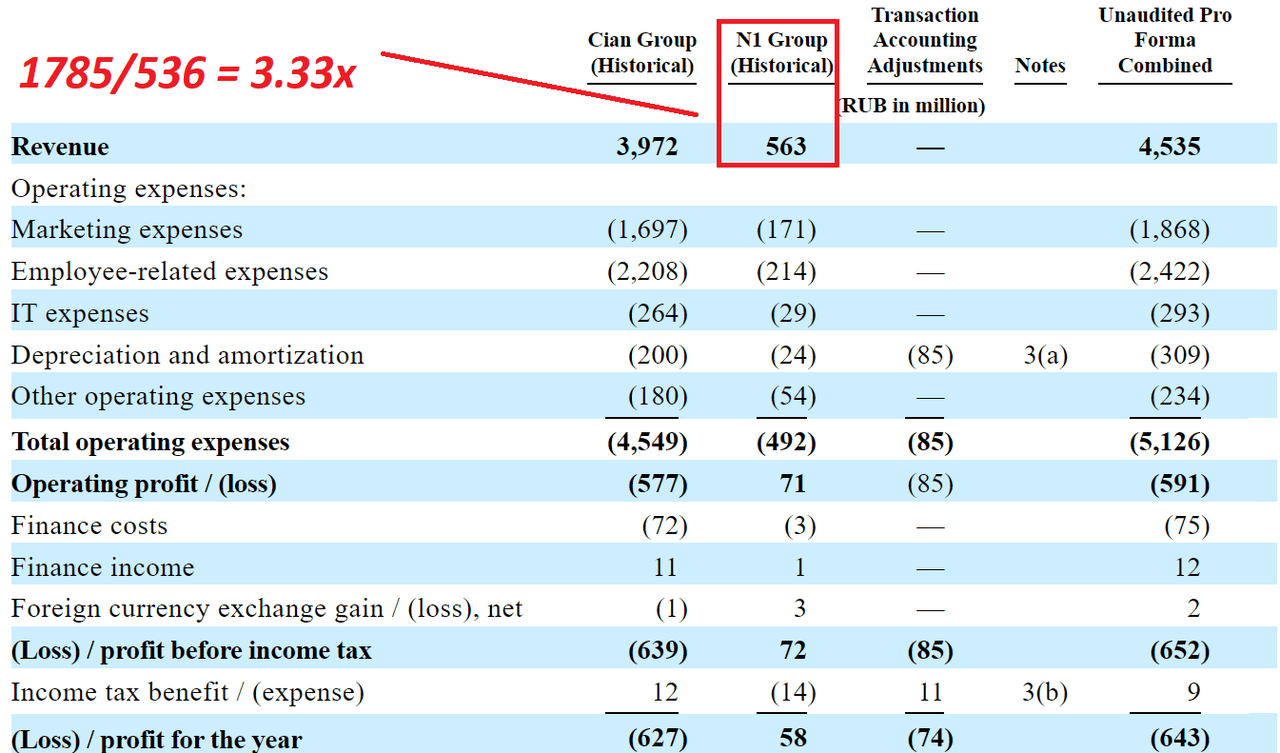 There is another alarming detail that represents a clear risk for the future. Right after Cian reported the acquisition, the management was including the amortization of a lot of intangible assets. It means that it didn't successfully calculate the valuation of N1. In my view, if management continues to report impairments, the stock price could fall even further:
Our depreciation and amortization increased by 35.4% to RUB 134 million in the six months ended June 30, 2021 from RUB 99 million in the six months ended June 30, 2020. This increase was primarily driven by the amortization of identifiable intangible assets acquired through the N1 Acquisition, such as customer base, trademarks and software. Source: Prospectus
Cian Warned About Potential Sanctions From The United States, EU, and The U.K.
Cian PLC may suffer significantly if the company cannot raise money in the international markets because of new sanctions. Less financing should lead to a decrease in revenue because management may have less cash to invest in marketing:
To the extent applicable, existing and new or expanded future sanctions may negatively impact our revenue and profitability, and could impede our ability to effectively manage our legal entities and operations or raise funding from international financial institutions or the international capital markets. Source: Prospectus
With that, I am not really worried about the European Union or the United States freezing real estate assets of the Cian. The company mostly leases its offices, and does not have a lot of properties. Also, I wouldn't expect Cian to have a lot of bank accounts outside Russia that the foreign countries could block.
The principal executive office is located at Elektrozavodskaya Ulitsa, 27, Building 8 Moscow, 107023, Russia. We have leased the certain premises at this property for a term of two years, which we further extended until June 30, 2024. Source: Prospectus
Cian PLC Could Receive Attempts To Overload Its Servers
Some websites from Russia are currently being targeted by anonymous and other actors in the cyber-security industry. If Cian PLC cannot show its products for a significant amount of time, revenue growth should decline significantly. As a result, we could see a decline in the implied share price. The stock price could also decline.
Similarly to other website and mobile application providers, our websites and mobile applications and other IT systems are vulnerable to computer viruses, break-ins, phishing attacks, attempts to overload our servers with denial-of-service or other cyber-security attacks or threats and similar disruptions, any of which could lead to loss of critical data, availability or the unauthorized disclosure or use of personal or other confidential information. Source: Prospectus
Two Case Scenarios
Under normal conditions, if Cian continues to acquire other targets like Smartdeal, revenue growth will likely trend north. Under my best case scenario, I assumed 20% sales growth, which would imply 2025 net sales of RUB14.75 billion. Under this case, with an EBITDA margin of around 16.5% and 18.5% from 2023 to 2025, the FCF would grow to close to RUB1.5 billion. Let's note that the company does not have a lot of properties. So, most of the D&A are impairment of intangibles. Some investors may have concerns about this fact, and may also consider impairment of intangible assets as a non-recurrent event: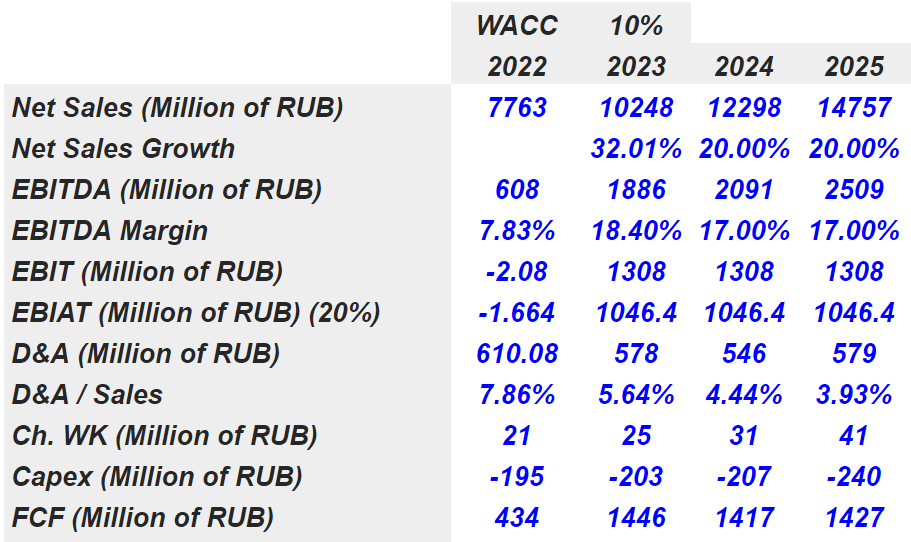 Summing all future free cash flows with a discount of 10%, the net present value should stay close to RUB3.6 billion. I also obtained a terminal value close to RUB37.5 billion with an exit multiple of 15x. Let's note that I am quite conservative because the company currently trades at more than 20x EBITDA. Finally, the implied price will likely be equal to $5.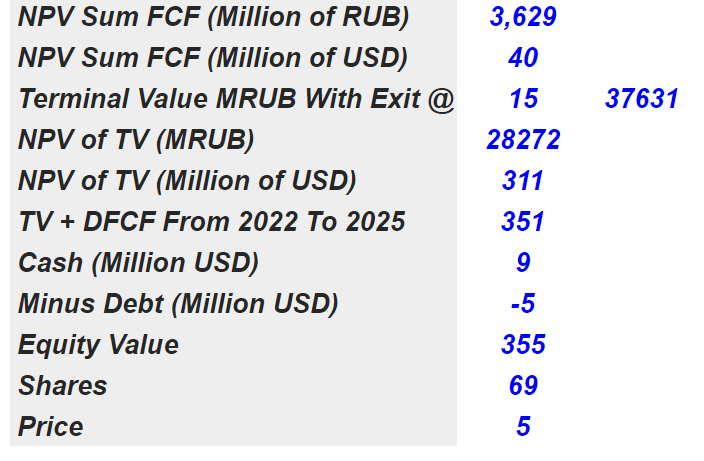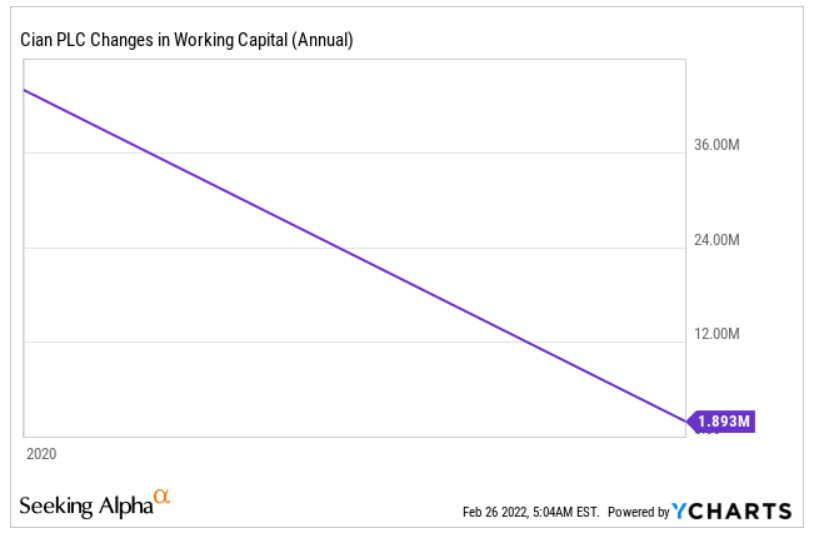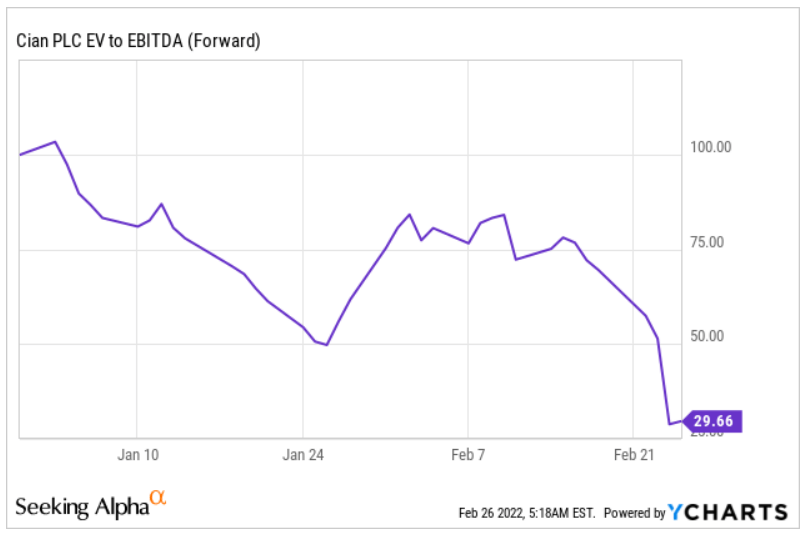 I ran another case scenario, which includes sanctions from the European Union and the US. As a result, I believe that the company may have to pay more cost of debt and cost of equity, so that the WACC may go up to 22%. Under this case scenario, the free cash flow would grow from RUB434 million in 2022 to RUB1361 million in 2025: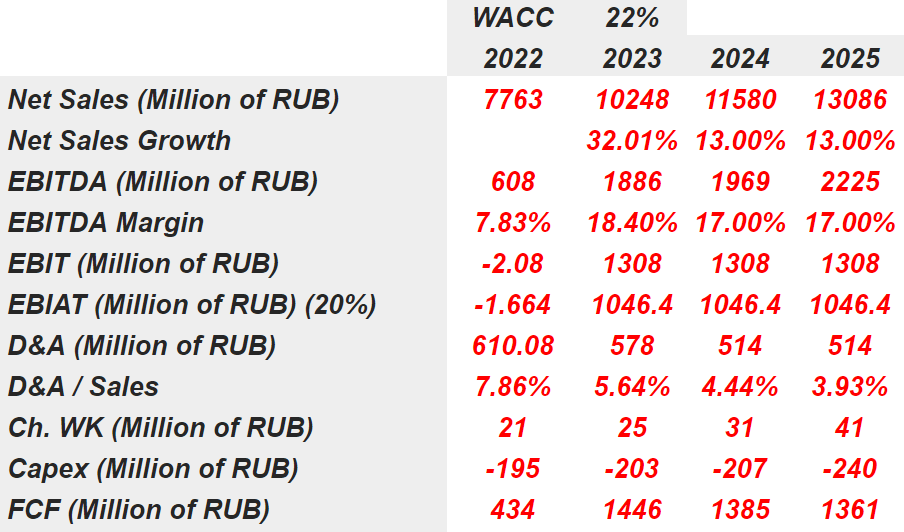 If we sum everything with a WACC of 22%, the net present value should stay close to RUB2.7 billion. Assuming the previous detrimental financial figures, I decided to use an exit multiple of 4.7x EBITDA, which should mean a terminal value of close to RUB11 billion. With the previous figures, the implied stock price should be close to $1: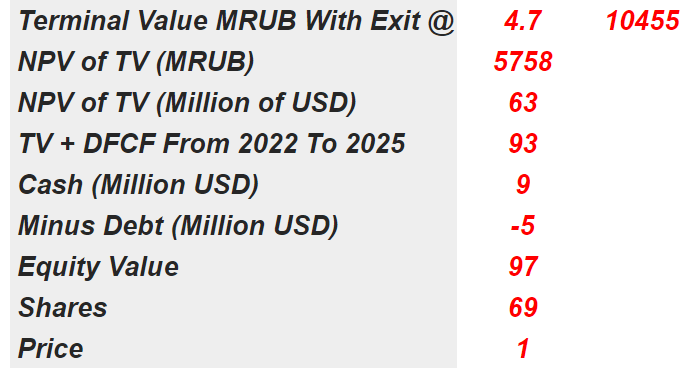 Conclusion
Cian is quite an innovative business model reporting even triple digit revenue growth in some specific regions. A few months ago, analysts were expecting significant free cash flow growth for 2022 and 2023. Now, the situation has changed quite a bit. I believe that with the new economic sanctions, Cian may suffer a significant increase in the cost of equity and debt. Without properties or business outside Russia, I should not expect that Europeans will freeze assets of Cian. However, Cian may also suffer from cyber-attacks. In sum, I believe that the risks are more significant than the potential rewards.