Taxable Total Return Q1 2022 Review
By Daniel Himelberger
The Treasury curve continued flattening during the first quarter of 2022, with short-term Treasury yields rising precipitously while longer Treasury yields rose at a slower rate. This trend resulted in the 5-year Treasury yielding more than the 30-year for the first time since 2006. The largest increase in yield is seen in the 2-year, which is up 162.9 bps to 2.357% as of 3/29/22. You can see the complete movement in the Treasury curve in the chart below.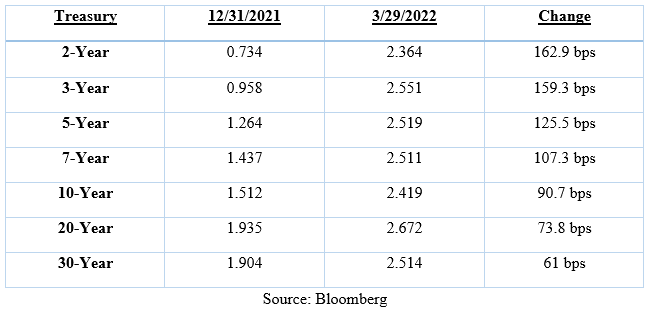 As the Treasury curve flattened and yields rose, spreads on investment-grade corporates and taxable municipals started to show signs of weakness. As of 3/29/2022, the Bloomberg Barclays US Agg Corporate Bond Index was up 27 bps for the quarter at +122 bps. It peaked at +144 on 3/14/2022 as concerns about Russia and inflation spooked the market. Spreads on taxable municipals remain higher at the close of the quarter, with the Bloomberg Barclays Taxable Muni US Agg Index up 23 bps at +117 bps. The spread peaked on 3/15/2022 but provided outperformance relative to IG corporates during the quarter. The wider spreads have created an opportunity to buy long-term corporates and taxable municipals at yields well above 4.00% for the first time since the height of the pandemic in 2020.
During the quarter, we took advantage of the wider spreads and started extending our durations to lock in some higher book yields. We moved our target duration from 4.00–4.50 to 4.50–5.00. We are still adding some defensive securities to the portfolios, such as Treasury floaters on the front end of the barbell, while increasing our weighting on the long end with new-issue taxable municipals that are coming at attractive spreads as issuers try to get deals done. Wider spreads and longer durations will likely hurt our performance in the near term but should pay off over time with the higher book yields.
Going forward, we expect short-term Treasury yields to rise as the Fed continues to raise short-term interest rates. We are looking to continue utilizing a barbell structure with defensive assets on the short end and spread securities like corporates and taxable municipals on the long end. We will maintain a conservative approach to the current yield environment while looking for opportunities to continue extending durations at attractive yields.
Editor's Note: The summary bullets for this article were chosen by Seeking Alpha editors.