Starwood Property Trust Stock: Get A Safe 8% Yield (NYSE:STWD)
Starwood Property Trust Inc. (NYSE:STWD) pays a consistent 8% dividend yield that is fully covered by the trust's distributable earnings. The trust has a commercial lending focus and has built a reputation for earning and paying out dividends on time over the last decade.
Starwood Property Trust should be in everyone's portfolio because of its well-covered dividend and track record of paying a consistent distribution over time.
Diversified Investment Portfolio
Starwood Property Trust is a leading diversified finance firm with a primary focus on commercial lending and real estate investment. The trust has been in operation for over a decade and has produced consistent results since its inception in 2009.
The initial focus of the REIT was on commercial lending projects for which the trust originated mortgage loans. In recent years, Starwood Property Trust's operating focus has broadened, with the trust expanding into sectors such as infrastructure lending and mortgage servicing.
Approximately 63% of the trust's assets are invested in commercial lending, with the remainder spread across segments such as infrastructure lending, residential lending, and property investments. Commercial lending activities generate 44% of the trust's distributable earnings, followed by real estate investing and servicing.
Starwood Property Trust's primary assets are in the commercial lending business, which, as previously stated, is the trust's most important asset in terms of earnings contribution. The trust's commercial lending business is primarily comprised of first mortgage loans, which account for 91% of the trust's commercial lending assets.
These mortgage loans are mostly (98%) floating rate, with the majority (81%) having a loan-to-value ratio of 0-50%. Loan-to-value ratios of less than 50% are typically considered to be of very high quality and have a low default risk.
The greater the loan-to-value ratio, the greater the risk associated with the underlying mortgages. The commercial lending portfolio of Starwood Property Trust is worth $14.2 billion and is by far the largest segment of the trust's expanding real estate portfolio.
Starwood Property Trust operates other real estate-related segments in addition to a commercial mortgage segment. On a carrying basis, the property portfolio is worth $1.96 billion in medical offices and other real estate.
The trust's property portfolio is important because rental income generates a significant amount of distributable earnings. Starwood Property Trust's property investments generated $0.87 per share in distributable earnings in 2021, representing a 33% share of trust earnings.
The commercial and residential lending segment generated the majority of distributable earnings, $1.80 per share, accounting for 68% of trust earnings. The remainder is divided between REIS (19%) and infrastructure lending (5%).
Starwood Property Trust's distributable earnings of $2.63 per share in 2021 were more than enough to pay investors the $0.48-per-share quarterly dividend that the trust has now maintained for years. In 2021, the trust had a pay-out ratio of 73% when all dividend payments to investors were totaled (based on a total annual dividend pay-out of $1.92 per share).
Starwood Property Trust does not pay special dividends, despite the fact that it is able to do so. The consistency of the trust's dividend payments speaks volumes about an investment in Starwood Property Trust. Since 2014, the trust has paid a quarterly dividend of $0.48 per share, making Starwood Property Trust one of the most consistent dividend payers for investors.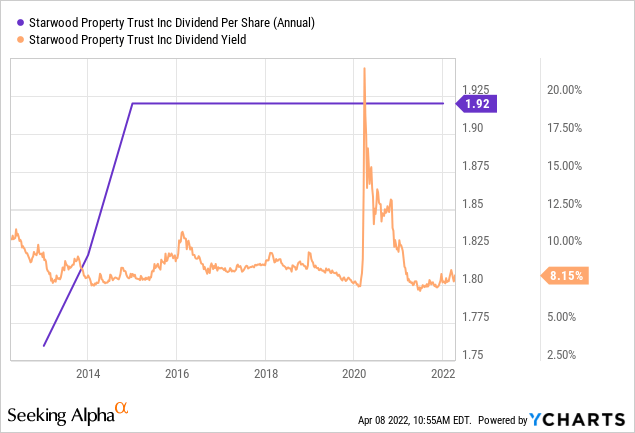 I don't believe management will increase the dividend in the near future, so investors should not expect it to grow. Having said that, an 8% yield from STWD is quite respectable, and given that the dividend is well-covered, the stock is very appealing to dividend investors.
A Low Price To Pay For Starwood Property Trust
The substantial real estate portfolio of Starwood Property Trust is valued at 1.18 times book value, implying that investors pay only a modest 18% premium to the trust's total book value of its assets. The stock has a 9.0x multiple based on distributable earnings, an important measure for Starwood Property Trust. Given how safe Starwood Property Trust's dividend has been for the majority of the last decade, I believe this distributable earnings multiple makes the stock cheap.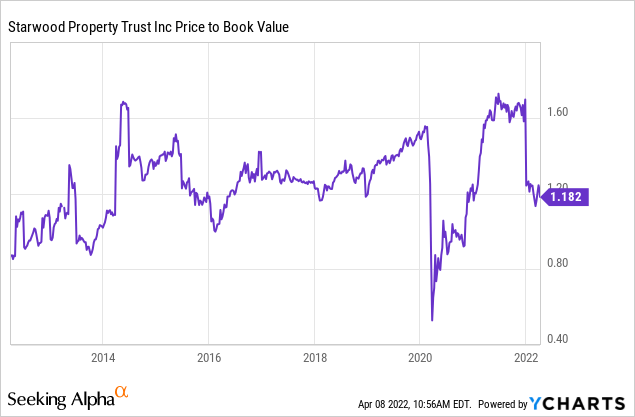 What Could Send The Stock Lower?
Starwood Property Trust would be vulnerable to a downturn in the United States real estate market, which may or may not result in a decrease in demand for mortgage originations. Because Starwood Property Trust has excellent dividend coverage, I would be comfortable holding STWD during a downturn.
My Conclusion
Starwood Property Trust is a well-managed commercial real estate investment trust with expanding business lines and a strong commercial lending business.
The stock of Starwood Property Trust is a good buy because of its well-covered dividend, floating rate interest exposure, and 8% yield. The valuation based on distributable earnings and book value also contributes to the stock's low price.