Stanley Black & Decker Stock: Why We Are Buying The Dip (NYSE:SWK)
Stanley Black & Decker (NYSE:SWK) has gone from fairly valued last time we covered it, to undervalued, declining about 20%. We find the company attractive, and the reduced price is enticing, and are therefore buying the dip.
We like the company's clear message that they are going to be returning about 50% of the free cash flow generated to investors, using the other half for M&A. Among its long-term financial objectives the company is challenging itself to grow 4-6% organically, and 10-12% once M&A is added into the mix. This should result in at least 10-12% EPS growth, and free cash flow above net income.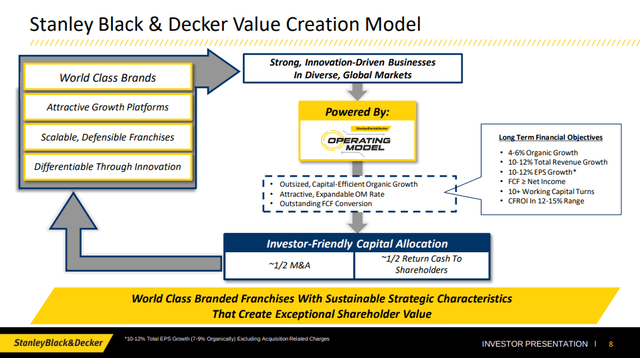 One thing in particular that has us very excited is the EV opportunity the company has, where an EV has 3-6x the Stanley Black & Decker content compared to a regular ICE vehicle. This is just one example of where future growth can come from for the company, and of course there is also the M&A boost which is to be expected.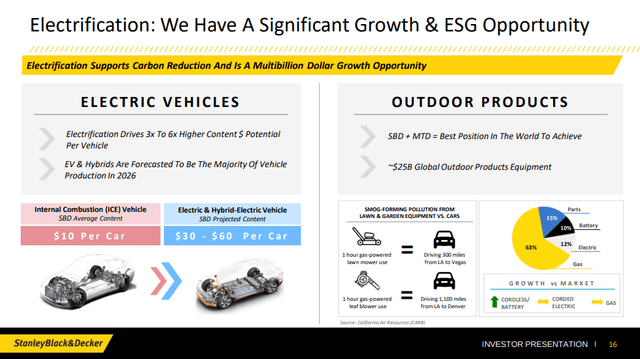 Financials
Stanley Black & Decker got significantly hit by the pandemic, as can be seen both revenue and gross profit declined during the lock-down periods of 2020. It has, however, recovered since then posting new records for both of these financial metrics.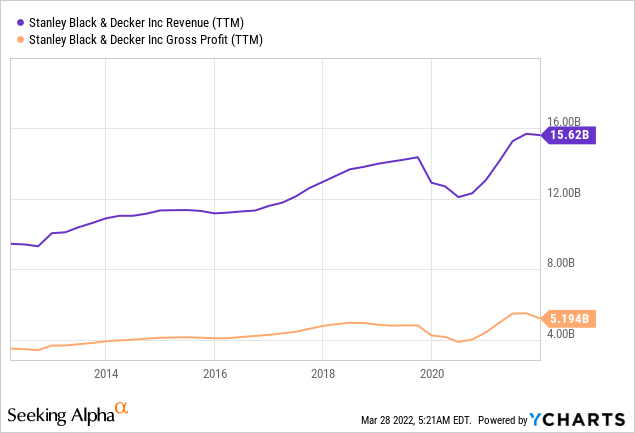 One thing investors have to watch closely is the amount of net debt the company has, which has more than doubled in the last few years from less than $3 billion, to now more than $6 billion. The company retains a very good credit metric and its interest coverage is excellent, in part due to decreasing interest rates. Still, we hope the company pays attention not to become overleveraged.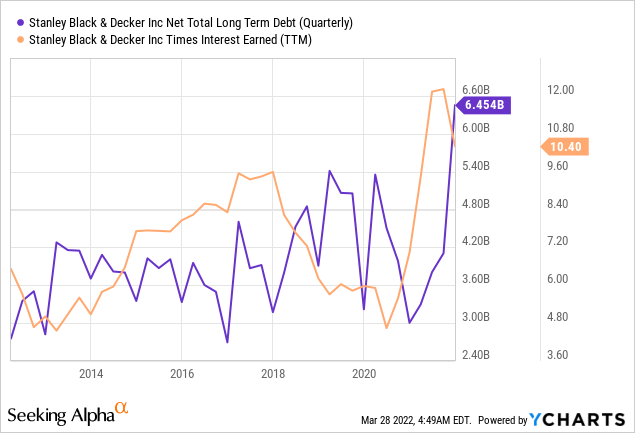 One thing to keep in mind is that Stanley Black & Decker is a bit cyclical, with profitability varying from year to year. Still, most years the company posts double-digit returns on equity which we think is pretty decent and shows the quality of the business.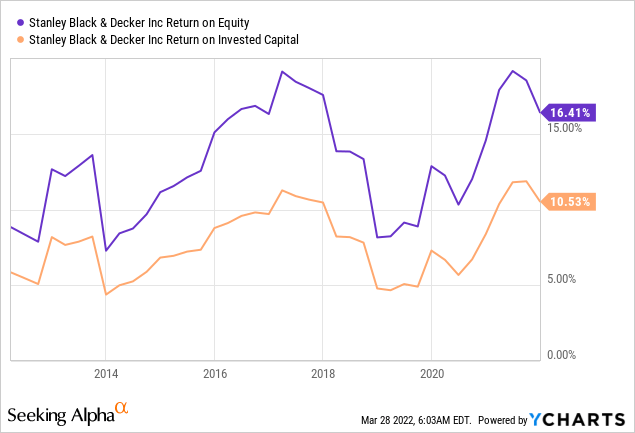 Looking at the balance sheet we see that debt/EBITDA at ~2.8x is still reasonable, and the company retains very strong investment grade credit ratings. We like that the company seems to be aware of the risk of over-leveraging and has a target of ~2.0 x debt to EBITDA, so hopefully the company will start deleveraging soon with some of its free cash flow while the economy remains solid.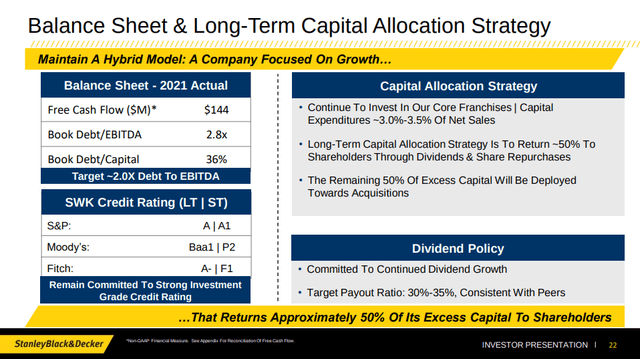 Margins
One likely reason that shares are under pressure is that inflation and logistics are having an impact on gross margins and revenue. Last quarter the company reported a big Q4 revenue miss, and ~630 bps lower gross margin. We expect these negative effects to subside at some point, so we do not think the impact is permanent, but that is the most likely explanation why shares have been trending lower the past couple of months.
Valuation
The main reason we are planning on buying the dip on SWK is that the valuation has become very attractive. As can be seen in the graph below, shares rarely trade below the 10-year median price sales ratio, and when they do they tend to reverse course quickly.
Similarly both the trailing twelve months, and the forward PE ratio are extremely low, with the forward P/E ratio at ~11x. We would argue this is too cheap for a company of the quality of Stanley Black & Decker. Sure, it has some cyclicality and it is not a hyper growth company either, but this valuation level should be able to offer investors multi-year returns in the low double digits.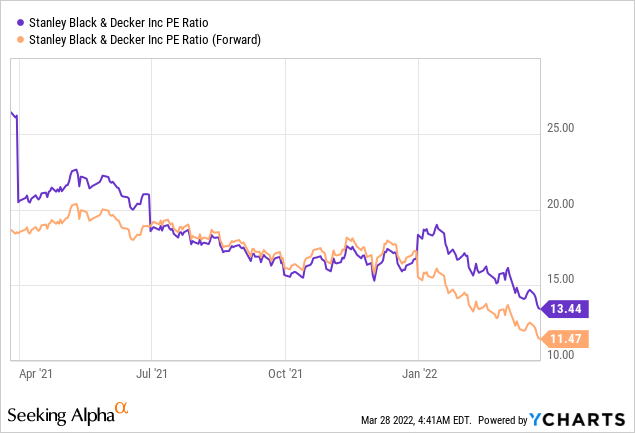 Impressively, if we look a bit further the estimated P/E ratio drops to the single digits. Based on analyst estimates for FY 2024, Stanley Black & Decker is trading at a FY24 P/E ratio of ~9.6x. This is unbelievably cheap, and we are convinced the company will not remain this cheap for very long.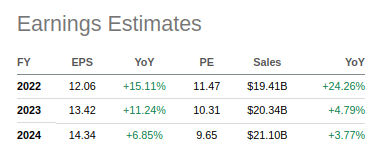 Another way to look at the historical valuation of the shares is with the dividend yield. As can be seen below, when shares get cheap the dividend yield spikes up. The dividend yield had not been this high since the pandemic-induced market crash in 2020. Right now shares are offering an attractive dividend of ~2.2%, which is high considering where interest rates are, as well as the average S&P500 yield.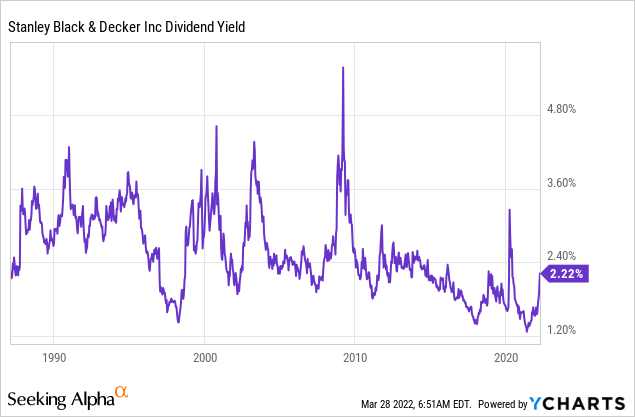 Conclusion
While there are temporary margin pressures from inflation and supply logistics issues, we believe these to be temporary and shares to be currently trading at an attractive valuation. It seems the company agrees since it launched an accelerated share repurchase program. We believe shares offer significant value, and that is why we are buying the current dip in the share price.