Sea Limited Stock: Exiting India, Entering Profitability (NYSE:SE)
There has been so much going on with Sea Limited (NYSE:SE) that it is time to look deeper into recent announcements and to give an update on how these recent developments impact my view on Sea's attractiveness as an investment opportunity.
Investment thesis
I have written elaborate articles on Sea both as an initiation article as well as follow up articles (here and here) as the market moves. With everything that is happening at Sea, my initial investment thesis for Sea still stands, as shown below:
1. Garena, will continue to be a marker leader and serve as a cash cow for Sea, along with solid growth from not just Free Fire but also other budding new developments from its many gaming studios.
2. Undoubtedly, Sea's Shopee has the leadership position in Southeast Asia e-commerce. It is currently still in the early days in Southeast Asia for Shopee and it is likely to see strong growth in the future from increasing penetration in the region brought about by multiple tailwinds.
3. Sea's market expansion strategy has shown very strong discipline, with a focus on Latin America (LatAm) e-commerce market, which brings exposure to an underpenetrated, fast growing market. It is also newer and testing waters in some newer geographies in Europe for example.
4. Sea's new emerging fintech business, SeaMoney, will bring additional high growth areas with strong digital payments tailwinds.
Shopee's India exit
The main reason for me to do a follow up article is the news on Shopee deciding to leave India after 6 months of operations there. During a company wide town hall, the company announced its decision to shut down its India operations and this news was reported by Reuters. As such, Shopee will be closing down its platform in India from 29 March onwards, and buyers will not be able to put in orders from 29 March onwards while sellers can still continue to access the seller centres until 30 May 2022.
Based on the Economic Times article, a Shopee spokesperson said that the reason for the exiting of its early stage Shopee India was due to "global market uncertainties". Of course, this would refer to the banning of Garena Free Fire by the Indian Ministry of Home Affairs as highlighted in my earlier article. When Garena Free fire was banned, there was lots of concerns that the Indian authorities will target the e-commerce arm of Sea next. This exit decision by Sea's management is probably a positive given that Shopee has not yet made any significant investments into India and this also ensures that there is no overhang over the potential future banning of Shopee India when much investments have been put in place and when Shopee India is much larger.
As an early stage venture, Shopee India actually managed to achieve 100,000 orders per day with over 1 million app downloads from Google within a few weeks of its soft launch.
First, I believe that this once again shows the very strong capital discipline by Shopee management in international expansion. Shopee India has only been in operations for about 6 months, and with the negative regulatory and political sentiment from the banning of Garena Free Fire, it is prudent for management to reconsider the heavy investments needed to go all in a risky market that might restrict Shopee India's business in the future. Capital discipline is crucial for Shopee and e-commerce international expansion and Shopee's management has showed this once again after their exit from France. Management has mentioned in its FY2021 earnings call that Sea will take a more calibrated approach towards investments especially in international opportunities outside of ASEAN and Taiwan, and that Brazil will be the key focus of its international opportunity.
Second, I think that the decision to exit India would be taken as positive news for many investors due to the fierce competition in e-commerce in India. This includes competition from Meesho, Flipkart and Amazon India. These are competitors that are already very well established in a highly competitive market and this is especially so at the lower end of the market. These are also players that are very well-capitalised and can afford to burn lots of cash in the bid for market share.
As such, the exit of Shopee from India will ensure that it does not partake in unnecessary cash burn in a highly competitive market, and this capital can then be used for more productive uses where there may be higher returns on capital.
However, I think that this may not mean that Shopee is abandoning India forever. I think that Shopee may again attempt re-entry into India when certain conditions are met. This includes having its Free Fire India situation resolved, having a more favourable competitive landscape in the e-commerce market, for example. In my opinion, it is necessary to get regulatory clarity before pumping more money into the market and thus, it is the right move for Shopee to exit India.
Impact on Sea's financials and cashflows
I currently do not model Shopee India GMV into my SOTP valuation and revenues and as such my forecasts do not have any immediate downside risks from this India exit. However, of course this will reduce the number of potential market opportunity for Shopee in the long term as it focuses on its key markets for expansion.
Furthermore, its exit from India is also positive for Sea's cashflows as it removes the need for high cash burn in the India market given the highly competitive e-commerce market in India as mentioned earlier. With the reduction in cashflows from Free Fire India, and without the need to invest further into India, Sea will not need to inject fresh capital to support this mindless cash burn in e-commerce in India and can instead focus on investing in core markets like Southeast Asia and Brazil. As such, with the strong capital discipline in exiting markets not suitable for Shopee's international expansion, Sea is focusing on an expansion plan that works for the long term and with an increased focus on free cashflows and profitability.
Also, it is worth highlighting that Sea management has said that their core market in ASEAN and Taiwan is expected to achieve positive EBITDA in 2022 while SeaMoney will target to be cash flow positive in 2023.
Forrest Li's memo to employees
Sea's CEO Forrest Li sent employees a memo to boost morale at the company. The entire transcript can be found here. I think that the memo shared insights about Sea as a company and how Forrest Li reigns from the top.
First, Forrest Li is confident that the gaming business will return to strong growth, after the strong tailwinds from the pandemic led to a high base for the company in 2021.
Second, Forrest Li emphasized Sea's intentions to focus on reinvestments into Shopee and Sea's R&D instead of pursuing the highest profitability possible. Forrest Li is taking a long term view and leveraging on its huge cash pile, large scale in the region and market leadership to grow more opportunities for Sea.
Third and most importantly, Forrest Li sought to motivate and improve morale in Sea, where many of its employees are Sea shareholders and have compensation packages that are in Sea stock. He seeks to reassure employees that the fundamentals of Sea and its management team remains solid, that management is clear of its next steps and that Sea is in a strong position internally. He added that this is the short term pain that employees might have to feel in order to maximize its long term potential. I think this message is not just to employees but also to shareholders of Sea.
Valuation
As highlighted earlier, I have not modelled in Shopee India into my SOTP valuation due to the fact that it was in the early stages of operations in order to be prudent. As such, I assume that more of its investments that were meant for Shopee India will be re-directed towards ASEAN, Taiwan and Brazil and this will bring my estimates for these core markets higher.
Based on the SOTP valuation, my target price for Sea is raised to $175, implying a 49% upside from current levels.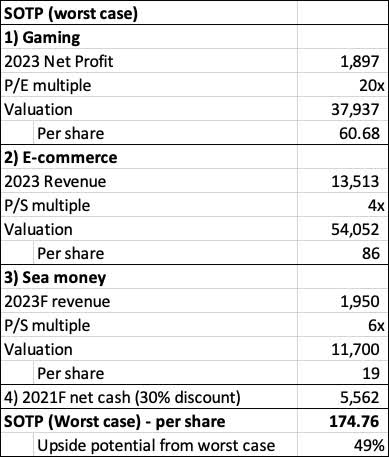 Risks
Competition
Although Sea has exited the highly competitive market of India, e-commerce is still a competitive business with many competitors with deep pockets. As such Shopee could face fierce competition from global peers as international expansion in the industry continues. For example, Shopee has done well in Southeast Asia but the threat of Tokopedia in Indonesia is still there. Furthermore, Alibaba's Lazada is ramping up and focusing on international expansion as China's domestic e-commerce market slows. If competition intensifies, this could be a significant drag to profitability of the e-commerce segment.
Execution in new markets
The operating and competitive environment in LatAm, and Europe has its challenges. Although Shopee has had a good run in Southeast Asia, there are still execution risks in these new markets especially with large domestic e-commerce players already present. That said, Shopee has shown strong execution and capital discipline thus far, and will only commit capital to a market it deems core.
Synergies in all 3 business segments
The flywheel effect could prove to be Sea's competitive advantage if it is able to build its gaming, e-commerce and fintech ecosystem well. However, if synergies between the 3 are not reaped, the company is not maximising the benefit of its entire ecosystem and should each segment operate increasingly in silos, this could result in deterioration of competitive advantage of Sea.
Conclusion
With Sea's stock price having corrected so steeply in the past few months and with it trading at 3.4x EV to sales, I am of the opinion that the risk reward is highly attractive for Sea with its long term growth opportunity in e-commerce and digital financial services. I think that there is a lot of negatives priced into the stock at the moment and that this presents an excellent opportunity with a target price of $175 and upside potential of 49%.
Once again, I am positive on its exit from France and India, thereby reallocating resources towards investments in core markets in ASEAN, Taiwan and Brazil, and improving the free cashflow profile of the company. Furthermore, Sea is in a solid path with management focusing on re-investing into the business to ensure that the opportunities for Sea continues to expand in the long term. With the India exit and strong capital discipline shown by management, I think that we could see a stronger profitability and cash flow profile for Sea.