Record decline in Chinese internet stocks
As we mentioned in our Morning Lineup on Monday, Chinese equities have been hurt over the last few trading sessions due to a few reasons. First of all, Omicron is just now penetrating the country, and their COVID-zero policy has resulted in the temporary shutdown of ports, lockdowns in cities, and highly restrictive rules for businesses. In addition, US and Chinese regulators alike have been vocalizing the risk for the delisting of many Chinese equities on US exchanges due to concerns over audit standards. To top all of this off, the international community is uncertain regarding whose side of the Ukrainian conflict China stands, and Russia allegedly asked the Chinese for military equipment over the weekend. If China were to oblige to Russia's request, it would only further escalate the icy relationship between the US and China.
Over the last three trading sessions, the KraneShares CSI China Internet ETF (KWEB) has lost 25.7% of its value, the largest three-day decline in the history of the ETF. To put this into perspective, the worst three-day drawdown for KWEB during the COVID crash was "only" 14.1%. After bottoming during the beginning of the pandemic, the ETF performed strongly until February of 2021, gaining 152.2% from trough to peak. Since then, the ETF has shed 78.4% of its value and is currently trading more than 50% below the COVID bottom.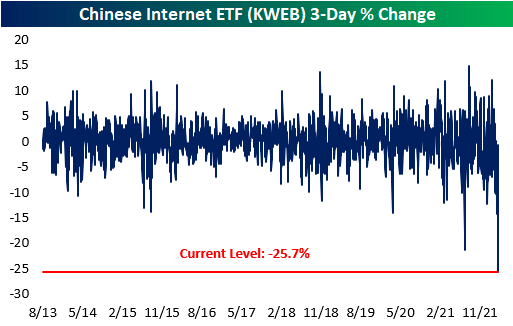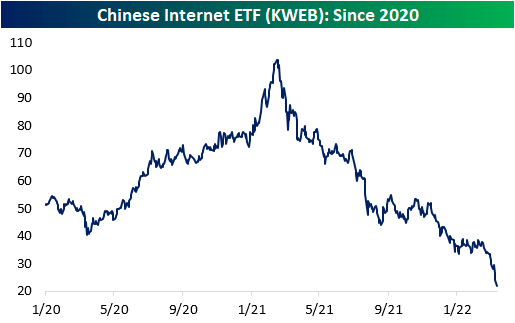 There's no questioning that this has been a painful trade for anyone invested in this ETF or the securities it holds. The decline has been consistent, but the ETF is currently the furthest below its 200-DMA it has been since it was launched in 2013. Just to get back to the current level of the 200-DMA, KWEB would need to more than double from here.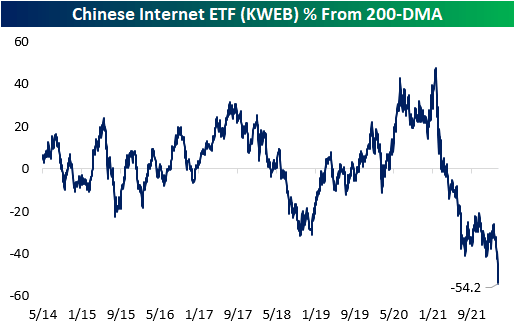 So, is this a buying opportunity? Historically speaking, when KWEB trades down 10% or more in three trading days (with no prior occurrences in the last month), the median forward performance has been greater than the median of all periods through every time period that we looked at. However, the current period is ripe with unique geopolitical headwinds, so finding fair comparable periods can be a daunting task. Chinese equities have been selling off consistently for quite some time now, but February 22nd was the first time KWEB saw a 10% three-day drawdown since December 29th, 2021. Notably, this occurrence is the only time in which the ETF traded down in the following week.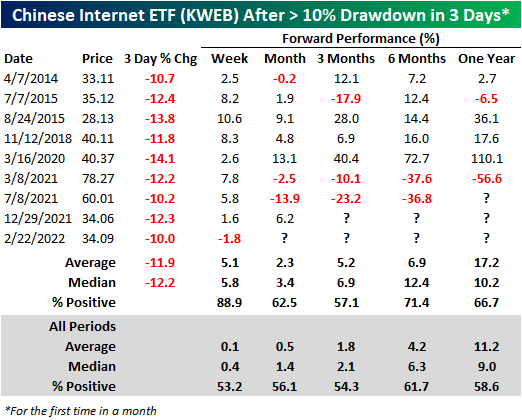 Editor's Note: The summary bullets for this article were chosen by Seeking Alpha editors.