PayPal Stock: A Buy At Today's Prices (NASDAQ:PYPL)
Editor's note: Seeking Alpha is proud to welcome Alaric Pow as a new contributor. It's easy to become a Seeking Alpha contributor and earn money for your best investment ideas. Active contributors also get free access to SA Premium. Click here to find out more »
PayPal (PYPL) has fallen by a considerable amount after a disastrous sell-off, and I believe that this drop could represent a decent buying opportunity as the company is finally approaching fair value. I am pretty optimistic about PayPal, and definitely do not believe that the most recent earnings report represents a 'nail in the coffin' of any sort. In this article, I will be showing you why I believe in the company, and why it's a solid pick at its current valuation.
Severe overvaluation in the past year
We all know what PayPal is, and what the company does. Most of us probably have a PayPal wallet which we use to facilitate digital payments. The company itself can be described as a fintech phenomenon, going from a brilliant idea in 1998 to being one of the most valuable fintech companies in the world. However, as good as PayPal is, its valuation isn't necessarily a reasonable one. For the most of last year, PayPal has been trading between $240 and $300; even the slight market pullback that lasted through March 2021 only saw the stock price tank to $223.09. This was, quite frankly, a rather ridiculous valuation for PayPal, and its financial numbers simply did not justify a share price of above $200. Whilst being frowned upon by value investors, disruptive tech bulls continued pouring money into the stock, running the share price up to a whopping $310.16. It was only towards the end of the year when the share price of PayPal faced a necessary correction and broke below the $200 mark.
A massive sell-off in PYPL stock
Today, PayPal is at a valuation that most people probably never saw coming. The company's share price of $107 is an alarming 65.5% drop from last year's high of $310.16, and it isn't without reason. The market itself is in correction territory due to fears of multiple rate hikes this year, along with an additional source of turbulence introduced by the Russia-Ukraine conflict. However, the biggest reason why PayPal has fallen to its current valuation is because of its most recent earnings report, which reflected a relatively worse financial position and weaker guidance going forward. Its full-year revenue growth projection of 18% had been cut to a range going from 15% to 17%, and its accounts added were a disappointing 49 million, compared to the forecast 55 million. The immediate reaction to this earnings report was drastic, with $50 billion of the company's market cap being wiped out as investors engaged in a massive sell-off.
Why I believe in PayPal
Increased adoption of digital payments
The world is seeing a huge shift to digital payment services, especially with the introduction of the Covid-19 pandemic. A consolidated report by Visual Capitalist has shown that the value of digital payment transactions is on an upward trajectory, with the proportion of mobile POS (point-of-sale) payments slowly taking a larger slice of the pie. As such, PayPal, being one of the biggest mobile payment services in the world, will continue thriving in a growing industry, especially with its huge and ever-growing user base of 426 million.
PayPal's new super app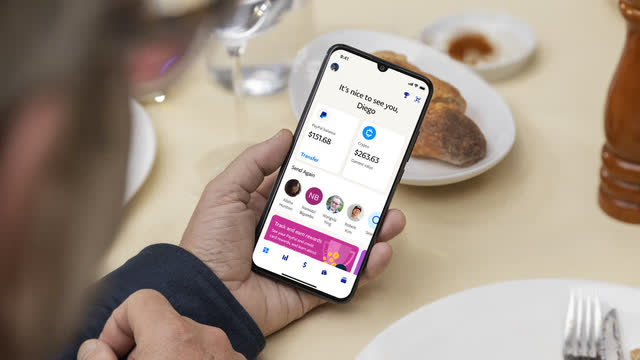 The introduction of PayPal's new super app, which boasts a myriad of new functions, has placed the company in an extremely good position against its competitors. Here are a few key new functions available in the super app.
Savings account
PayPal is capitalizing on its partnership with Synchrony Bank to offer the new function PayPal Savings, which is a savings account that is accessible through the app. The APY (Annual Percentage Yield) of PayPal Savings currently sits at 0.40%. An average savings account today would give you an APY between 0.05% and 0.07%., making the APY of PayPal Savings a relatively competitive one.
Shopping hub
The super app also includes a new shopping hub interface, where users are able to buy various products through PayPal and earn discounts and rewards for doing so. An introduction to such features incentivizes PayPal users for purchasing products through their app. This helps to retain customer loyalty and also encourage more spending through PayPal's services.
Bill pay
The bill pay feature allows users to monitor their bills (ranging from utility bills, credit card bills etc.) and pay for them through PayPal. They can also set 'reminder notifications' for these bills, or create a schedule for the bills to be settled automatically. Such a function is extremely practical and can be sufficiently utilized by users as it provides a hassle-free way for them to settle their bills. Increased adoption of these services would mean good news for PayPal's revenue growth and customer retention.
All in all, the new app has introduced many useful features to maintain PayPal's dominance in the fintech industry. To date, about 50% of PayPal's customers are able to use the enhanced app, and the most recent earnings report reflected that on a per account basis, twice as much revenue was earned from users who were on the enhanced app, compared to those who were still on the regular app. This shows great promise and could bring substantial financial growth to PayPal, especially if the company continues coming up with new features on the super app to rival its competitors.
Cryptocurrencies Hub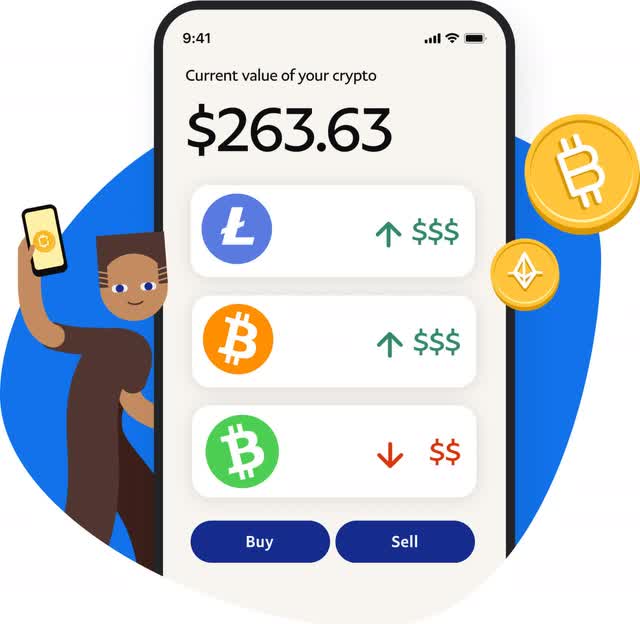 PayPal currently offers four tokens on its Cryptocurrencies Hub, namely Bitcoin, Ethereum, Litecoin, and Bitcoin Cash. The platform itself allows users to buy, hold and sell tokens as and when they wish. With the cryptocurrency market gaining traction and utility, it's no surprise that PayPal has joined in to claim its share of the crypto pie. However, there's much room for expansion in this area. PayPal could consider allowing cryptocurrency deposits and withdrawals. In addition, it could begin offering a greater variety of tokens, including big names like Cardano (ADA-USD), Ripple (XRP-USD) and Solana (SOL-USD). They could also introduce cryptocurrency staking, which would allow their users to earn more crypto just for holding their tokens. Heck, they could even delve into the NFT (non-fungible token) space. The sky is the limit for the crypto space, and PayPal certainly has the funds and capabilities to expand in this area. This is definitely an area of untapped opportunity which could be seriously profitable for PayPal.
Possible online brokerage services
It was announced in August 2021 that PayPal is currently discovering ways to introduce online brokerage services to users, thus allowing them to invest in stocks, ETFs, and possibly other financial instruments like options and futures using PayPal. The ability to provide such financial services would place PayPal miles ahead of their current revenue estimates if implemented successfully. Rich Hagen, former president of brokerage company Ally Invest, is currently employed as the CEO of a PayPal division known as Invest at PayPal. This is a promising sign that brokerage services could very likely be provided by PayPal in the foreseeable future. Introducing such services would significantly boost user growth and improve the company's financials by a huge margin.
Steady revenue growth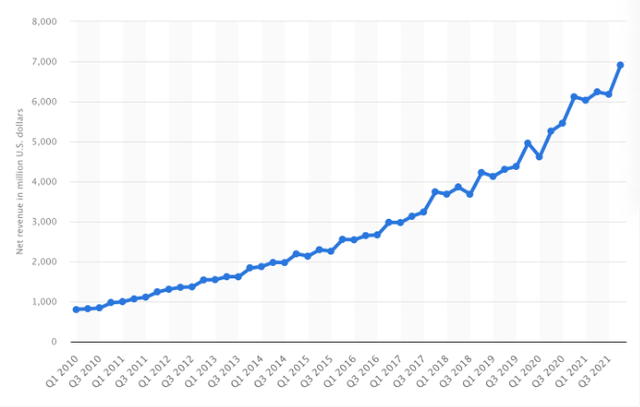 PayPal is a proven company with healthy revenue growth over the past decade. As shown from the data, PayPal's revenues have been on a steady upward trend. This is a great sign for any company, especially one in a highly competitive industry like fintech. This is especially impressive for PayPal, which has continued to lose business from its former partner eBay (EBAY) ever since their separation in 2015, which marked the shocking end of a partnership that lasted for over a decade. After the two parted ways, PayPal saw a gradual decrease in its business from eBay, yet the company has still managed to find its footing and keep its revenue numbers up through its other services. As such, I am convinced that PayPal will continue to be a company that boasts consistently good revenue growth and shows resilience even in times of economic setback.
Possible risks
While there are many good reasons to be optimistic about PayPal, there are a few undeniable risks that need to be addressed.
Intense competition
Fintech is arguably one of the most competitive industries right now, and while PayPal continues to innovate, so will its competitors. Block Inc (SQ) and SoFi Technologies Inc (SOFI) are just two of many disruptive fintech companies which could give PayPal a good run for its money. It all boils down to the companies' ability to streamline their operations, attract the largest user base, and provide the most efficient financial services. While PayPal is in a good position to do this due to its massive cash flows, whether it is able to beat out its competition remains a question that no one can answer with absolute certainty.
Misuse of platform
As good as its services are, PayPal is known to fall victim to the misuse of its platform to commit fraud, phishing and scams. In fact, a recent article has revealed that PayPal is one of the most heavily utilized platforms for email phishing. Users constantly need to be wary of dishonest and illegal activities made through PayPal's services, and this could mean serious problems for PayPal's customer base if no significant improvement is seen. Customers like to feel secure, especially when using fintech since their money and data are stored on these platforms. An increase in illegal activities carried out using PayPal could undermine the company's credibility and cause users to turn to other platforms.
Tricky industry
The industry of fintech is going to be a disruptive one in the many years to come, but it also bears with it a great amount of uncertainty. Apart from potential security risks, fintech companies also fall prey to significant regulatory risks from various governments based on many compliance factors. For example, late last year, two well-known Chinese fintech companies, Futu Holdings Ltd (FUTU) and UP Fintech Holding Ltd (TIGR), were severely hit by a possible breach of data privacy laws and a failure to comply with Chinese laws regarding cross-border brokerages. This occurred as the two companies were collecting a significant amount of data from users and also offered their services in China in the absence of valid licensure. While this may not be directly applicable to PayPal, it reflects how unpredictable the industry is as a whole, and how every fintech company has to be on its toes.
PYPL stock valuation
I have used a simple discounted cash flow model to estimate a fair share price for PayPal. I will be presenting the base, bull and bear cases individually, and concluding my analysis with a rating. My reference point (year 0) will reflect the free cash flow as stated in PayPal's most recent annual financial report of 2021. For the weighted average cost of capital, I have reached an approximate value of 8.7%, which I will be using to discount future cash flows.
Base
For my base case, I assume a 10% average annual growth rate in free cash flows, and no increase in shares outstanding. I also assume a perpetuity growth rate of 3.5%.

This is a reasonable estimate. From 2018 to 2021, PayPal has recorded an average annual free cash flow growth rate of 42.7%. However, this number is not necessarily sustainable. The free cash flow of PayPal in 2021, as reflected in the financial report, has only increased by 8.90% from the previous year. As such, I assume an average annual growth rate of 10% to forecast my cash flows. This number is not far off from the growth last year, but I'm going a little higher as I believe that PayPal's future ventures will improve the company's financials to some extent. As for shares outstanding, I went with a 0% average annual increase. From 2018 to 2021, PayPal has recorded an approximate overall net change of -0.83% in shares outstanding, implying that a small portion of shares have been bought back. As such, I will assume that the number of shares outstanding stays as it is. As for the perpetuity growth rate, I will be going slightly above historical inflation rates, which lands me at 3.5%. The estimated share price of PayPal using these assumptions is $112.60. Given that PayPal currently trades at $107 a share, this represents an approximate 5.2% return.
Bull
For my bull case, I assume a 15% average annual growth rate in free cash flows, and a 0.8% average annual decrease in shares outstanding. I also assume a perpetuity growth rate of 3.5%.

This is a moderately bullish case. I've chosen an average annual free cash flow growth rate of 15%, under the assumption that the company implements its plans to offer online brokerage services and/or offers a greater variety of cryptocurrency services. As for shares outstanding, I've opted for an average annual decrease of 0.8%. Given that PayPal has a history of buying back shares, I am assuming that a good amount of free cash flow generated from the new implementation(s) is being used to repurchase shares. As for the perpetuity growth rate, I will maintain at slightly above historical inflation rates, which is 3.5%. The estimated share price of PayPal using these assumptions is $145.70. Given that PayPal currently trades at $107 a share, this represents an approximate 36.2% return.
Bear
For my bear case, I assume a 7% average annual growth rate in free cash flows, and a 1% average annual increase in shares outstanding. I also assume a perpetuity growth rate of 3%.

These are pretty bearish assumptions. To start, I've chosen an average annual free cash flow growth rate of 7%. Remember that the free cash flow of PayPal in 2021 has only increased by 8.90% from the previous year, and I am assuming an average annual growth rate that is even lower than this. This would mean that the company is likely going to continue to miss estimates multiple times over the next 5 years, and would slow down significantly in terms of its cash flow generation. As for shares outstanding, I've gone for an average annual increase of 1%. It's a reasonably conservative estimate given the bearish scenario where the company may potentially need to issue more shares to generate more cash flow for the purpose of funding the business. As for the perpetuity growth rate, I assume a flat 3%, which is at the higher end of historical inflation rates. The estimated share price of PayPal using these assumptions is $86.20. Given that PayPal currently trades at $107 a share, this represents an approximate 19.4% loss.
Conclusion
Personally, I lean more toward my base case assumptions, and I believe that they do indeed give the current fair value of PayPal's stock price. As such, I conclude my analysis on PayPal with a price target of $112.60, and assign a Buy rating on the stock. Given the turbulent market conditions, we could see serious buying opportunities for PayPal in the coming days. If what you have read in this article makes sense to you, you may want to put PayPal on your radar.