Nutrien Stock Is Likely To Blow Past Analysts' Estimates (NYSE:NTR)
Investment Thesis
Nutrien (NTR) is a producer of potash, phosphate, and nitrogen. It manufactures and distributes crucial elements required for fertilizer production. However, the past few days have been very volatile.
Here I highlight why it's been volatile, while also declaring that nothing material has in actuality changed for the worst.
If anything, the bullish thesis continues to improve as an increasing amount of news flow appears to solidify the overall thesis.
Consequently, I contend that this investment offers investors a very reasonable risk-reward profile.
This write-up continues the one on Nutrien from last week.
Investor Sentiment Goes Edgy For NTR Stock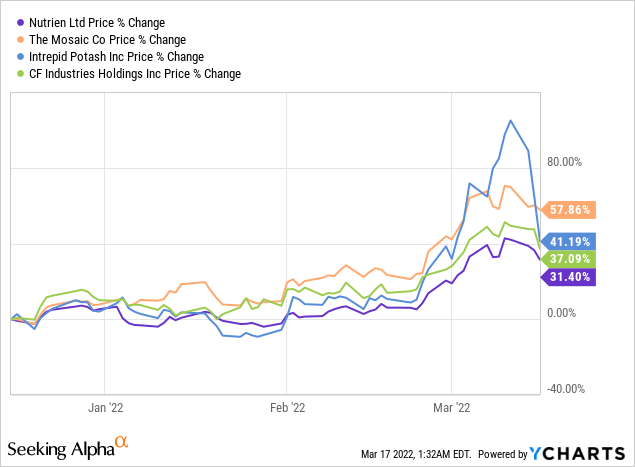 As you can see above, after a parabolic move upwards in the past month as fertilizer stocks dramatically increased in value, the past few days have sold off.
There are a couple of elements that drove that sell-off.
In the first instance, the move up picked up a lot of momentum traders that were dragging with them tight stop losses. Any downturn and they would take profits.
Secondly, this has become very news-flow sensitive. Any indication, or better put, any rumor of the dynamics that got us here lessening, and these stocks were due for a sell-off.
However, as we'll discuss, there are different angles to be bullish on this name or sector in general.
Nutrien's Revenue Growth Rates Going to Remain Strong

As I discussed in the previous article, everyone has more or less come to terms with the fact that Q1 2022 is going to be very strong for Nutrien.
The question that remains outstanding is what does the back end of 2022 look like? Are we going to see a dramatic drop in fertilizer demand? Or will fertilizer demand stay elevated?

And this is what I want to highlight for readers. In the past month, analysts have started upwards revising their estimates for the back end of this year.
Yes, Q4 2022 revenue growth rates are presently expected to be negative 6% y/y. But you don't mind so much that it's negative or not; it's the change in sentiment that matters here.
You want to see the change in revenue growth rates increase higher.
That's the thesis right there. And there's more good news too.
What's Happened Recently?

As you can see above, Nutrien was guiding at the high end of its estimates towards 14.3 million tonnes of potash for 2022. This guidance was put out approximately 31 days ago.
Then Nutrien yesterday put out this press statement:

As you can see above, Nutrien now expects potash estimates to increase to 15 million, a 5% increase to its high end.
But most importantly, this increased volume is going to be produced in the second half of the year.
That implies that Nutrien's outlook to inventory channels remains low throughout the year, into the second half of 2022.
So, not only is inventory tight in the first half, as has been widely reported, but the second half appears to be tight too.
Given that analysts are expecting that Q4 2022 is going to report negative 6% y/y revenue growth rates, you can clearly see that those estimates are going to have to be upwards revised.
Indeed, we know that in 2021 Nutrien produced 13.6 million tonnes of potash. And that right now is on target to produce 10% more volume, with the majority of the increase only coming online in the second half of 2022.
It's Simple Physics
A lot of investors have become too accustomed to software companies. When there's a massive demand for a product or service, you can just write some code and instantly deploy it into the market.
The thing with fertilizer is that you need to physically get it out of the ground. You need to hire people from a tight labor market. You have to get them trained up to work safely. And then, you need to transport the fertilizer amidst all the supply chain challenges.
And that's going to take time. And that's why, even with pent-up demand for potash and other much-needed fertilizers, the excess supply will only come online in H2 2022.
Premortem (Investment Risk)
If sanctions against Russia are lifted soon, there's the likelihood that Russia and Belarus will be able to easily export their potash supply. I contend that's going to take time.
One thing is to get a ceasefire with Ukraine. It's a whole different matter to get sanctions removed. Sanctions can remain around for a while. It's not the case that Russia and the West go back to being best friends tomorrow.
Not after you put politicians in charge. You can practically forget that.
Furthermore, throughout Eastern Europe, there are now meaningful supply chain disruptions. Getting potash supplies out will take time.
In fact, Russia has imposed self-sanctions on itself to prevent fertilizer exporters from bringing supply to Europe, thus creating a significant amount of pain in Europe's high food prices.
What's more, the fertilizer is transported by trains and ships. And many shipping and logistics companies are staying clear of the area for safety reasons.
Further, news that Russia is supplying China with fertilizer has led many to believe that China will take that supply and sell it in the world.
Firstly, China hasn't got that distribution set up and those contacts in place. It could take a long time for that to play out.
Secondly, and more importantly, China wants the fertilizer for itself. Why would they look to export it? They also have a large population to feed.
The Bottom Line
There are a lot of moving pieces and, obviously, the situation is extremely fluid. Also, in the background, you also have countries in Latin America clamoring for export sanctions against Russia to be lifted given that those countries are seeing food prices rapidly rising and they too require massive amounts of fertilizer.
Even if Nutrien wanted to, it simply can't supply potash to everyone. That's going to lead to potash and other fertilizer prices remaining elevated this year.
Oh, and by the way, did I mention the Rail Strike in Canada happening too? I wonder what could happen if you have a rail strike and Nutrien, a Canadian exporter of fertilizer, using rail to get the fertilizer out.
To preempt your question, yes I'm bullish. Note I don't own shares here. I picked up shares in a smaller peer of Nutrient. Whatever you decide, good luck and happy investing.