NIO Stock: Underestimated Rebound Potential (NYSE:NIO)
As expected, NIO's (NYSE:NIO) delivery card for the month of March showed massive improvement over the previous two months where sales results were affected by Chinese New Year. NIO delivered almost 10 thousand electric vehicles last month and the rebound in deliveries strongly suggests that the EV startup has continual potential for growth for the remainder of FY 2022. Given the expected production and delivery ramp this year, partially based on new sedan model launches, shares of NIO remain undervalued!
A look at NIO's most recent delivery card
NIO as well as other electric vehicle startups saw their deliveries plunge in the first two months of FY 2022, in part due to Chinese holidays that lowered electric vehicle sales across the sector. NIO's volume decline in January and February was especially pronounced, but NIO was not the only company that saw its deliveries fall. However, as I expected, NIO saw a material delivery rebound in March that indicates significant recovery potential for the rest of the year.
NIO delivered 9,985 electric vehicles in March of which 5,064 were ES6s, 3,032 were EC6s and 1,726 were ES8s. It should be noted that NIO also started to deliver its new passenger sedan, the ET7, in March of which the firm delivered its first 163 units to customers in China. Deliveries for the ET7 started only on March 28, 2022 meaning NIO's sedan deliveries are going to be significantly higher for the month of April.
While NIO's ES6 flagship model still accounts for roughly half of all deliveries, NIO's sales mix is going to change going forward due to the launch of the ET7… which is set to see a significant production and delivery ramp throughout FY 2022. I believe NIO could deliver more than 2 thousand sedan models on a monthly basis by the end of the current fiscal year, and potentially much more than that.
NIO's total delivery volume in March improved 62.9% while XPeng's (XPEV) month over month delivery rebound was 147.6% and Li Auto's (LI) recovery was 31.1%. Both XPeng and Li Auto delivered more than 10 thousand units monthly again in March and NIO came at least very close to the 10 thousand unit delivery mark. Going forward, assuming there are no significant disruptions to the flow of semiconductors, I expect NIO to deliver a significant production and delivery ramp in FY 2022.
| | | | | | | |
| --- | --- | --- | --- | --- | --- | --- |
| Deliveries | January | Jan Y/Y Growth | February | Feb Y/Y Growth | March | March Y/Y Growth |
| NIO | 9,652 | 33.6% | 6,131 | 9.9% | 9,985 | 37.6% |
| XPEV | 12,922 | 115.0% | 6,225 | 180.0% | 15,414 | 202.0% |
| LI | 12,268 | 128.1% | 8,414 | 265.8% | 11,034 | 125.2% |
(Source: Author)
I estimate that NIO could deliver up to 190 thousand electric vehicles, across all models, in FY 2022… but this assumes that NIO won't face any production delays this year. So far in FY 2022, NIO delivered 25,768 electric vehicles in the three months ended March 2022, showing an increase of 28.5% year over year. NIO also achieved an all time quarterly record in deliveries in the first quarter, despite drastically declining delivery growth in the first two months of the year. XPeng and Li Auto saw their quarterly delivery volumes increase 159.0% and 152.1% year over year. Because NIO just launched the ET7 flagship sedan and is scheduled to begin selling the ET5 sedan later this year, I believe NIO has exceptional potential to grow deliveries.
Revenue estimates will continue to go up
NIO's revenue estimates are rising, indicating that the market still underestimates the firm's growth potential. While NIO is not profitable yet, the company is edging closer and closer to this goal. NIO is expected to generate profits in FY 2023, but it would be a mistake to value a growth company like NIO based on its EPS.
NIO is best evaluated off of its revenue potential. Top line predictions call for revenues of $9.9B in FY 2022 and $16.4B in FY 2023, implying impressive revenue growth rates of 74.2% and 66.1%. Estimates are likely to continue to rise as analysts start to include expected sedan sales into top line predictions.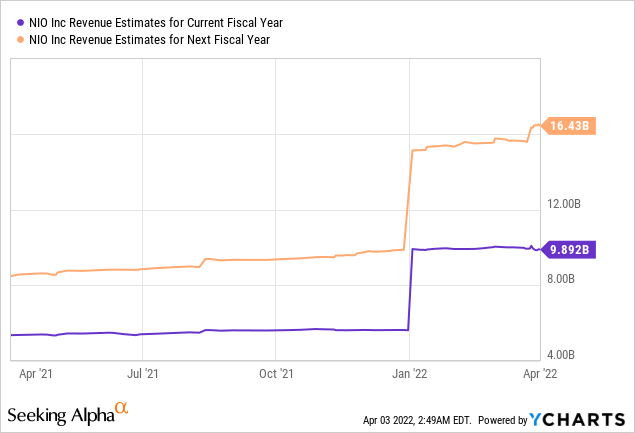 While XPeng currently offers the fastest delivery growth and Li Auto the cheapest revenue growth (P-S ratio of 2.1 X), NIO's value lies in its increasing density of its product lineup and BaaS revenue opportunity.
Based off of sales, NIO is still very attractively valued (P-S ratio of 2.2 X) and the rebound in deliveries in March could power NIO's valuation higher.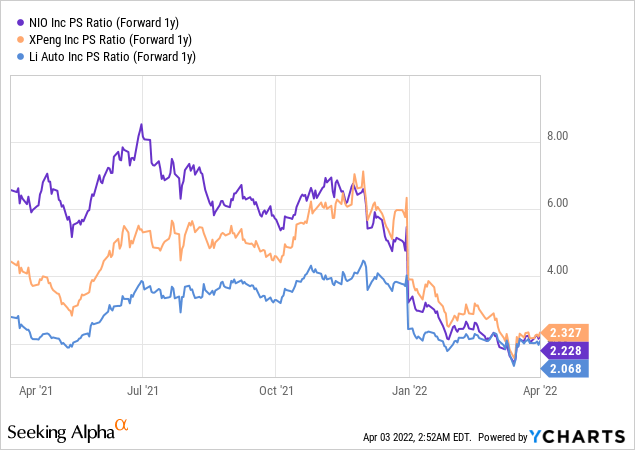 Risks with NIO
I believe NIO is at the precipice of seeing a strong recovery in delivery volumes this year. In part this is because Chinese holidays no longer impact NIO's deliveries. While risks still exist for NIO, I believe the recent launch of the ET7 and the anticipated launch of the ET5 sedan later this year will significantly boost NIO's delivery volume in FY 2022. The biggest risk for NIO, as I see it, are risks relating to production. In FY 2021, NIO had to lower its delivery forecast due to supply chain issues. If computer chips are hard to come by this year, NIO's delivery potential will likely be impacted as well. What would change my opinion about NIO is if production and timeline risks were to increase significantly and the firm's electric vehicle delivery growth dropped off unexpectedly.
Final thoughts
NIO saw a massive rebound in deliveries in March, as expected. The rebound means that NIO will most likely exceed 10 thousand deliveries again in April and I expect ET7 deliveries to ramp up nicely throughout NIO's second quarter as well as throughout the rest of the year. NIO's growth potential, especially regarding its sedan models, appears to be underestimated and I believe the risk profile for NIO is still heavily skewed upwards here!