Nine Wave Setups To Watch (Video) (NYSE:LMT)
Lockheed (LMT) is cooperating well with the expectation that the recent low made mid-month completed wave (iv) of the circle wave iii and price is turning up in the wave (v ) of iii. Under that assumption, it looks reasonable as a leading diagonal up for wave i of (v ) and price is now pulling back in wave ii. I expect to see a little bit more near-term downside, as mentioned when I posted the wave setup, to reach the .382 to .618 retracement between 439.30 and 428.40 as the ideal spot for a long entry within that range, and then using a stop underneath the low that was made on the 15th (underneath 411). If you do want a tighter stop, you can place it underneath the .786 at 420.80. As long as the low that was made mid-month holds, this looks like a convincing i-ii start to the fifth wave with about 500 as the target for wave iii, then a iv-v can take price up to about 525.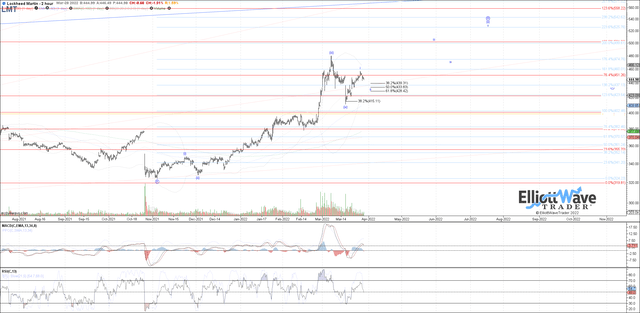 Next up Crispr (CRSP). As we've discussed previously, that within the larger diagonal count where price is trying to put in the bottom as primary wave 4 and turn up in the start primary wave 5, it does not need to start with a 5- wave move off of the February low. However, if we do get 5 waves up, it allows us to place higher confidence behind a lasting bottom in place at the February low and something bullish developing from that low. I posted a wave setup at the end of last week because price was entering into the support range discussed for a potential wave iv of a leading diagonal off of the February low, and so far price has held the .500 retrace as the ideal target support and is now trying to turn up in the v. If we get a higher high from here above the current March high, then it gives us a nice five waves up from the February low as a leading diagonal which can complete a larger (A)-wave and pull back in wave (B) or maybe even a (i)-(II) as another option. Therefore, we will likely have another opportunity to add to positions then, and it would even reasonable if a little bit more conservative to wait for five up and enter the position on the (B)-wave or wave (II) pull back once the leading diagonal completes.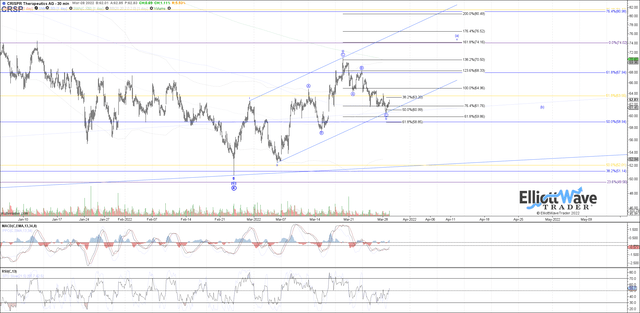 Moving on to Etsy Inc (ETSY), price has pulled back into the target support for a potential (i)-(ii) start to at least blue wave c of B, or potentially within red wave iii as a more bullish option but with similar near-term expectations either way. Therefore, this setup offers good risk versus reward using a stop below the March 14 low, or if a tighter stop is desired below the .786 retrace underneath 124. So far price is turning up from the .618 retrace, ideally as the (i)-(ii) complete and now ready to head higher in the wave (iii). Breaking out above the prior highs on the month should send it up to about 184.60 – 196 assuming that the (i)-(ii) is in place. Once price is back above the high that was made last week, the stop can be moved up from the March low up to last week's low.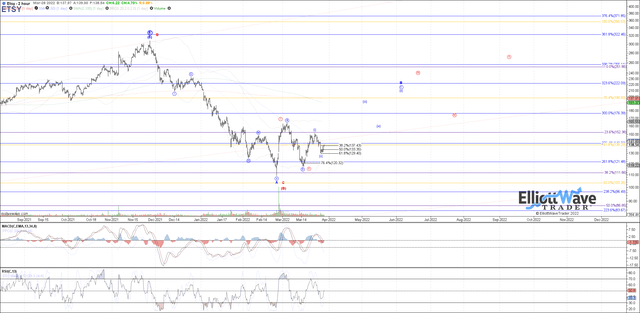 Looking at Micron (MU), I refreshed the wave setup on MU because the prior stop from the previous attempt did get triggered. When price was moving up from the January low, we suggested moving the stop up to the January low at that point, so if you happen to get stopped out, the recent consolidation was an opportunity to reattempt an entry. Price is looking constructive so far since the wave setup was posted as a potential (i)-(ii) off of the March low, which held the upper end of the target support cited for wave (ii) in between the .382 and .500 retracement levels as a nice corrective flat. Any breakout above the high that was made last week around 81 and price should continue to follow through as wave (iii), which ideally reaches at least 93 before completing.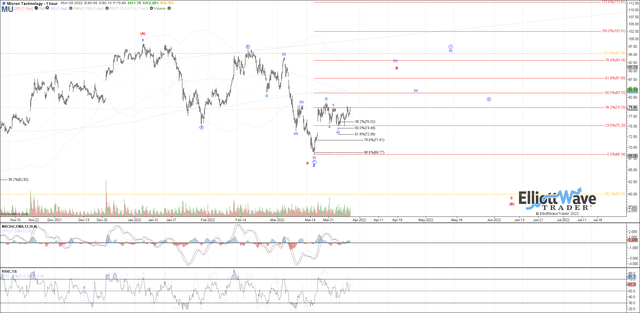 MP Materials Corp (MP) has provided us with some really nice gains since posted as a wave setup, following expectations and breaking out strongly in wave (iii) of iii, which satisfied the target cited at the high that was made last week. Therefore, price can pull back from here in a fourth, and if it does so should target the .382 to .500 retrace between about 49.80 and 47.60 as ideal support to hold for wave (iv) to set up the next move higher as wave (v ) of iii. If you did trim a little bit of profit near the highs as we were reaching the target last week and want to redeploy some capital on a wave 4 pullback, ideal to do so between about 50 and 47.60.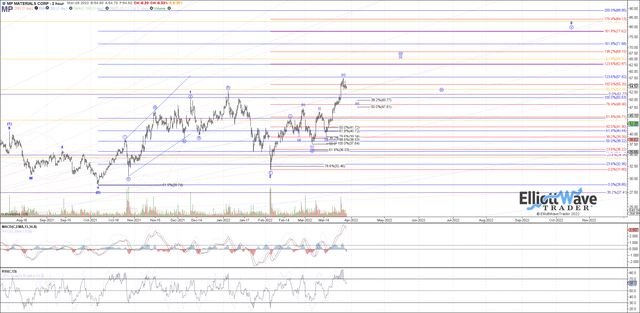 Seattle Genetics (SGEN) is still an active wave setup that's pulling back from the high that was struck so far on the month as what can count as five waves up from the February low. If you're looking for a new entry or an opportunity to add to current positions, then this pullback is providing that opportunity. If price completed five waves up already, there's room to reach a little bit lower with the .382 – .618 retrace between 134.11 and 127.50 as target support. However, I can make a reasonable case that the March high is only the top of wave iii, or even wave (b ) of an expanded flat wave iv. Therefore, it's possible that price gets another high from here as red wave v and then begins a larger pullback, but if we otherwise do see more near-term downside into the .382 to .618 retrace between 134.11 and 127.50 it offers a good opportunity to add to positions or enter a new position if you're still on the sidelines.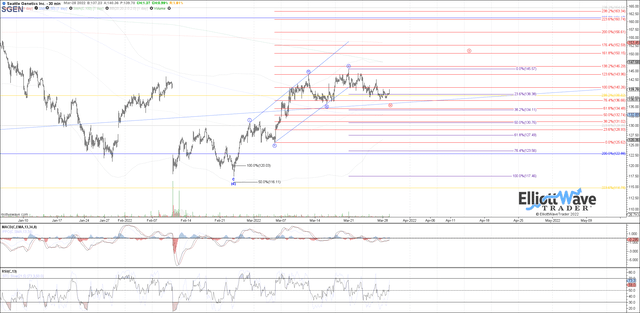 Another chart that's looking constructive recently is YUM Brands (YUM). It did get an extension in the wave c of 4, but is otherwise looking good as a new attempt at starting wave (5). There is a decent three- wave pullback into last week's low and now a nice bounce off of that low. Maybe this turns into a wider abc flat structure, but otherwise any consolidation that we see near-term can be used for a long attempt using a stop underneath last week's low for pretty good risk versus reward. If it's a 1-2 or a-b off of the March low, a measured move fib would be at about 127 as an initial target, and of course assuming the large degree count as wave (5) is starting, it would give you good positioning for the bigger picture potential. Again, it's looking decent as far as a new attempt at starting the larger wave (5), and a tight stop can be placed below last week's low.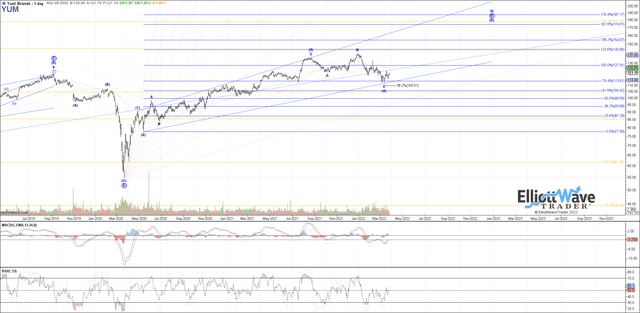 Another chart that I think offers some interesting potential even if a corrective bounce is Moderna (MRNA). This was a favorite of ours off the March 2020 low we were counting as wave (2). It completed the larger (3)-(4)-(5) into the Aug 2021 top. I'm treating the upside from here as corrective until proven otherwise, but from a percentage standpoint there's some still some decent shorter-term moves to play. However, ideally we get a bit more near-term downside in the current pullback to set up the best risk vs. reward for at least a measured move c-wave to the upside. Support for the circle wave b if we do get more near-term downside is between 159.40 to 143.90. Attempting a long position within that support range and using a stop either underneath the .764 retrace or underneath the March low for a measured move c-wave to the upside is attractive as far as a decent risk vs. reward setup.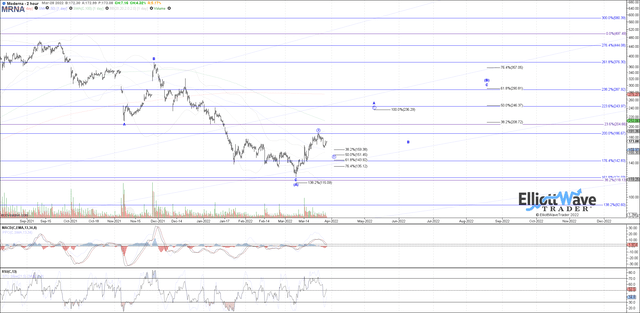 The final chart for today is Upstart (UPST). I know that there's some interest among membership in this stock, and there's a reasonable near-term setup developing for at least c-wave to the upside. I'm also treating the bounce here as corrective as a B-wave, but looking for further near-term upside in wave c of B. There is a potential (i)-(ii ) start to wave c with price trying to turn up from the .618 retrace, so it's not a bad spot to attempt an entry even with a very tight stop below the low that was made last week. If you want to give it more room, use a stop below the .786 retrace at 93.67 or up to full invalidation below the March low. If the setup holds, I am looking for price to head up to the .500 or .618 retrace between 174 and 212 before wave c of B completes.