Nicolet: Wisconsin Acquirer With Upside (NASDAQ:NCBS)
Overview
Founded in 2000, Nicolet Bancshares (NCBS) is the second-largest bank headquartered in Wisconsin. Nicolet provides a full-service community bank serving northern Wisconsin and Michigan, including the MSAs of Green Bay, the Fox Cities, and Wausau in Wisconsin, and Marquette, Alpena, and Traverse City in Michigan. The bank has a commercial focus with ~50% loan in C&I lending and CRE owner-occupied situations. Besides commercial banking, the bank provides wealth management and asset management to businesses and individuals, with $4.1 billion AUM (trust/RIA). The mortgage division also drives significant non-interest income growth for the bank. Over the years, the bank has made a concerted effort to drive a lower efficiency ratio. FY21's higher efficiency ratio is a function of the acquisition of County Bank, which was closed on December 3rd, 2021.
Nicolet's acquisition deserves some special attention. Over the years, Nicolet has been creating value through consolidating the banking market in Wisconsin alongside some competitors. Deals since 2016 are as follows:
More importantly, Chris Myhre, CEO of Advantage Community Bancshares, commented as follows.
We perceive Nicolet as the clear, long-term winner in the Wisconsin community banking arena.
To us, this reads like "if you cannot beat them, join them." The competitor's comment on Nicolet gave us a lot of confidence about Nicolet's strategic initiatives and ability to execute.
Review of Operations
From a profitability perspective, ROA and ROE have been trending in the right direction before COVID. Nicolet closed on the acquisition of County Bank in Q4 2021 and delivered another strong quarter of growth. As of FY21, the Bank closed two transactions, both County and Mackinac, thus driving up the efficiency ratio to 58%. We expect the integration improvement to occur in the near future and drive cost improvement and better flow-through earnings. Thus, 2021's core ROE & ROA are likely to be higher than reported once the streamlined integration cost.
NIM has been relatively stable in a declining rate environment but comparatively higher than industry peers. This is primarily driven by the bank's low cost of funding from large DDA and non-interest-bearing accounts. Moreover, brokered and time deposits only accounted for 15% of total deposits. Similar to an overall view in the mid-west, the mid-west is an excellent place to originate deposits because competition is less intense.
Credit quality has improved over the years and provision/average loans have been within a very manageable range during the past few years.

(Note, the loan portfolio breakdown is not available until the filing of 10K)
Valuation
On a pre-adjusted basis, the bank earned $5.44/share. Including merger-related deals and provisioning expenses, the Adj. EPS is $6.57/share. The adj. EPS does not include any cost synergy coming from the integration of County and Mackinac. Including fully baked-in cost synergy, EPS can quickly get to ~$8.8 / share. Effectively, potential shareholders are paying ~11x P/E for Nicolet.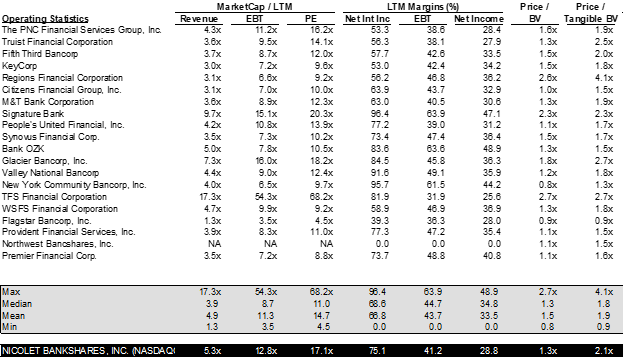 Risk/Reward
From a risk perspective, the integration of County and Mackinac will be a major risk. Integrating two different banks simultaneously can be a challenge, but it can be done given the bank's expertise in merger & integration. The bank is less interest-rate sensitive than traditional banks, thus lagging in a rate hike cycle. Mortgage income will come down as the refinancing activities wane, but volumes are tied more towards purchasing than refinancing at this point.
From a reward perspective, although the bank will unlikely to benefit from a rising rate, the integration-led cost synergy will create earning growth. Moreover, once the bank can prove that it can complete two deals in a year, it will leverage the M&A machine to create value.
Conclusion
To sum up, Nicolet is a regional leader in Upper Michigan Peninsula and Wisconsin. The bank has a successful record of creating value through mergers & acquisitions. Midwest is less competitive from a banking perspective; thus, deposit gathering is less competitive than the northeast. The management team has a successful record with M&A and maintains strong credit quality of their portfolio, a good trait for both banking in general and convincing acquisition target to take the bank's shares as an acquisition currency. With insiders owning 10% of the bank, we are confident that the management team's interest aligns with shareholders and will continue to create value via opportunistic acquisition. At ~11x P/E, we find the risk-reward dynamics favorable.