Nerdy, Inc.: Bullish On The 'Learning Platform As-A-Service' (NYSE:NRDY)
Nerdy, Inc. (NRDY) is an online learning platform centered around live classes led by independent subject matter experts. The company uses a marketplace model allowing vetted tutors and teachers to generate income as a "gig-economy" option while students benefit from the availability of different formats and the convenience. Through the "Varsity Tutors" brand, Nerdy has seen strong growth leading up to its 2021 SPAC merger IPO.
While shares have been under pressure amid the broader market volatility, we highlight the solid operating trends supporting a positive long-term outlook. While there are several other online learnings options, Nerdy has a unique proposition that we believe sets up several growth opportunities. We are bullish on the stock that looks attractive following the selloff.
How Does NRDY Make Money?
The company calls its core product a "learning platform-as-a-service" considering the learners can access thousands of experts on Nerdy's platform for an on-demand live video chat-based session. The software incorporates machine learning and artificial intelligence to match users with experts. For one-on-one instruction, hourly prices range from $45 per hour to more than $75 per hour. Here, NRDY captures the fees as its revenue while the tutors are compensated with a cut that represents part of the cost of sales.
An important point here is that Varsity Tutors is the main operating business that has expanded to include small-group classes, with lower pricing, as well as options for large format type of event-style seminars. Through free "StarCourses" led by celebrities, the idea is to reach new audiences and drive signups.
Beyond academic prep for school children across more than 3,000 subjects, there is a full range of test training for the major college entry and post-graduate standardized exams, along with professional certificates. The company expects to expand internationally in the future as a new growth opportunity.
NRDY Financials Recap
The company last reported its Q3 results on November 15th, the first report as a publicly-traded company, with a GAAP EPS loss of -$0.27 while revenue at $31.3 million climbed 19% year-over-year. The trend considers 2020 comps during that pandemic that was particularly strong for the platform. The gross margin at 66% declined slightly from 68% in the period last year with management noting investments in growth while testing different format pricing.
The reported operating loss of -$58 million compared to -$5.1 million in the period last year, although much of that reflected a large $37.5 million in stock-based compensation within the G&A expense following the IPO. Nevertheless, the adjusted EBITDA loss of $11.7 million widened from -$3.2 million in the period last year.
The big picture here comes down to what is overall strong key platform metrics across the number of active learners climbing 36% y/y to 52,000 while online sessions climbed 45% y/y to reach 451k. This spread implies learners are utilizing the platform more often as a sign of retention. From the chart below, there was a slowdown in the number of one-on-one sessions taught by experts, climbing just 1% y/y. This metric considers that Nerdy has been able to attract more experts, with the pool of instructors climbing 23% y/y, while the effective "workload" per expert is stable at a normalized level.
There are also some quarter-over-quarter dynamics to consider. Typically, the platform is expected to have some seasonality during the summer months with students away from school. A strong point has been a surge of bookings between September and October, up 63% y/y which provides some visibility for growth going forward.
A key development in 2021 has been an expansion into an institutional segment offering the Varsity Tutors platform to top K-12 school districts which is in addition to the direct to consumer offering. The last update is that NRDY has signed up 47 contracts worth nearly $10 million in revenue. This will be a key area to watch going forward.
In terms of guidance, management last issued estimates for the yet-to-be reported Q4 expecting full-year revenue in a range of $139 to $141 million, representing an increase of 35% over 2020 at the midpoint. The adjusted EBITDA loss is expected to remain negative but narrow to a range of -$4 to -$6 million compared to the Q3 result. Finally, we note that NRDY ended the quarter well capitalized with $170 million in cash from IPO proceeds against zero long-term financial debt.
NRDY Stock Price Forecast
Nerdy is an interesting addition to online learning and digital education platforms which is a vibrant segment even among publicly traded companies. The differentiation of Nerdy and what the company believes is its key advantage is the online live-learning model. This is in contrast to other players like Coursera Inc. (COUR), Duolingo Inc. (DUOL), Udemy Inc. (UDMY), and Chegg Inc. (CHGG) which are based on pre-recorded videos. Nerdy shares survey data that suggests learners find live instruction as higher quality.
To be clear, while some of these players have some overlapping target markets, each focuses on different segments. Duolingo, for example, focuses on the study of second language. Udemy features a marketplace model that shares similarities with Nerdy, although its platform is more focused on technical skills like "web development" compared to the formalized academic prep.
What's more important is that the entire segment is benefiting from a major tailwind with online learning gaining penetration compared to offline options. From a 2.3% share in 2019, the forecast is for global learning digital share to reach 11% by 2026. Anecdotally, there is an entire generation of young students, and their parents, that have become familiar with the remote learning format and likely to seek options to complement their studies going forward.
In terms of valuation, the metric we are going with considers the company's guidance to reach a positive adjusted EBITDA of 5% in 2023, expanding towards a long-term target between 25-30%. Playing around with the numbers, the 2021 guidance for revenue to approach $140 million coupled with a target for 43% growth in 2022 and 35% in 2023, the outlook here is for adjusted EBITDA of around $13.5 million by next year.
Considering the stock's current enterprise value of $205 million, NRDY trades at a 1-year forward EV to EBITDA multiple of 15x. We see this level as attractive considering the long-term growth opportunity. Against the online learning peer group, it's worth mentioning that Duolingo, Coursera, and Chegg are not expected to generate positive EBITDA this year. On a forward EV to sales basis, NRDY trades at a discount to the group at just 1.1x compared to 3.9x for COUR, 4.2x in Chegg, and 8.1x by DUOL.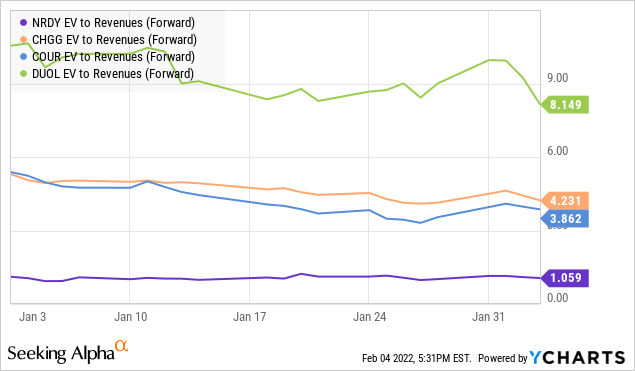 What appears to be a cheap valuation makes NRDY particularly compelling at the current level considering shares are down by more than 60% from the original SPAC merger deal price. It's also encouraging to see that even amid the selloff, NRDY has at least stabilized above the $4.00 per share level over the last several weeks in a bottoming pattern.
Is NRDY A Buy, Sell, Or Hold?
The biggest challenge against NRDY right now is that it's the type of "story stock" that the market has punished over the last several months. The lack of current profitability and uncertainty over financial targets keep it in a speculative category. Still, we believe the selloff has sufficiently discounted the risks and we see value in shares at the current level.
We rate NRDY as a buy with a year ahead price target of $7.00 which represents a fair value for the stock closer to $500 million as an enterprise value or around 35x on the 2023 adjusted EBITDA potential. The attraction here is the opportunity in digital learning eying the advantages of the marketplace model geared towards academic prep and test training.
The next few quarters will be critical to confirm the operating and financial trends. Positive 2022 guidance from management can be a catalyst to lift shares higher. The main risk would be weaker than expected results forcing a reassessment of the earnings outlook. There is also a question regarding how online learning will proceed in a post-pandemic economy. Monitoring points include the level of active learners as a key metric.