MicroSectors FANG+ Index ETN: Take Advantage Of Headwinds (FNGD)
Thesis
The MicroSectors FANG+ Index -3X Inverse Leveraged ETN (FNGD) is an exchange traded note which provides three times inverse leveraged participation in the performance of the FANG+ Index, compounded daily. The index is one of the most highly correlated indices to technology stocks. Its underlying composition is equally weighted across all stocks, allowing for a more diversified and represented portfolio versus a market capitalization index such as the S&P 500. There are only ten components in the index, all with a 10% weighting, and the population includes the five core "FANG" stocks – Facebook (NASDAQ:FB), Apple (NASDAQ:AAPL), Amazon (NASDAQ:AMZN), Netflix (NASDAQ:NFLX) and Alphabet (GOOG, GOOGL). As the Fed raises rates and the discounting factors associated with future profits become greater we might see further weakness in the technology behemoths. Earnings surprises, such as the shock Meta (Facebook) announcement this week can also provide as catalysts for short term weakness. FNGD is a highly leveraged vehicle, hence a very short-term speculative tool to be aware of. While European markets benefit from the advent of CFDs to trade equities with substantial leverage the North American markets have to rely on leveraged vehicles such as FNGD to express such a targeted view with leverage embedded in the instrument at hand. FNGD is an exchange traded note, not an exchange traded fund, hence it is also subject to the default risk posed by Bank of Montreal. We would advise using FNGD to trade market dislocations and for very short periods of time given the volatility of its returns. The vehicle was up +60% on a year to date basis on January 27, having rallied almost +40% in the trailing seven days. A good tool to be aware of as the market reprices technology and the underlying stocks start experiencing significant volatility around their earnings period and the looming Fed hikes.
Holdings
The NYSE FANG+ Index is fairly new in the marketplace, having been recently launched: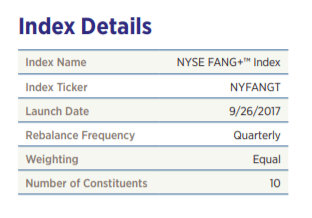 The NYSE FANG+ Index is an equal-dollar weighted index that was created by the NYSE in 2017 to provide exposure to a group of highly-traded growth stocks of technology companies:

Among the large North American names in the index one can also find a couple of Chinese tech names, namely Alibaba (BABA) and Baidu (BIDU) providing for a bit of geographic diversity in the technology space. As a reminder the Chinese tech names present in the index had a very different trajectory than the rest of the cohort in 2021, having lost a substantial portion of their market value.
Performance
On a 1-year basis the ETN is down:
However in 2022 and the massive Tech underperformance seen this year due to the upcoming Fed hikes, FNGD has provided for an outstanding return profile:
Volatility is back in the mega-tech stock space, and we are witnessing in 2022 unheard 1-day moves in names such as Meta/Facebook:
In fact, the recent Meta one-day wipe-out ranks as the worst one-day value erasing event in the stock market history.
The spectrum of Fed rate raises coupled with earnings disappointments are bound to create outsized moves in these names, especially on the back of massive option positions retail investors are running in the market. Volatility is good for FNGD with retail investors being now able to undertake leveraged views on market dislocations in this basket of stocks. Rather than utilize option positions which can expire worthless and thus lose an investor their premium, an individual can utilize the 3x embedded leverage in FNGD to obtain a similar pay-off profile.
Some Constituents Earnings Scorecards
Facebook
* had a brutal earnings announcement this week
* stock experienced a massive -20% drawdown
Apple
* Apple delivered a robust quarter
* The stock rallied substantially last week
Amazon
* Amazon delivered on its cloud business
* Its stake in Rivian helped the profit & loss
Netflix
* Netflix showed a subscriber slowdown last week
* Shares got hit hard
Google
* Solid results from this tech name
* The announced a stock split
Conclusion
A three times leveraged product, FNGD represents a highly speculative short term trading tool to be aware of by a retail investor. FNGD is not a buy-and-hold vehicle, but a fund that can be used for day trading or for very short holding time frames (1-15 business days). While European retail investors can rely on CFDs to obtained leveraged returns to certain stocks or stock baskets, North American investors have to rely on options and leveraged products. An alternative to some option strategies that can see an investor's premium completely wiped-out, FNGD gives an inverse leveraged return to a portfolio of tech stocks. With volatility up substantially in 2022 on the underlying basket of names and distinctive one-day moves as seen in Meta, FNGD is a good vehicle to consider for a sophisticated investor looking for a leveraged return.