Lovesac Stock: An Industry Disruptor That's On My Radar (NASDAQ:LOVE)
Initial thoughts
Despite what the name suggests, Lovesac (NASDAQ:LOVE) is more than simply a beanbag company. In fact, nearly 85% of its annual revenue comes from the sale of couches that the company refers to as "sactionals." It took me some time to begin researching Lovesac because like most people, I wasn't interested in investing in a company that manufactures beanbags. I realized quickly into conducting my due diligence how oh-so-wrong I truly was. And I think – after other people make this same realization – Lovesac is going to prove itself as a worthwhile investment for the future. Lovesac's market share is miniscule today, but as a long-term investor, I like to investigate where the company is heading rather than where it currently sits. Given the $30 billion market size for couches, chairs, and seating, Lovesac's runway for growth is enormous. The company has been on a tear lately too. Lovesac's reported earnings have positively surprised investors in the past four quarters by an average of 270%. This says a lot about management's ability to deliver on its guidance, in addition to the untapped potential that the market presents. The company's valuation – which is the only reason why I'm neutral on the stock today, remains on the high side for the time being. That said, Lovesac's stock has declined 26% year to date and appears to be experiencing more downward momentum. If this trend continues in the coming weeks, Lovesac will be upgraded from a hold to a buy.
Why Lovesac stands out
Although at its core Lovesac is a furniture company, its high-tech innovations make it more appealing to a larger crowd of investors. In October 2021, the company introduced the new Sactionals StealthTech Sound + Charge product line. See for yourself here. Applying completely invisible technology, StealthTech Sactionals combine embedded speakers and wireless phone charging with the comfort of a traditional sectional couch. This product line – which will serve as a riveting catalyst in 2022 – is only the beginning of Lovesac's innovative journey to becoming an industry leader.
The company's balanced omni-channel strategy also differentiates Lovesac from traditional furniture manufacturers. Lovesac generates half of its revenue online and the other half from its in-person locations called "showrooms." In the third quarter of 2022, both ecommerce sales and showroom sales enjoyed robust growth of 38% and 68%, respectively. This balanced strategy has led to extremely impressive customer growth and customer retention. In the past three years, Lovesac's customer count has increased 63% from ~65,000 to ~105,000. These same buyers are clinging to Lovesac as well, with repeat customers accounting for 38% of total transactions.
Improving financials
The improvement Lovesac has demonstrated in its fundamentals proves to me that the company is prepared for the future ahead. In fiscal year 2021, Lovesac grew revenue by 37% up to $321 million. The company also experienced its first full year of profitability in 2021, growing EPS by 190% up to $0.96. In the third quarter of 2022, revenue and EPS grew by 56% and 6%, respectively, and total comparable sales also increased 47% year over year. Wall Street is forecasting revenue of $477 million for 2022, suggesting nearly 50% growth year over year. Similarly, EPS is expected to come in around $1.36, or 42% growth for the year. Having my full support, Lovesac amped up its advertising and marketing spend in the third quarter of 2022 by 44%. The company expects to spend 12% to 14% of revenue on advertising moving forward in attempt to attract new customers and elevate its brand.
The company's balance sheet is healthy as well. With $48 million in cash and a debt-to-equity ratio of 88%, I feel confident in Lovesac's ability to weather any economic storm in the near future. To top it off, Lovesac converted cash flow positive in 2021, yielding $32.1 million in free cash flow, a 250% increase from fiscal year 2020. All in all, I am very pleased with the state of Lovesac's financial statements. I do, however, believe that the future is even brighter. And so does Wall Street. Analysts are forecasting Lovesac's revenue in fiscal year 2026 to be $931 million, implying an average annualized growth of 14%. The net earnings forecasts are what really draw my attention. The consensus estimate for Lovesac's EPS in fiscal year 2026 is $9.61, representing 607% total growth from 2022 estimates and an average annualized growth of 48%. I understand it's not easy to forecast five years into the future due to a host of uncontrollable factors. That said, the robust long-term estimates provide a great idea of the direction in which Lovesac is heading. In Lovesac's case – being the small company that it is – it's less important to get the numbers exactly right than it is to understand the company's general trajectory.
Valuation
Valuation with Lovesac is complicated given its status as a furniture company that integrates a lot of technology into its product lines. If you compare Lovesac's valuation multiples to traditional furniture companies like Ethan Allen (NYSE:ETD), Bassett Furniture (NASDAQ:BSET), and Hooker Furniture (NASDAQ:HOFT), it appears massively overvalued. I don't think that's an entirely fair approach, but at the same time, it's not something I want to completely write-off. Per the table below, you'll notice that Lovesac's P/E of 24x is almost double that of its peer average. Similar conclusions can be made when overserving the Price/Sales and EV/EBITDA multiples as well. Although I don't believe we are comparing apples to apples, it does appear that Lovesac is a pricey stock at this particular time.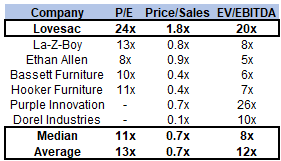 Here's another approach. Let's say that Lovesac is able to capture 5% of the $30 billion market for couches and indoor seating. That would put the company's annual revenue at $1.5 billion, or 368% higher from its most recent fiscal year. Assuming an EBITDA margin of 15% – which I believe is conservative – the company would be generating an EBITDA of $225 million. By applying an EV/EBITDA multiple of 14x (consistent with the broader market's average), Lovesac's enterprise value would be $3.2 billion, suggesting 300% upside in the stock.
And the downside
Competition is the main risk associated with Lovesac. The company competes with traditional furniture stores, big box retailers, department stores, and online marketplaces. An inability to successfully advertise its products would result in slower growth and a reduced market share. For the time being, the company's valuation could be seen as a downside as well. Compared to traditional furniture companies, Lovesac is trading at lofty valuation multiples. Does the company's business model and product lines merit an elevated valuation relative to other furniture companies? Right now, it's hard to tell because Lovesac is just beginning its journey.
The end
Lovesac has the potential to be a multi-bagger for investors who are willing to buy early and stick it out. I'm thoroughly pleased with the company's financial progress in the past couple of years, and all signs point to continued success in the subsequent quarters. Lovesac's valuation is on the high side compared to traditional furniture stores. Given the ongoing turbulence in the stock market and the downward momentum of Lovesac's stock, I hope to be able to acquire shares at a lower price. I am bullish on Lovesac as a company, but I don't think the timing is right to start a position today.