LendingClub Earnings: Strong Net Income Guidance, Don't Buy Dip (NYSE:LC)
Investment Thesis
LendingClub (LC) reported its Q4 2021 results and 2022 guidance which reinforced what everyone already expected, that 2022 will see its net revenue growth rates substantially slow down.
LendingClub is part of an emerging number of companies that at their core are loan origination banks. Yet LendingClub seeks to be viewed by investors as a fintech platform, thereby aiming to get rewarded with a "fintech multiple" on its stock.
However, as you know, loan origination revenues aren't difficult to come by, all you have to do is make more loans. But to make these loans highly profitable is what the market will reward.
And this is where the bullish investment thesis starts to fall apart. Here's why you should avoid buying this dip.
Investment Sentiment for LendingClub Takes a Hit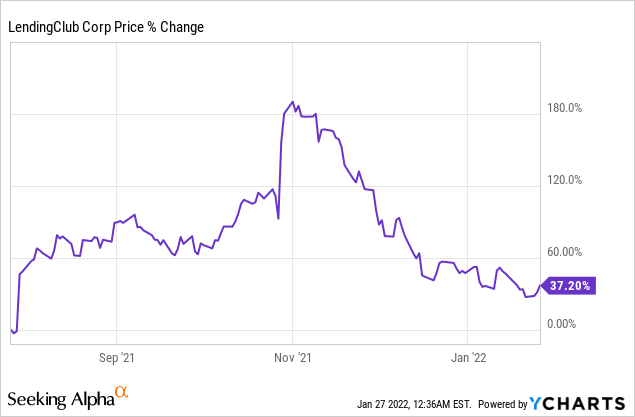 As you can see above, the past 3 months have been brutal for LendingClub. What's more, its after-hours reaction has seen its share price slide a further 12%.
I've consistently maintained, as I do now, that this sell-off has substantially compressed the multiples of all tech stocks. And unless you are nearly exclusively investing in the 5 mega-caps, your portfolio reflects the graph above. You've been on the back foot for a few months. Alas, investing is so often new, yet always humbling.
LendingClub's Revenue Growth Rates Expected to Slow Down

As you can see above, during the whole of 2020 and into Q1 2021 LendingClub saw its net revenues report negative growth.
Accordingly, with that in mind, it's undoubtedly easy to see how Q1 2022 is being guided for such strong revenue growth rates.
Indeed, keep in mind that LendingClub acquired Radius at the start of February 2021, which implies that the first month of Q1 2022 still has a very easy comparison with the prior quarter year.
Furthermore, LendingClub's guidance for the remainder of 2022, while in line with analysts' expectations, is yet another reminder that LendingClub's strongest net revenue growth rates belong in 2021.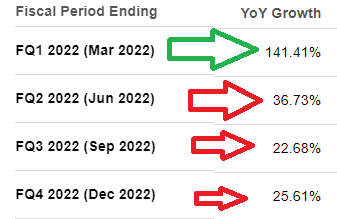 As you can see above, even we can all agree that analysts' consensus could be slightly lower than what LendingClub actually ends up delivering, we nevertheless have to come to terms that the trend here is undeniable.
After LendingClub reports Q1 2022, the fast growing neobank will be reporting anything but fast growth.
Why LendingClub? Why Now?
LendingClub is a digital bank. It aims to be the largest provider of unsecured personal loans. LendingClub wants to be a cross of a fintech platform with a bank attached to provide its members with financial products to help them manage their lending, spending, and savings.
For their part, LendingClub's management noted during the call that "we plan to deliver another record year in 2022". Further, management noted throughout the earnings call that it's highly confident that in 2022 it will be very successful with growing its bottom line profitability.
Bullish Case: Strong Earnings Growth For LC
For 2021 as a whole, LendingClub saw its GAAP net income soar to $19 million compared with negative $188 million of GAAP net income in 2020.
Moreover, looking ahead, LendingClub is looking to rapidly grow its bottom line and has guided for $140 million at the midpoint of its guidance.
This is a very bullish argument that investors should consider. Despite rising interest rates, LendingClub remarked during the earnings call that the cost of funds won't be materially impacted and that LendingClub will work to offset the higher funding costs with higher-yielding consumer loans.
Next, let's discuss its valuation.
LC Stock Valuation – Cheap Doesn't Always Mean Value
Investors have become highly accustomed to measuring companies on a P/Sales ratio. And while that is certainly the correct way to think about certain businesses, it is not the correct way to think about all businesses.
Accordingly, I declare that in LendingClub's case, it should be considered on its bottom line capacity.
On that basis, including the after-hours sell-off investors are asked to pay approximately 16x forward GAAP earnings, which isn't bad at all if we were to make the case that this is a fintech platform.
However, sadly, I contend that this is seriously nothing more than a bank. And banks are highly regulated with incredibly leveraged balance sheets. Thus, banks simply don't trade at a premium multiple to earnings.
More often than not, banks are priced on book value, ranging from 1x to 2x book value. However, as it stands right now, LendingClub is already being priced at 3x book value.
Even if we were to acquiesce and agree that LendingClub will rapidly grow its book value over the coming year, even in that event, LendingClub is valued at approximately 2.5x its prospective book value.
Thus, in the best case, this stock is fairly valued.
The Bottom Line
I recognize that for many readers this point of view isn't welcome news. And while I'm highly confident that LendingClub will continue to have very strong prospects over the coming year, we should nevertheless take a moment to consider just how much of that is already being priced in?
LendingClub was caught up in investors' enthusiasm for other highly disruptive fintech players. Many investors believe that LendingClub is more than it is. However, I argue that LendingClub is already fairly valued. Good luck and happy investing!