Is Novavax Stock A Buy Or Sell As COVID-19 Shot Awaits FDA Approval? (NASDAQ:NVAX)
Investment Thesis
We have entered the final month of the first quarter of 2022, and the market is still waiting for Novavax, Inc. (NVAX) to announce its Emergency Use Authorization (EUA) for the US market. We have discussed NVAX extensively, and the company's NVX-CoV2373 COVID-19 vaccine has also shown tremendous promise. Furthermore, recent studies demonstrate its robust efficacy coupled with a lower risk profile for its protein-based vaccines. Nevertheless, the Delta variant has also come and gone, but Novavax's US EUA is still pending.
However, it is unfair to claim that Novavax has made little headway in obtaining the necessary emergency use approvals in other countries. The company highlighted it has already received its EUA in 38 countries, including the EU, UK, Australia, and South Korea. Furthermore, it has also shipped its vaccines, and the rollout is in progress.
Hence, Novavax undoubtedly made significant headway compared to its situation six months ago. Yet, the stock is trading about 69% below its September highs. That has certainly baffled investors who have seen positive developments in Novavax but saw a significant sell-off in its stock.
We rated NVAX stock at Hold in our previous article. Since our article was published, the stock has lost 38% of its value. But, we think the current sell-off seems overdone. Therefore, we discuss why we have revised our rating on NVAX stock back to a Buy.
But, we have always emphasized that Novavax is a speculative opportunity. Therefore, if you don't have a portfolio for speculative positions, please avoid adding exposure to NVAX stock. If you do, please size your allocation appropriately for a speculative position.
Is Novavax COVID-19 Shot Likely To Get FDA Approval?
Novavax guided for $4.5B (midpoint) in COVID-19 vaccine revenue for FY22, below the previous consensus estimates of $4.7B. The consensus estimates have also been revised to $4.38B to reflect Novavax's latest guidance. We believe that the company may have discounted the contribution from the US market. Investors should note that Novavax has not given a definitive timeline when the EUA would be granted in its earnings call. Novavax emphasized (edited):
Just to reiterate, we're going full blast for our EUA. We're in contact with the US FDA periodically to make sure all the questions are answered. So looking forward to moving forward with that. And as you know, we don't control the pace they review the filing, we're looking forward to a successful filing in the near future. (Novavax's FQ4'21 earnings call)
But, does this contradict with what CEO Stan Erck mentioned to the Financial Times in mid-February when he said (edited): "The US authorization for COVID-19 shot could happen within weeks." Furthermore, Reuters also reported that Novavax's deliveries seemed to have met unexpected delays in early February. As a result, it's still miles away from meeting its 2B doses planned capacity for FY22.
Therefore, investors are concerned with Novavax's execution on whether it can meet the requirements from the US FDA as the company seems to have pulled away from its previous optimism. Furthermore, an analyst on the call also pressed for a definitive answer on whether Novavax can meet the FDA's requirements. However, the company's reply was cryptic at worst and ambiguous at best. It said (edited): "It's EUA all the way. I mean, I think with us and the FDA, we are working towards getting an EUA for this product as fast as possible."
Therefore, we think investors are right to discount its efforts to get its US EUA in the near term. The company has not provided sufficient clues that it could happen soon. But, we think Novavax's FY22 guidance may have reflected that uncertainty.
How Will COVID-19 Shot Impact NVAX Stock Forecast?
Interestingly, Erck also highlighted what he thought of Novavax's FY22 guidance, as he said (edited): "I think the US represents upside potential for us." Furthermore, Cantor Fitzgerald also highlighted that the US approval could provide further upside to its guidance (edited):
Our price target increase is a result of renewed conviction that the company is on track to deliver Nuvaxovid to countries with advanced purchase agreements. These include countries in the EU and Australia, among others, which should result in substantial revenue in the coming quarters. In addition, we see potential upside for additional sales to countries that have yet to grant NVX-CoV2373 an EUA/BLA approval, such as the US (StreetInsider)
We think Novavax is undoubtedly in a better position than six months ago when the stock was trading at much higher levels. Nonetheless, the sell-off over the stocks of its pure-play rivals Moderna (MRNA) and BioNTech (BNTX) has also impeded NVAX stock's momentum. Investors have rapidly burst the speculative bubble of these emerging Biotech leaders. These investors have been concerned whether the need for annual boosters is still necessary. They think that the potential for annual boosters has been reduced. We have observed that the Omicron variant is significantly less virulent than the Delta variant.
Furthermore, Moderna also highlighted recently that its vaccine sales "rose only modestly in the last six weeks." In addition, it has yet to receive any new booster orders from the US government for the fall season.
Moreover, the implied competition of the new protein-based vaccine from Sanofi/Glaxo (SNY) (GSK) has also introduced headwinds to Novavax. Nonetheless, the partnership has yet to receive its EUA. However, Novavax thinks the potential competition would not affect its FY22 guidance, which should somewhat assuage NVAX investors' fears. Furthermore, Moderna also emphasized that the US FDA could be less open to granting another EUA at this stage of the pandemic. CEO Stéphane Bancel emphasized (edited):
My opinion, and history might prove me wrong, is I don't believe the FDA will approve any more new vaccine as an EUA. You have as much vaccine as you want in the US. Why would the FDA use that special law for something they don't really need, and with a risk of a safety issue? (Barron's)
Moderna could be throwing its weight against the vaccine giants' foray into its treasured space. But the logic makes sense. Therefore, we think the FDA could also be dithering on Novavax's EUA filing, which could end up requiring the company to submit for a full BLA approval. If that happens, investors should expect more potential near-term volatility on NVAX stock.
Is NVAX Stock A Buy, Sell, Or Hold?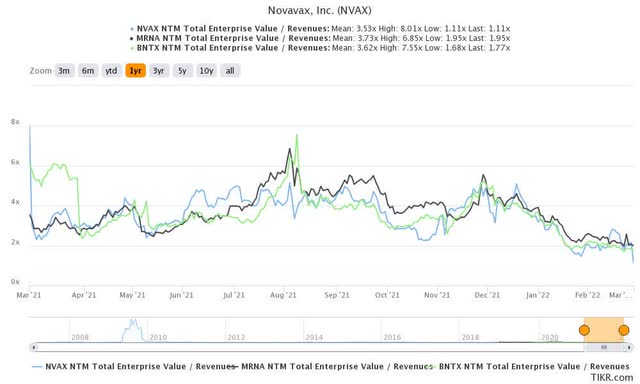 It should be clear by now that the bubble over the pure-play vaccine makers like Novavax has been burst. NVAX stock is trading at an NTM revenue multiple of 1.1x. MRNA stock's NTM revenue multiple is 2x, while BNTX's multiple is 1.8x.
We think the discount over NVAX stock is justified, given its higher execution risk. Investors should also note that the headwinds facing MRNA and BNTX stock could adversely impact NVAX stock.
Nonetheless, we think the sell-off in NVAX stock has been overdone. Furthermore, we believe the company has discounted its guidance for US approval in FY22. Therefore, a successful EUA/BLA approval could provide potential upside for the stock to be re-rated.
As such, we revise our rating on NVAX stock from Hold to Buy for speculative investors only.