Historic Volcano And Eastern U.S. Blizzard This Weekend
This video talks about why warm ocean temperatures in the Atlantic and why this weekend's snowstorm may be closer to the coast than other meteorologists were predicting just a day or so ago. Up to 2 feet of snow will hit Boston and potentially parts of coastal Long Island and at least a foot in NYC. This storm will be one for the record books for some areas as it heads to Maine by Sunday.
The recent Tonga Volcano: Implications for global weather
An underwater volcano off Tonga erupted last week, triggering tsunami warnings and evacuation orders in Japan and causing large waves in several South Pacific islands, where footage on social media showed waves crashing into coastal homes.
This is very unusual. The shock waves could be felt as far as Alaska, it caused a major oil spill thousands of miles away in Peru, a major Tsunami, caused a lightning storm that lasted 7 hours and its ash went up to about 65,000 feet. Luckily, the damage was isolated to the Island of Tonga but only a few people were injured.
The Hunga Tonga volcano spread a shock wave around the world several times. This was caused by something we call "Gravity Waves". Think of it when you throw a rock in a lake and see the ripples and how they speed up.
There is really a lot that scientists "do not understand" about magma-water interaction and these types of volcanoes. As far as predicting whether this will have any lasting effect on cooling the climate, will be the subject of much research.
Based on analysis of data from global weather satellites, our preliminary data for the Tonga volcanic cloud suggests that it reached an altitude of 39km (128,000ft).
At this height, a volcano can have a net cooling effect on the planet. But will this one? I do not believe low solar activity is having a cooling effect on the planet.
The Ash Plume Reached The Mesosphere
The image above was the cover of my Weather Wealth newsletter this week, in which I discussed the bull market in wheat (WEAT) made some option trade strategies in natural gas (UNG) and a variety of heating oil spreads as the extreme cold continues to hit the U.S. But how about this volcano. Could it affect our weather and any commodity markets?
The eruption's initial blast last week caused the plume of ash and vapor to climb some 55 kilometers, or more than 34 miles, high into the atmosphere.
Typically, the air stops rising far below 60,000 feet, where air temperatures begin to warm and the air loses its buoyancy. In this case, the upward force of the explosion combined with the heat of the plume allowed the vapor to rise to 180,000 feet.
The top of the plume was a relatively narrow column of volcanic material, likely located directly over the volcano. This feature, which somewhat resembles the top of a smashed witch's hat, is called an overshooting top in meteorology.
The Hunga Tonga volcano has emitted more than 112 kilotons (KT) of SO2. For comparison, here are some climate-cooling eruptions: Pinatubo (1991) emitted 20,000 kt of SO2 and El Chichón (1982) emitted 7,500 kt. The eruption may continue, but a significant climate-cooling SO2 release is not yet apparent.
Sulfur dioxide that is released from volcanic eruptions like this one can have a cooling effect on Earth, but Hunga Tonga released a relatively minuscule amount of SO2 compared to other climate-changing eruptions.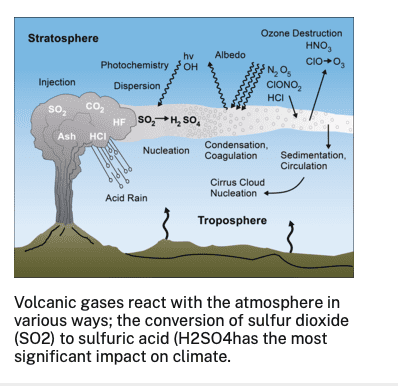 If there is one potential climatic impact this underwater volcano has in the next few months, it "might" be prolonging La Niña a bit longer than some computer models suggest. I will discuss this and more about volcanoes in the weeks ahead.
You can see below La Nina (cool Pacific Ocean). Last week's near historic underwater volcano can act to cool the oceans more and potentially keep La Nina around a bit longer, or strengthen it the next 1-3 months.
Conclusion:
So how will the present cold waves and volcanoes affect commodities? Stocks of natural gas (BOIL) remain quite high relative to the 5-year average. If we had this kind of cold and snow in November and December and ate into natural gas stocks, much more of a bullish reaction would have occurred in prices. Nevertheless, I will be monitoring for my clients the potential for the cold to extend into spring and a potential "contra seasonal" trade in natural gas heading into March and April.
The continuation of La Nina and the potential effects of the Tango volcano in cooling the Pacific Ocean may act to increase the southern Plains drought in the weeks ahead. This should continue to offer support to the wheat market and potentially other grains this spring and summer. Stay tuned.