Genmab Stock: A Biotech Company On The Rise (NASDAQ:GMAB)
Genmab (NASDAQ: GMAB) is a biotechnology company founded in 1999 by Florian Schönharting. The company specializes in monoclonal antibody systems, which can be used in various treatments. Most notably, the company has seen its antibody technology make it into five approved treatments on the market to date. These products include Tivdak, Darzalex, Rybrevant, Kesimpta, and Tepazza. Despite already having successful products on the market, the company does not just rest on its laurels. Genmab has several other exciting new treatments in the research and development pipeline between themselves and an array of partnerships with other companies they have formed.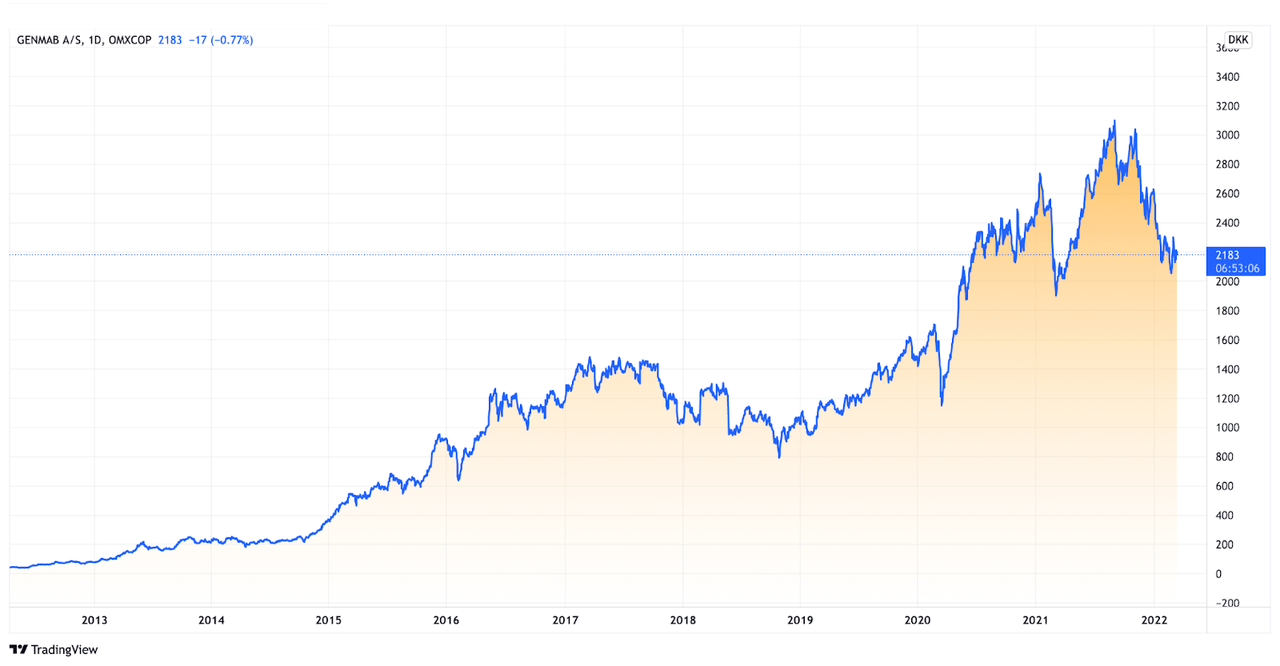 In this article, I will show that Genmab is a fairly valued company on the rise, with enormous potential upside. Unlike many of its competitors, Genmab has the advantage of having its propriety antibody treatments on the market in the form of several other drug therapies sold by themselves or through other companies as part of a partnership. This allows Genmab to continue its research and development efforts while still generating a profit. Another factor to consider is the status of the oncology drug market; as one of the largest and most diverse spaces in the healthcare industry there exists a massive opportunity for companies to develop therapeutics for thousands of potential targets all with life-saving potential. Therefore, any company able to produce a viable drug for a variety of previously untreatable cancers has wide freedom to set the price point of their drugs. Due to these reasons, I believe Genmab's current market portfolio and future pipeline support the case for strong growth over the coming quarters.
Marketable Drugs
In addition to being a leader in the development of antibody-drug technology, Genmab also holds a claim to several drugs that are already on the market. These drugs treat a number of diseases, from specific cancers to autoimmune disorders, and have served as a steady revenue stream for the company. This is because it continuously pushes the envelope in terms of research and development to get even more products through the market.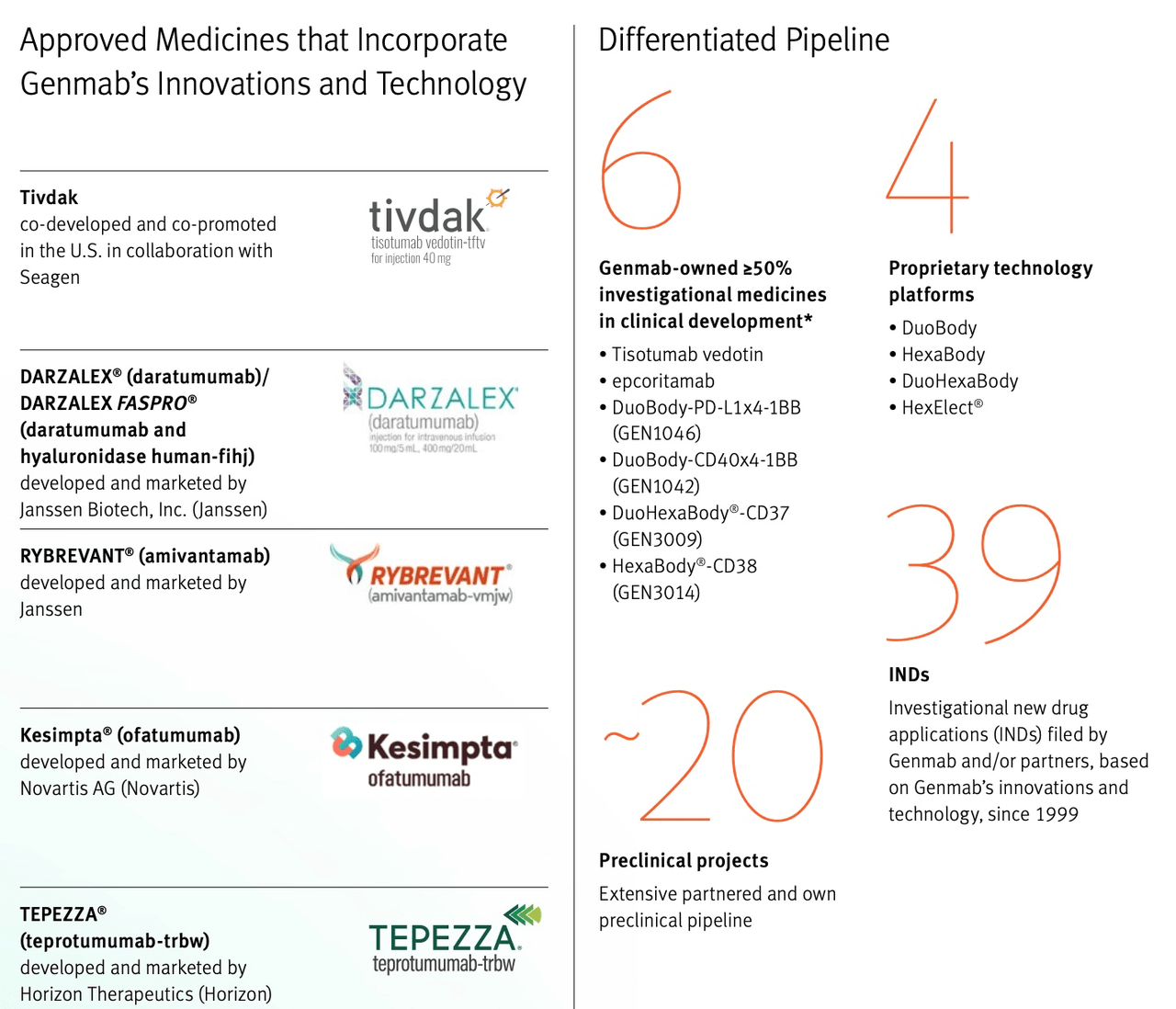 Tivdak
An antibody drug-conjugate, Tivdak is a prescription medication used to treat adults with cervical cancer. Tivdak is sold by Seagen, who pays Genmab a percentage based on the inclusion in Genmab's monoclonal antibody technology. In Q3 of 2021, it was reported that Tivdak recorded $366.5 million in sales and over $1 billion in total sales since its launch on the market.
Rybrevant
This drug is a prescription medication used to treat non-small-cell lung cancer. The drug is a target-specific antibody that seeks out cancer-causing receptors and blocks them in order to stop growth. The drug has performed well and is expected to generate revenues in excess of $4 billion by 2028.
Kesimpta
This drug breaks away from the more lucrative cancer treatment market and was instead developed to treat relapsing forms of Multiple Sclerosis. Kesimpta uses Genmab's antibody technology to deplete MS-causing B cells, effectively treating the disease. Sales for this drug reached $147 million in 2021.
Tepezza
Another departure from the more lucrative oncology market, Tepazza is a medication for people who are afflicted by Thyroid Eye Disease (TED). The drug works by turning on the eyes' receptor switch when the disease runs awry, which causes swelling. As the only FDA-approved treatment for TED, Tepezza raked in an astonishing $1.5 billion in 2021.
Darzalex
This drug is a breakthrough treatment for a specific type of blood cancer called multiple myeloma. As a monoclonal antibody, Darzalex treats cancer by attaching itself to the cancer cells and either eradicating the disease itself or triggering the body's immune system to do the job. As of Q3 2021, it was reported that the drug had generated nearly $1.6 billion in sales.
Partnership With Synaffix
In 2022 Genmab reached an agreement with Synaffix, which gave them access to its Antibody Drug-Conjugates (NYSE:ADC) technologies. The partnership grants Genmab the rights to utilize the ADC technologies for one specific drug development. However, the agreement also gives them the option for the worldwide development and commercialization of the resulting ADC's from that development, which would be highly profitable. Genmab is responsible for all of the subsequent R&D costs. What the partnership offers is massive potential. Synaffix brings a cutting-edge ADC technology platform, and Genmab utilizes that with its own antibody development capabilities.
To secure the rights to Synaffix's ADC platforms, Genmab paid the company $4.5 million upfront. Additionally, on a targeted basis, Synaffix has the right to enforce additional payments based on certain milestones that are hit during the development of its treatments. The whole deal could be worth as much as $415 million. This is a drop in the bucket compared to what the development of a breakthrough cancer treatment could be worth. By combining both technologies, Genmab has a real chance of developing a blockbuster drug.
Financial Forecast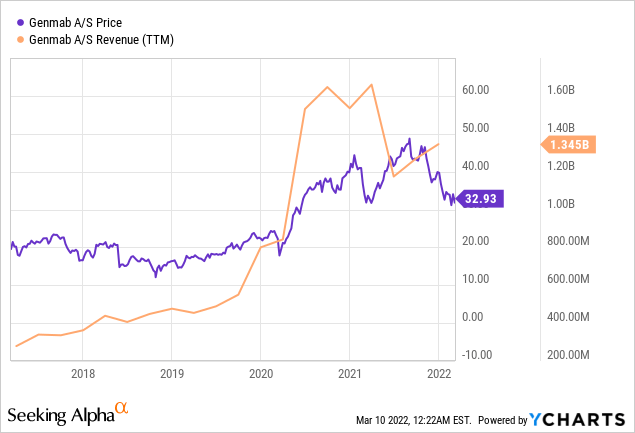 Starting in 2019, the company posted $805.5 million in revenue. In 2020 that number more than doubled to $1.66 billion In the previous year 2021, revenue had a slight decrease to $1.3 billion, still maintaining the significant growth we saw during tumultuous 2020. As all of this revenue comes in the form of payments from other companies utilizing Genmab's technology, nearly every dollar of the above-mentioned revenue counts as company profit, making it a very lucrative business. In 2019 Genmab had $164.5 million in total liabilities that more than doubled in 2020 to $331.9 million. Last year during 2021, Genmab has been able to keep long-term debt largely under control with only a slight increase to $371.9 million.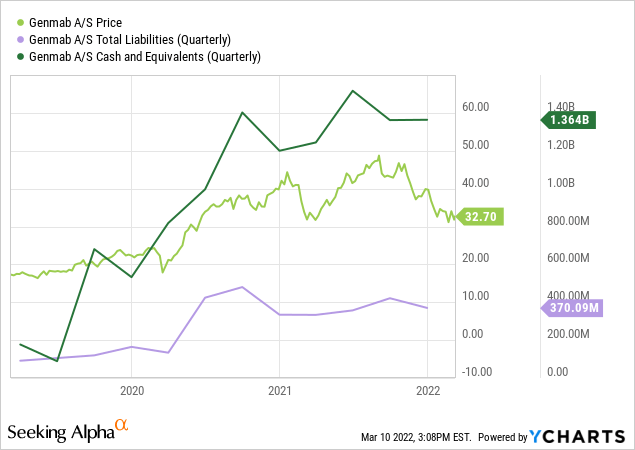 Genmab has also managed to increase the company's cash and cash equivalents. In 2019 the company closed the year with $533.2 billion. In 2020 that number doubled to over to $1.19 billion. In 2021 it kept increasing to an impressive $1.37 billion. The importance of cash cannot be understated with regards to biotechs where increased access to capital allows them to support both the development and marketing of pipeline products. Between 2020 and 2021 Genmab has a percent change in liabilities of 11.4% versus an increase in cash of 14% demonstrating that cash growth has outpaced the increase in liabilities during the past year. This does not even take into account the real change in cash and liabilities with cash increasing by over $180 million and liability by only $40 million, over 4x less. All of these figures point to a company that has a robust balance sheet with the capital required to stimulate future growth.
Conclusion
Genmab is a biopharmaceutical company with big dreams. It has endeavored to find a cure for as many variations of cancers as it can. It has a very positive track record for developing effective treatments for oncological diseases, along with a host of others. Their monoclonal antibody platform is one of the best on the market, demonstrated by the number of proven treatments already on the market utilizing their technology. From a business perspective, the numbers tell a tale of a company that has defined success and increased its metrics year after year. With savvy partnerships and dynamic research and development, they could very well be on the fast track for even more breakthrough treatment technologies. This will only make them more lucrative in the years to come. For these reasons, I believe the company represents a buy for biotech investors looking to expand their exposure to the growing oncology space.