Former resident publishes novel during the pandemic | Lifestyle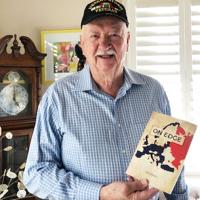 Like many people, former Tehachapi resident Bill Brandweiner found himself with time on his hands during the pandemic.
Drawing on knowledge gained from his life, military service, research and years working as a contracting officer at NASA's Dryden Flight Research Center, Brandweiner used his time to complete a novel.
"On Edge" is a fictional story about the Russian president's intention to annex the Baltic states and how the intelligence services of both the United States and Russia worked covertly to avert the potential of an armed confrontation that could lead to nuclear war.
The hero is a character employed at the Neal Armstrong Flight Research Center at Edwards Air Force Base (formerly Dryden), Brandweiner said. But the action in the book is a work of his imagination, not anything he has personally experienced.
Using a pen name, "Bill Brand," the author's book was published by RoseDog Books, a division of Dorrance Publishing of Pittsburgh, Penn. The publishing model required a financial investment on his part, but Brandweiner said he wasn't looking to recoup the funds as much as having the satisfaction of completing the book and making it available for others to enjoy.
Although fiction, "On Edge" references many actual occurrences and portrays the current geopolitical and economic situation in Europe as it explores the dilemma of how the U.S. and NATO react to Russia's expansion policy.
Brandweiner was born in 1947 in a small town in the northeastern part of lower Austria, a region occupied by the Russian forces from the end of World War II until 1955. In 1966 he immigrated to the United States and six months later, joined the United States Army. He served for more than 20 years. According to his publisher, his military awards include the Bronze Star for his service in Desert Storm, four Meritorious Service Medals, the Army Commendation Medal and numerous other service medals.
During his time in the Army, he also completed an associate degree in oceanography and a bachelor's degree in general science. After retiring from the military, Brandweiner worked in the gaming industry before interning with the U.S. Air Force to train and work as a contracting officer. He worked at Dryden (renamed for Neal Armstrong in 2014) in that capacity for about 10 years until his retirement in 2011.
"It was a passion and a good way to spend time when we couldn't go anywhere," Brandweiner said of working on the book. "I had fun doing it."
"On Edge" is a 140-page paperback with a retail price of $14 (eBook $9). The ISBN is 978-1-6376-4453-9. It is also available on Amazon.com as a paperback or Kindle book. You can also find it in the publisher's online bookstore at https://rosedogbookstore.com/on-edge/.
Claudia Elliott is a freelance journalist and former editor of the Tehachapi News. She lives in Tehachapi and can be reached by email: claudia@claudiaelliott.net.