DoorDash Stock: Ignore Lack Of Meaningful Operating Leverage (NYSE: DASH)
DoorDash (NYSE:DASH) is certainly an interesting company. It has grown at a breath-taking speed, and has built an impressive two-sided platform. It has very poor profitability metrics however, as it seems to prioritize market share over earnings, and operates with tough industry dynamics. The amount of economic activity on its platform continues to grow, although not as fast as it once did. DoorDash's Q4 gross order volume increased 36% year over year and 7% sequentially to $11.2 billion due to further adoption of food delivery by consumers and the firm's efforts to provide delivery services for other businesses and goods.
The company appears to have a good product-market fit, with a very popular app rated 4.6 stars on the Google Play Store and 4.8 stars in the Apple App Store. However the app used by the delivery people, called Dashers by the company, has a low rating of only 3 stars. This is a sign that the company is maybe not treating the delivery contractors as fairly as it should, and that there is risk to this side of the marketplace. Delivery drivers could jump to competitors if they are treated more fairly there.
Financials
DoorDash doubled revenue in a little over a year, which is an impressive growth rate. This was partly due to the pandemic effects of people staying home and ordering take-out.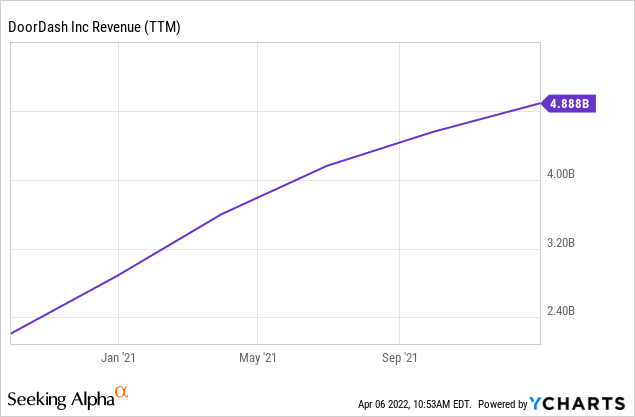 However gross profit is relatively low when compared to software, SaaS, or platform businesses at only ~52%. What is even more concerning is that the company has not shown any meaningful operating leverage, as can be seen below. If the growth brought by the pandemic, with revenue basically doubling, can only result in a barely noticeable uptick in operating margin, we wonder what it will take to make the company profitable. Some will argue that it is the result of company strategy, and that at this point they are prioritizing market share over profitability. This could very well be the case, but it just reaffirms our conviction that the company operates in a tough business and that competitive pressures will make profitability hard to come by.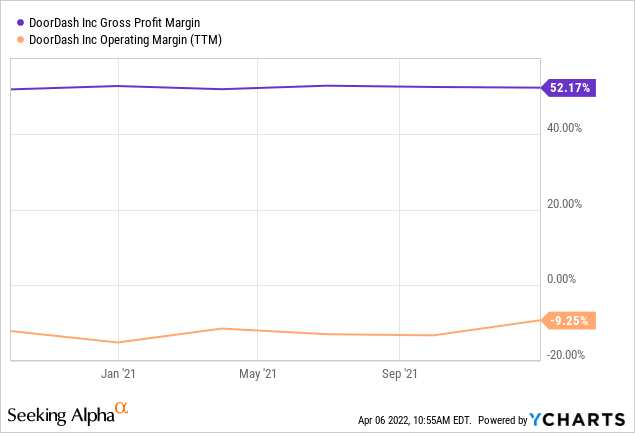 Analyzing fixed-costs in more detail we see that the company is growing what we consider the three most important categories, explaining the lack of operating leverage seen so far. Particularly concerning is how fast Sales & Marketing expense is growing. We are more understanding of increasing investment in R&D at this point of the business life, but we are disappointed with Sales & Marketing and G&A growing at a rapid pace.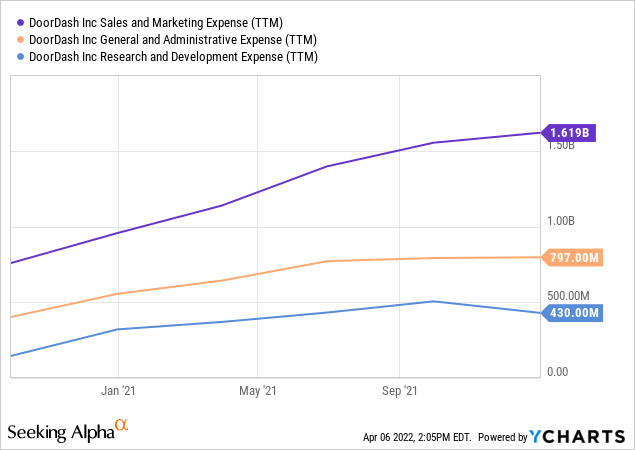 Looking at EBITDA we see that the company remains very much unprofitable, which further convinces us that its main objective at this point is market share. How much the company cares about market share can also be seen in its acquisition of Wolt, a quickly growing but unprofitable European food delivery company, and its intention to explore the acquisition of UK-based Deliveroo.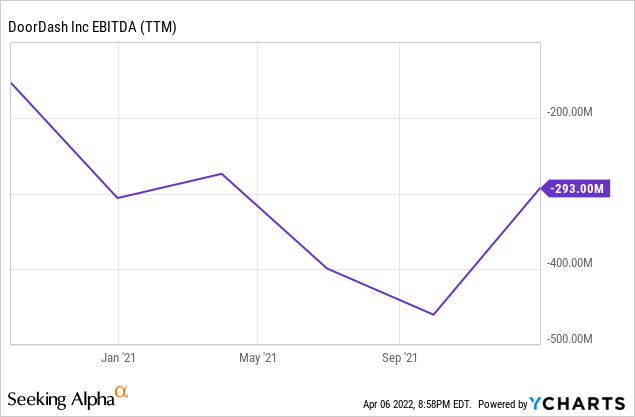 So how much do you need to pay for this unprofitable business, with poor gross margins and operating leverage? Despite a significant price decline in the last few months, the market cap of the company remains elevated at ~$38 billion.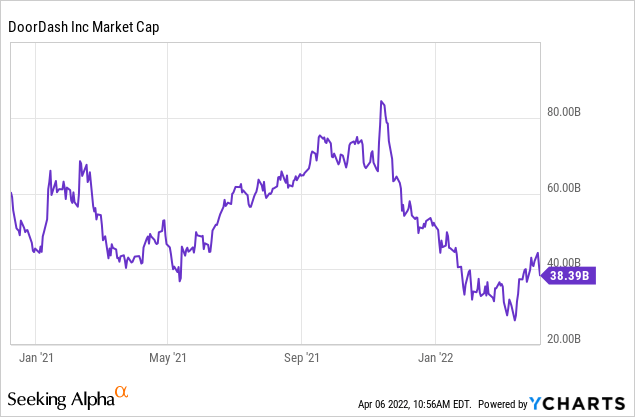 Valuation
Some will say that the valuation is attractive because it is trading at ~6.2x forward EV/Revenues. While this might be cheap for certain software SaaS businesses, we think in this case it is far from a bargain given the quickly decelerating revenue growth and the lack of meaningful operating leverage. It is certainly cheaper than where it was previously trading six months ago, but it just might be because many investors are coming to the realization that profitability is nowhere in sight and that the pandemic bump is over.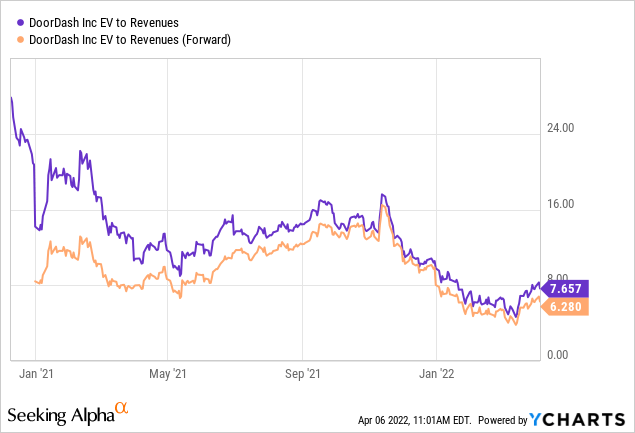 Not only is revenue growth no longer that spectacular, it is quickly decelerating. At one point it was close to 200% y/y, and now it has reduced to ~34%.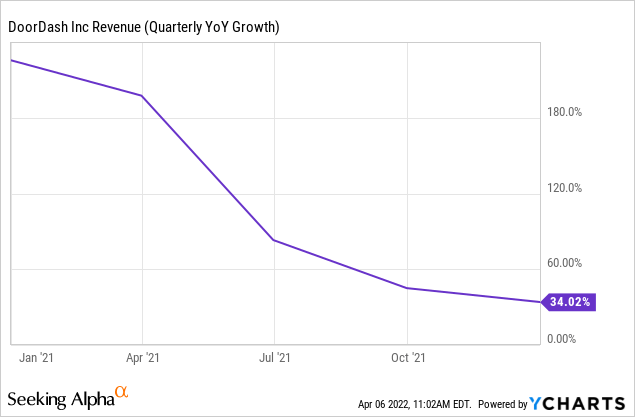 Conclusion
The biggest problem we see with DoorDash is lack of operating leverage and the fact that there is no clear path to profitability at the moment. In addition, there is the issue of decelerating revenue growth which further complicates things. For all these reasons, we think that DoorDash is not cheap enough to warrant an investment, and we would like to see clear signals that there is a path to profitability before investing.