Bunge Stock: A Food Crisis Play (NYSE:BG)
Introduction
My most recent Bunge Limited (NYSE:BG) article was written on August 17, 2021. Back then, I assessed whether the company was a suitable dividend play. A part of the conclusion can be seen below:
The company seems to find a good balance between balance sheet health and dividend growth and is poised to deliver long-term above-average EBITDA results and strong free cash flow. This will mean that we will see a very healthy balance sheet over the next few years and a number of significant dividend hikes. I cannot promise dividend hikes, but it's looking good for shareholders. It also helps that agriculture continues to be an industry that is avoided and still trading at attractive valuations. BG is far from expensive.
Bunge was, and still is, part of my agriculture coverage, which I started in early 2020 when I worked on it for private clients unrelated to Seeking Alpha. Since the early bull market days, we worked on a scenario where export demand (from the US) is rapidly rising due to high global food prices and shortages. Little did I know would the bull case be fueled by the war in Ukraine. We're now in a situation where I prefer to be wrong as we see exploding risks of serious global food shortages. Hence, Bunge remains in a fantastic position and should be able to provide investors with capital gains and higher dividends.
Let me explain the details in this article.
An Agriculture Bull Market
In 2020, my agriculture research started rather innocent based on the basic idea that the end of lockdowns would come with higher demand for food. It happened as restaurants reopened. Then, when I focused on energy, the bull case got a new layer as higher energy prices (including natural gas) increase the cost to produce fertilizer. This got out of hand in the second half of 2021 when Europe started dealing with sky-high natural gas prices. It caused fertilizer companies to shut production, and it risked a bad 2022 planting season.
Then, things got into overdrive to a point where I'm desperately hoping that I'm wrong because the war in Ukraine is risking a food crisis. As the table. below shows, Russia and Ukraine exported roughly a third of global wheat exports in 2018. The numbers are more or less unchanged since then. In this case, Russia is starting to use exports as a weapon. It reduces its own wheat exports and it makes wheat (and related) exports from Ukraine impossible as it blocks exports and it has its eye on cities like Odesa, the most important port for agriculture exports in Ukraine.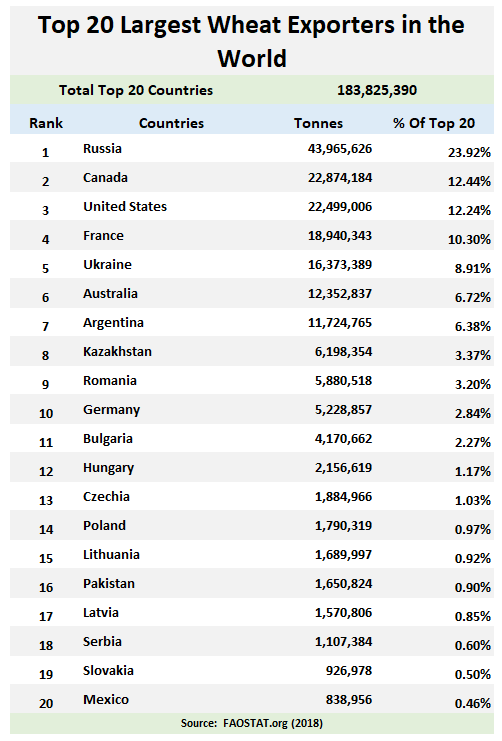 As a result, we're starting to see tensions in key import countries like the ones listed below. In 2011, we also had a spike in food prices for different reasons. Back then, it triggered massive unrests that led to wars in i.e., Syria and other countries.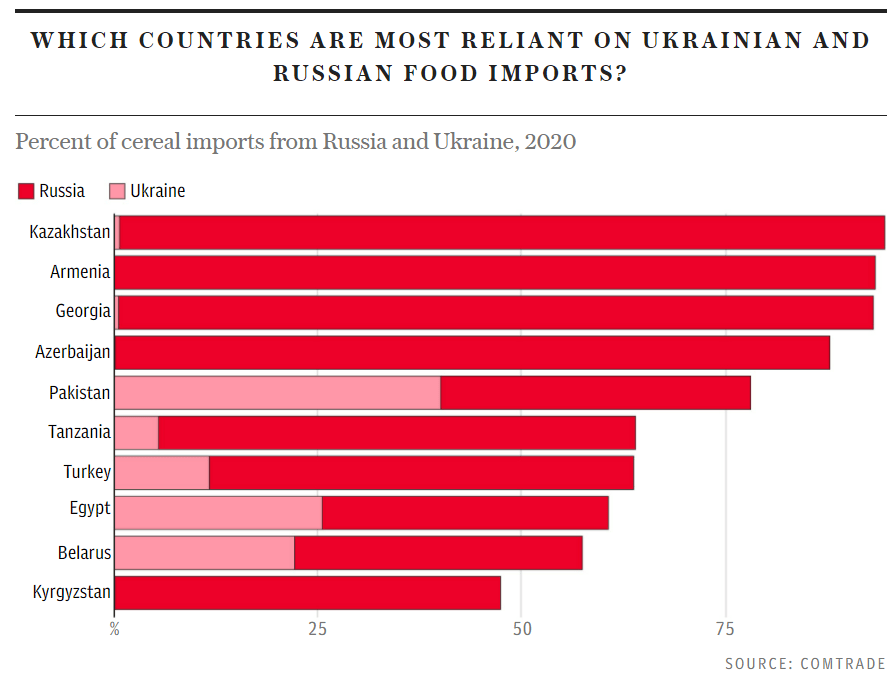 This is what recent crop prices look like: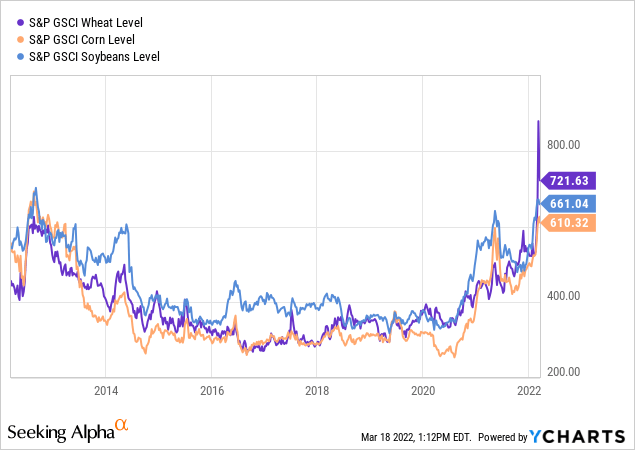 With that being said, the situation is dire. The Canadian fertilizer Nutrien (NTR) just announced that it is looking to boost potash production by 1 million metric tons, which is a big deal. And, needless to say, most people reading this have encountered high food inflation, regardless of their country of origin.
In this case, the US benefits from the situation – relatively speaking. The US has access to affordable energy (natural gas), its producers are able to increase fertilizer production, and its farmers who are already feeding the world, will have to step things up.
That's where Bunge comes in.
Bunge's Thriving
Everyone who bought (and held) Bunge after 2005 is used to the company being a reliable dividend payer, but a total disappointment in terms of capital gains. And that's OK because I have never spoken to someone who bought BG for outperforming capital gains. At least not on a long-term basis.
Right now, the stock has made a new multi-year high at more than $100 per share as revenues over the past four quarters have reached a multi-year high as well with more upside ahead.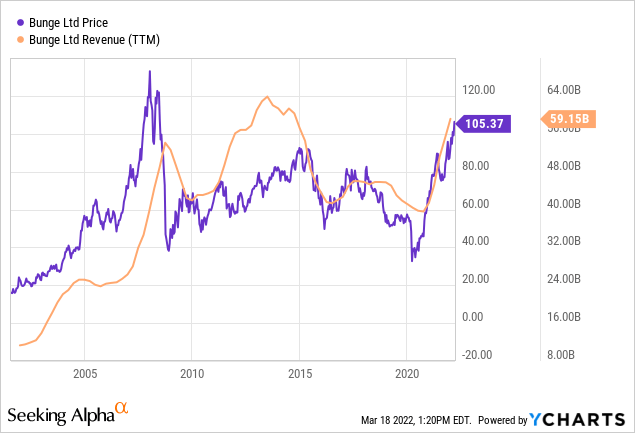 This is no coincidence as the company has a massive footprint in the global food chain. It does not produce fertilizers, nor does it employ farmers to produce crops. As I wrote in 2021:
The company, which got a takeover offer from its much larger peer Archer-Daniels-Midland (ADM) in 2018 is a major player in the global food supply chain. For example, the company buys oilseeds from soybeans, rapeseed, canola, and sunflower and processes them by crushing and refining them into plant-based oils and proteins. The products are then shipped around the world. This makes sense as the company couldn't have a better location given the massive amount of soy and related grains that are produced in the United States every year. On top of that, the company engages in the transformation and refinery of soft seed and tropical oils used by food manufacturers and restaurants.
And it's not just oils. BG also buys corn and wheat and mills them to be used in finished products like bread. Additionally, the company buys crops solely for the purpose of shipping them to customers around the world. The map below shows global agriculture trade flows. Especially soybeans and corn are interesting commodities as they are so important in the meat production process and energy market (corn -> ethanol).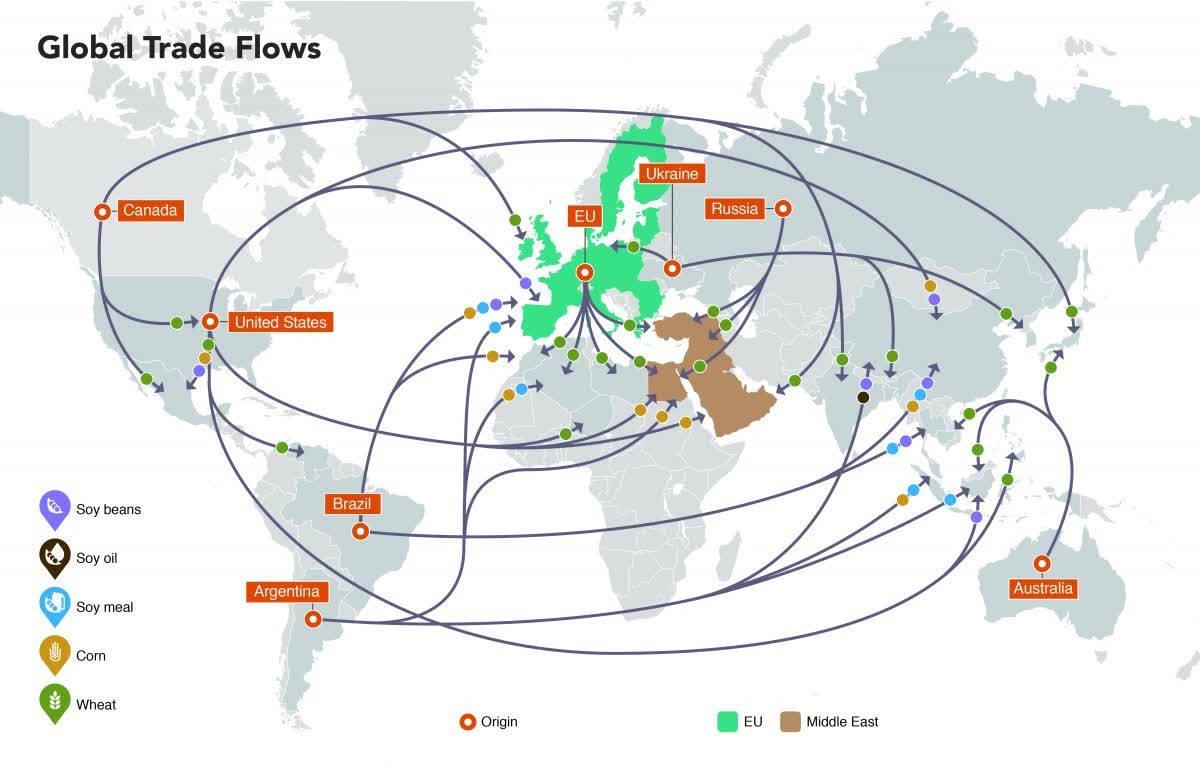 The good news is that this business model is bearing fruit. In 2021, the company did $59.2 billion in revenue and close to $3.0 billion in EBITDA. This year, revenues are expected to come in at $62.8 billion, resulting in $2.7 billion in EBITDA due to slightly lower margins. While the company sees positive demand, it sees slightly lower earnings in its agribusiness due to forward curves and market trends. I believe that EBITDA will come in close to $3.0 billion due to the war and the need for US exports. If that were not the case, I would probably agree with consensus estimates.
Based on these results, investors were rewarded with a 5% dividend increase on May 4, 2021. The current yield is 2.0%, which is a bit low, for my taste. Over the past 10 years, the dividend has been hiked by 7.8% per year, on average. This number drops to 4.8% using the 5-year average. I believe that the hike in 2022 will be higher, but nothing stunning.
Valuation
Bunge has a $14.9 billion market cap. The company has roughly $230 million in pension (and related) liabilities, as well as $4.4 billion in expected 2023 net debt. I'm using this instead of 2022 net debt expectations of $5.3 billion to price in the effect of high free cash flow. This gives us an enterprise value of $19.5 billion.
This is 7.2x expected EBITDA in 2022. This valuation is too low, and I'm not even using my own EBITDA estimate of $2.9-$3.0 billion.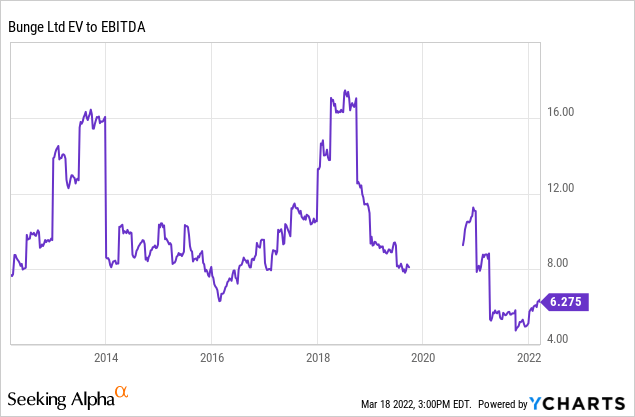 So, here's how I would deal with the stock.
Takeaway
The agriculture industry is big. There is a big variety of players including, but not limited to, machinery producers, fertilizer companies, chemical companies, distributions, and transportation companies, and stocks that focus on processing and export like Bunge. The company is in a terrific position to benefit from high export demand and the favorable position of the US in the global food supply chain.
I believe that the company will (easily) beat 2022 EBITDA and sales estimates. However, even on current (pre-war) consensus estimates, the stock is trading at an attractive price.
However, be aware that the agriculture bull market started in 2022. This is not a deep value play anymore. On top of that, Bunge is a rather "slow-moving" stock. While I see 20-25% more upside depending on how bad things get in the food supply chain, I do not recommend buying a big position purely based on that.
Other than that, we're still dealing with a favorable situation, which I will continue to update on a more regular basis.
(Dis)agree? Let me know in the comments!