BlackLine: A Stock To Double Down On In A Correction (NASDAQ:BL)
In my view, it's never been a better time to invest in "growth at a reasonable price" tech stocks. As the market continues to churn through losses in the tech sector, investors shouldn't be reducing their allocation to tech stocks, but instead shift more in favor of lower profile, small/mid-cap tech stocks that have room to rebound on a valuation front.
BlackLine (BL) is one such under-the-radar name that deserves a second look. It briefly had its moment in the sun as a high-flying Wall Street favorite, but it has seen steady declines as it aged over the past year and its revenue growth fell to the mid-20s. Still, I view BlackLine as a solid subscription software company that continues to expand its niche and potentially be an appealing takeover target.
Relative to all-time highs above $150 notched about a year ago in February, BlackLine is down about 45%. And since the November correction began, BlackLine is down just over 30%. It's a great time to buy this dip.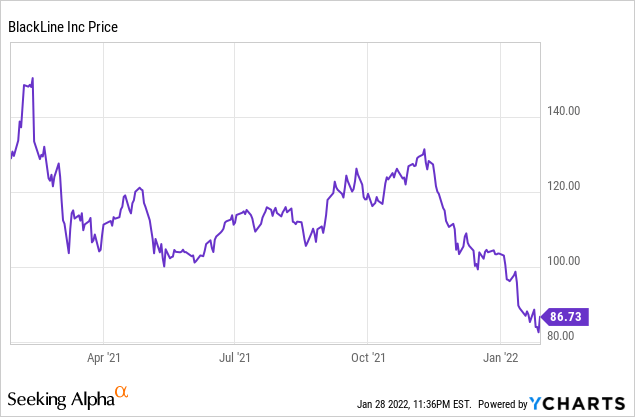 BlackLine classifies as an ERP/financial software vendor, but it doesn't directly compete with some of the mainstream finance suites like Workday (WDAY) or SAP (SAP). Instead, BlackLine is best known for automation tools that help finance departments manage very specific activities, especially the period-end financial close process.
Recently, BlackLine is expanding its niche element by purchasing yet another niche financial software company: FourQ, a software company that specializes in intracompany financial management. BlackLine paid $165 million upfront for the company, plus $75 million in potential earn outs. In a press release announcing the deal, BlackLine wrote:
FourQ technology complements existing BlackLine functionality by adding advanced tax capabilities and improving regulatory compliance in areas such as statutory reporting and transfer pricing. With FourQ, companies can better enforce and optimize their global tax strategies. As a result, companies can generate significant value by assuring compliance with tax laws including new e-invoicing mandates, optimizing effective tax rates, and reducing foreign currency risk exposure to improve working capital and drive profitability."
It's another example, in my view, of BlackLine extending its dominance in less-crowded areas of enterprise software that may make it attractive for a larger software portfolio company to acquire someday. Aside from the possibility of an acquisition, here's a refresher on what I consider to be the key bullish drivers for BlackLine:
Despite niche features, BlackLine is a true horizontal software product with big-hitting clients across industries. Finance departments are prevalent in every industry, and BlackLine's customer base counts heavy manufacturing giants like Boeing (BA), energy companies like Chevron (CVX), fellow tech companies like Salesforce.com (CRM), and hospitality names like Hyatt. The diversity of BlackLine's customer base, plus its name-brand recognition across industries, is a big plus for this company's expansion potential, especially into smaller middle-market companies where its next leg of growth opportunities lies.
Large TAM. Despite its positioning as a niche company, BlackLine estimates its addressable market at $28 billion, meaning the company's current ~$500 million revenue run rate is only a fraction penetrated into this market opportunity.
Rich margin profile. BlackLine has pro forma gross margins in the ~80% range, which skews toward the higher end among software companies. This means that nearly every incremental dollar of revenue will flow into the bottom line.
Free cash flow growth. BlackLine is now in the profit-expansion stage as its growth matures to the ~20% range, and the company's burgeoning FCF profile may make it look more attractive in this risk-averse market environment.
In addition, BlackLine's valuation hasn't looked this modest in years. At current share prices near $87, BlackLine trades at a market cap of $5.10 billion. After netting off the $1.18 billion of cash and $1.10 billion of debt on BlackLine's most recent balance sheet, the company's resulting enterprise value is $5.02 billion.
Meanwhile, for the upcoming fiscal year FY22, Wall Street analysts are expecting the company to generate $512.8 million in revenue. This puts BlackLine's current valuation at 9.7x EV/FY22 revenue, versus a historical multiple in the low-teens. BlackLine isn't yet exactly a value stock, but the combination of its consistent >20% revenue growth, its free cash flow growth, and a decent valuation make this a great growth-profitability-value balance play that can be very rewarding in the current risk-off market.
Stay long here and buy the dip.
Q3 download
Let's now go through BlackLine's latest quarterly results in greater detail, showcasing the consistency that this company has been able to provide for many quarters in a row.
The Q3 earnings summary is shown below:
BlackLine's revenue grew at a 21% y/y pace in Q3 to $109.4 million, beating Wall Street's expectations of $107.1 million (+19% y/y) by a not-insignificant two-point margin. Revenue growth did decelerate somewhat versus 23% y/y growth in Q2, but that's also due to a toughening of comps versus the early onset of the pandemic last year.
The company added 106 net-new customers in the quarter, bringing the overall customer base to just above 3.7k. In addition to this, the company's net revenue retention rate clocked in at 8%, indicating a tendency toward upsells within the install base. Management notes that go-to-market performance has improved every quarter over the past five, and that its sales teams have noticed customers adopting BlackLine solutions and modernizing their financial suites with "greater urgency" than before the pandemic. Amid these choppy markets for tech stocks, it's important to remember that the secular trends toward data-driven decision making and automation/efficiencies for corporate processes continue to fuel record demand for software, and companies are allocating more and more budget dollars toward it.
BlackLine is looking to continue investing in its growth, and as it looks ahead to 2022 there are three key strategic priorities for the company. Per new CEO Marc Huffman's prepared remarks on the Q3 earnings call:
As we look to capitalize on these favorable market conditions, we are accelerating our investments in three key levers for growth. First, we are investing to increase customer engagement and customer success. For BlackLine, customer engagement is a core tenet of our culture. Our customer engagement team includes over 100 experts specialized in training and educating our customers to better leverage our platform […]

Second, we will continue to innovate and expand our platform. We have a clear vision to be the most indispensable platform for the controller, and we have been investing in development resources to advance our platform functionality. We plan to introduce new products in the financial close and accounts receivable automation markets that our BeyondTheBlack event later this month. We remain on track for our cloud migration and as we modernize the product stack, we will be able to take advantage of increased agility and scalability as we move into the Google Cloud. We are very excited about our expanding product portfolio, both from an organic and potential corporate development standpoint […]

Our third area of investment is to expand in our international presence. In each of the last three quarters, we've accelerated our international revenue growth rate, yet, there is still significant upside available abroad. As it currently stands, our international presence is predominantly in EMEA, with a small but growing presence in APAC."
BlackLine also continued to generate a >80% pro forma gross margin, among the highest in the software sector. And year to date, the company has generated $41.0 million in free cash flow, representing a 13% FCF margin and growing 53% y/y.
Key takeaways
BlackLine remains an attractive, profitable mid-cap software company with both niche appeal and plenty of headway for growth and expansion. Amid choppy markets, investing in high-quality companies that can balance growth, profitability, and value is a smart choice. Stay long here.