Bank of America Stock: Strong Tailwinds (NYSE:BAC)
Despite COVID-19 shutdowns, Bank of America (NYSE:BAC) has actually soared to new highs while still trading at a cheap multiple. The large bank is set to see massive benefits from higher interest rates after taking a big net interest income hit in 2020. My investment thesis remains Bullish on BoA continuing to push higher while rewarding shareholders with large capital returns.
Rate Hikes
Some economists are predicting the Fed hikes interest rates 7x in 2022, but the average expectation is for the Fed to hike rates 3x to 4x this year. According to a CNBC survey, the Fed will hike interest rates up to 7x by the end of 2023.
BoA is one of the banks always positioned to benefit from higher interest rates. In theory, the large bank is set to benefit from the upcoming Fed tightening cycle, if monetary policy doesn't push the U.S. into a recession.
In Q4'21, BoA generated $11.4 billion in NII, up 11% from $10.2 billion last year. The bank had NII of $12.3 billion back in Q4'19 before COVID-19 shutdowns killed economic demand and caused the Fed to slash interest rates.
The large bank estimates their interest rate sensitivity is an incredible $6.5 billion over the next year from a +100 basis point parallel shift in the interest rate curve. The forecast is for the Fed to hike interest rates by a near similar amount due to surging inflation.
Back in 2019, BoA was on a path of $46.0 billion in annualized NII suggesting some 15% NII upside from just higher interest rates and possibly more with more rate hikes. The bank had a net interest yield of 2.35% back in Q4'19 compared to 1.67% in Q4'20. BoA was able to generate $12.7 billion in NII back in Q4'18 when the net interest yield was up at 2.52%.
Average loan balances have rebounded in 2021, but the loan balances are still down from the 2019 levels and are barely above the 2018 levels. BoA should be able to match higher loan balances with higher interest rates to boost NII to new highs in the next year or so.
Capital Return Boosts
For a bank with a $350 billion market cap, BoA still returns massive amounts of the current stock price to shareholders. For 2021, the larger financial returned the following capital to shareholders:
Repurchased $25.1B of common stock, including repurchases to offset shares awarded under equity-based compensation plans.
Paid $6.6B in common dividends.
BoA now has a net payout yield of 8.7% due to a 1.9% dividend yield and the $25.1 billion buyback generating a 6.8% net buyback yield.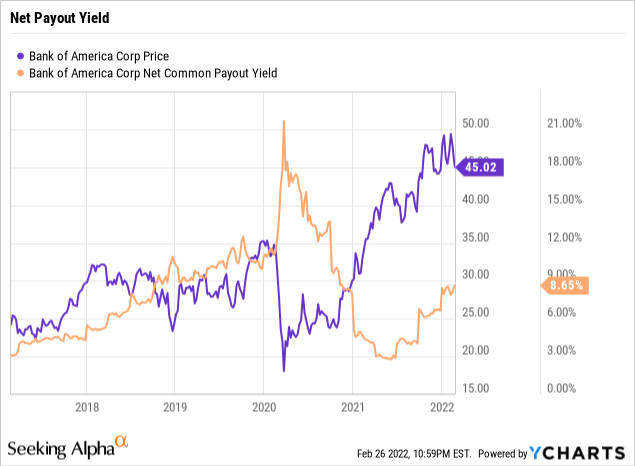 BoA returned substantially all of their $32.0 billion in income generated in 2021. Analysts are forecasting lower profits in 2022, but the large bank should have a strong tailwind in the 2H of the year as the Fed looks to hike interest rates.
If the bank continues to cut the share count by up to 7% annually, BoA will see a massive tailwind for years. The large financial saw the outstanding share count dip from 8.65 billion to end 2020 to 8.08 billion at the end of 2021. BoA reduced the share count by 570 million shares last year.
The large bank stock is definitely not the deep value of prior years when BoA regularly traded closer to book value. Analysts have the stock trading at just 14x 2022 EPS estimates, but those EPS targets are forecasted to dip 9% from the 2021 levels before snapping back in 2023.
Outside of higher costs, BoA appears poised to continue growing EPS. The stock has the major tailwinds of much higher NII and lower share counts along with what should be higher economic activity including more normalized loan demand and credit card spending.
Takeaway
The key investor takeaway is that BoA is no longer the massive bargain of a few years ago when the stock hardly traded above tangible book value. The stock is still cheap trading at just 14x 2022 EPS targets with several catalysts to grow EPS this year and greatly reduce the P/E multiple closer to the 2023 multiple of 12x.
With the large share buybacks and cheap valuation, BoA is a great stock to buy on weakness knowing the company will buy tons of shares alongside shareholders.