BA.2 Covid Cases Are Surging: Here's The REITs That I'm Buying
A new Covid variant has been discovered.
Its name is BA.2 and it is potentially a lot more infectious than Omicron, which was already a lot more infectious than previous variants. It is suspected that its superior mutation speed could allow it to better evade the immunity provided by vaccines such as those produced by Pfizer (PFE) and Moderna (MRNA).
It is already causing a spike in infections in many regions of the world, including China, which is currently facing the biggest Covid wave since the beginning of the pandemic. In response to this, China shut down production in Shenzhen for a week and closed schools in Shanghai.
So far, we are not yet seeing a similar surge in the US or Europe, but by the time you read this article, the situation could be very different already. In a study in Hong Kong, researchers estimated that a BA.2 variant outbreak in a public housing complex leads to a doubling of cases in almost every day that passes.
Many countries are now starting to reconsider new restrictive measures, or at the very least, reconsider whether it was wise to drop restrictions so early. Moreover, there are increased talks of a 4th vaccine shot, which may serve as an indication that this crisis could linger around for much longer than many had hoped for.
Obviously, this is very bad news for most investors.
I am not too worried about the potential impact of increased restrictions. Instead, I am concerned that it could lead to even more inflation in the near term. As noted earlier, China is already taking rather extreme measures to fight this variant, and it will almost certainly lead to more supply chain issues and inflation.
Higher inflation hurts most businesses in two ways. The first one is obvious: it increases their costs and hurts their profitability. But the second one is even more important: it causes valuation multiples to deflate. You simply cannot justify the same multiple if we are in a prolonged period of high inflation because it means that all the projected future cash flow will be worth a lot less. This explains why all the popular tech stocks such as DocuSign (DOC), Tesla (TSLA), PayPal (PYPL), Block (SQ), etc. are all down substantially. ARK Invest (ARKK), which owns a basket of these popular tech stocks, is down over 50% and this is mainly due to compressing valuations caused by inflation: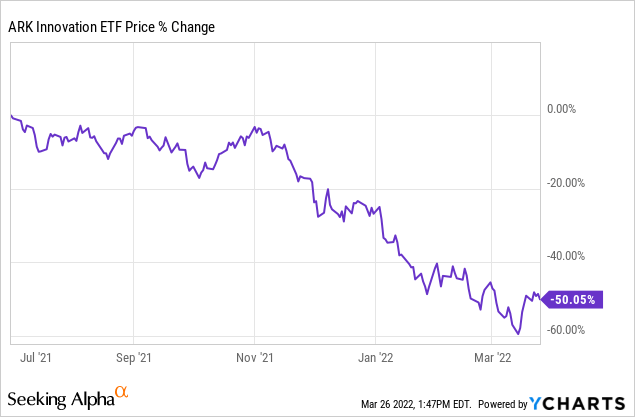 This is the main risk in today's market. If inflation remains high, then today's valuations may not be sustainable. After all, inflation is at a 40-year high, but the S&P 500 (SPY) is still priced at a historically high valuation multiple:
The BA.2 variant is likely to lead to more inflation in the near term, potentially causing a lot more volatility, and now may be a good time to readjust your portfolio strategy, or at the very least, seek greater diversification to hedge your portfolio.
Personally, I am heavily overweight in real asset investments like farmland, apartment communities, industrial warehouses, and essential retail like grocery stores. I currently have about 50% of my net worth invested in such investments, mostly through publicly listed REITs, MLPs, and other similar companies: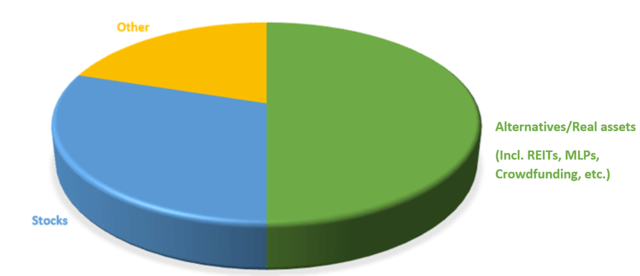 I favor these investments because, unlike most other stocks, real asset investments actually benefit from inflation and currently trade at a lot more reasonable valuations. In what follows, I highlight 2 examples that I am currently accumulating for my portfolio:
Whitestone REIT (WSR)
WSR owns a portfolio of strip centers that focus on essential services like groceries, restaurants, barbershops, and gyms.
Think about your local grocery store. You have probably gone there for years or even decades in some cases, and the landlord of that property has been getting steady rent checks.
And as the prices of these essential services grow, the sales of these properties increase, and WSR is able to pass rent increases to its tenants.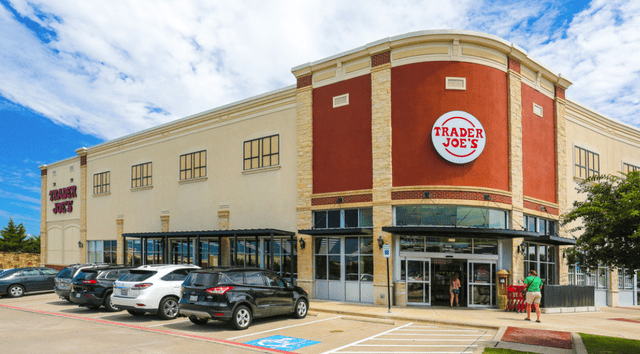 Moreover, because most of its properties are located in rapidly-growing sunbelt markets, its rents are expected to grow far faster than average in the coming years.
Cities like Phoenix and Austin have gained huge momentum as a result of the pandemic, which pushed a lot of rich Californians to move there to lower their taxes, cost of living, and increase their overall quality of life: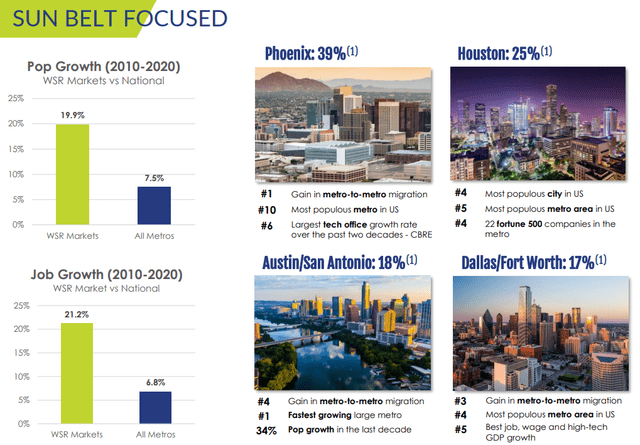 Today, apartment REITs that focus on sunbelt markets are priced fairly expensively due to this reason. The market knows about the growth of these markets and as a result, it has already priced most of these REITs at large premiums to pre-covid levels.
However, because WSR is a "retail REIT" and retail is feared due to the growth of Amazon (AMZN), WSR's share price still hasn't even fully recovered to pre-covid levels.
Here is how WSR's share price performance compares to some of the major sunbelt apartment REITs like Independence Realty (IRT) and Mid-America (MAA) since the beginning of the pandemic: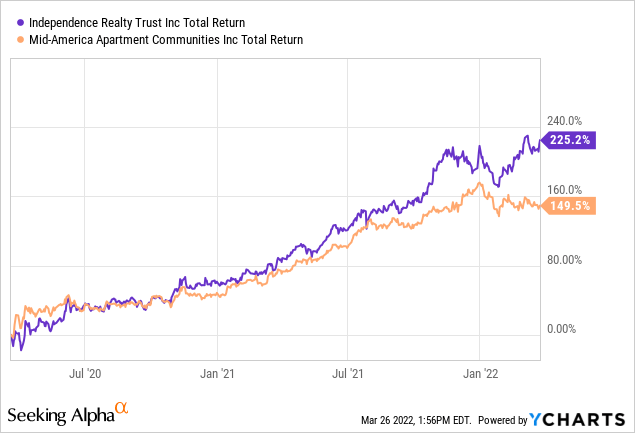 We think that this is a great opportunity because WSR benefits just like apartment REITs from the growing population in its markets, and its valuation is now discounted due to unjustified reasons. Most of its properties are recession and Amazon-resistant and Amazon is actually even a tenant of WSR with some of its Whole Food stores.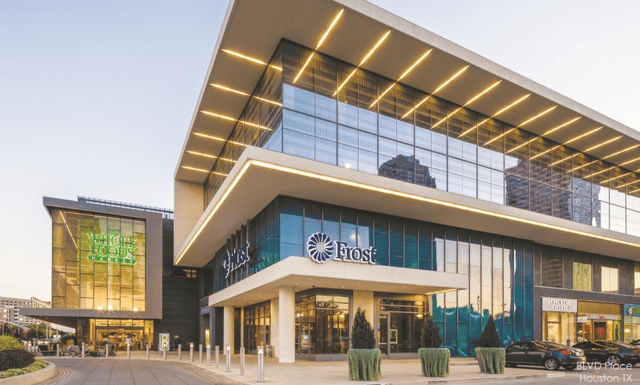 Today, WSR's properties are more valuable than ever before, its rents are growing rapidly, and its cash flow is at all-time highs.
We think that it is only a question of time before WSR's valuation recovers and then some. We expect 30% upside and while you wait, you also earn a 4.5% dividend yield. That's very attractive coming from a defensive, inflation resistant real asset investments in today's environment.
W.P. Carey (WPC)
WPC is primarily a net lease REIT that owns industrial properties. Those typically aren't considered to be good inflation hedges because their lease terms are exceptionally long at 10+ years, which limits their ability to hike rents.
However, WPC is an exception because most of its leases also include CPI-based rent adjustments, a large portion of which is uncapped. Here is how it compares to other net lease REITs:
| | | |
| --- | --- | --- |
| | Avg. Fixed Rent Escalation | CPI-Based |
| | 1% | No |
| | 1% | No |
| | 1.5% | Little |
| | 1.8% | Yes, ~40% Uncapped + ~20% Capped |
| | 1.9% | No |
| | 2% | No |
This should lead to rapid growth in rents in the coming years. The CEO commented in the most recent conference call that:
"There's a massive installed base of CPI-based rent increases that is really going to drive our growth.

While CPI-linked rent growth was not a dramatic contributor for the year, given the lagged effect on rents, we expect it to provide a meaningful tailwind in 2022."
Therefore, the rising inflation is actually very good news for WPC. It leads to rapidly growing rents and property values, even as its fixed rate debt is being inflated away.
However, for whatever reason, the market is still pricing WPC as if it was just another net lease REIT, causing it to trade at a substantial discount to pre-Covid levels: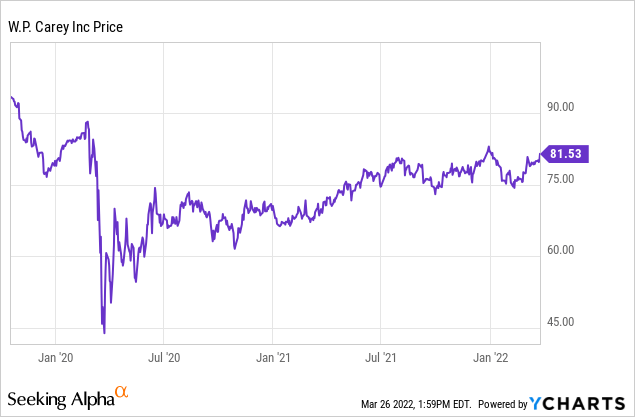 Just like WSR, WPC's properties are more valuable than ever, its rent growth is accelerating, and its cash flow is also greater than ever.
Therefore, we think that it is only a question of time before its share price recovers. We have previously estimated its fair value at ~$100, which means that it has approximately 25% upside potential. While you wait, you earn a 5.2% dividend yield. That's very attractive coming from a defensive, inflation resistant real asset investment in today's environment.
Bottom Line
The resurgence of Covid cases in Asia and the threat of a third wave in Europe and USA could lead to even more inflation in the short-term. Supply chains are again being disrupted in China and more stimulus may be needed in the rest of the world.
I believe that the best portfolio strategy in today's environment is one that heavily overweights defensive real asset investments. WSR and WPC are two examples among 24 others that I currently hold in my portfolio.