AT&T Stock: Option Premium Locked In (NYSE:T)
Written by Nick Ackerman. This article was originally published to members of Cash Builder Opportunities on March 26th, 2022.
We wrapped up another successful trade with AT&T (NYSE:T) as our written puts expired worthless on March 25th, 2022. AT&T also had some further clarification of details on its planned WarnerMedia spin-off. To enter this trade initially, we were aware that we could have ended up with shares of this spin-off.
The company has also declared the quarterly $0.2775 that was pre-announced when they said the annual dividend would be $1.11 per share. That works out to a nearly 47% cut from the previous $0.52. However, it still puts the forward yield on shares of AT&T well above what others are paying. At the stock's current price, it comes to 4.66%. Quite an impressive yield, but after the spin-off of WarnerMedia, this will be even higher as the stock price gets adjusted to reflect the spin.
On April 5th, AT&T shareholders will receive an estimated 0.24 shares of Warner Bros Discovery. When that happens, shares of AT&T could be around the $18 range (depending on how it trades until then), pushing the yield to around 6%. That really puts it over the top and makes it one of the highest-yielding S&P 500 stocks.
That being said, a lot of value for shareholders has been eroded since the whole announcement of this transformation has been started. It is true, it will free up capital for AT&T to invest elsewhere in growth. However, their track record isn't exactly great for large acquisitions. The Warner spin is also great to get rid of to focus more on their core operations, but they should have never bought it in the first place. That is at least my opinion.
Still, I had held shares of AT&T throughout the last decade for the dividend. I suspect many other investors were holding for the same exact reason. When it was announced that the intent was to conserve more cash by cutting the payout, I had sold out of the position. I sold on May 18th, 2021, which turned out to be an excellent time to sell in hindsight. Shares have been in a rather steady decline except for a January rally.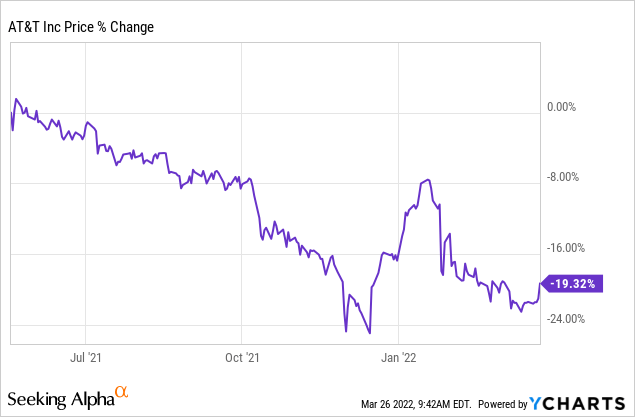 Since then, I've been trading around with writing puts mostly. Though on a previous trade, we implemented the wheel option strategy. We were assigned shares and then subsequently wrote calls on the position, and it was eventually called away. This latest trade we've completed just marks another successful trade in a series of trades on shares of AT&T.
I certainly wouldn't mind getting back into a long position at current levels. Especially, as it is now going to be a leaner company with a stronger balance sheet. The yield is still plenty attractive enough, and they should continue to grow the dividend going forward. Though, it certainly is sad to see the death of a dividend aristocrat.
AT&T Stock – The Trade(s)
Anyway, that was all the latest notable developments on the stock and how we got where we are today. Our most recent trade that expired on Friday has expired worthless.
We collected $0.39 selling puts at the $23 strike on March 7th, 2022. That worked out to a trade of only 18 days, translating into a potential annualized return of 34.38% if we were able to do this every 18 days. Since AT&T has plenty of volume for options, it makes it a great choice for writing puts and/or calls when needed. The trade worked out to 1.4x the new dividend amount and did so in just 18 days.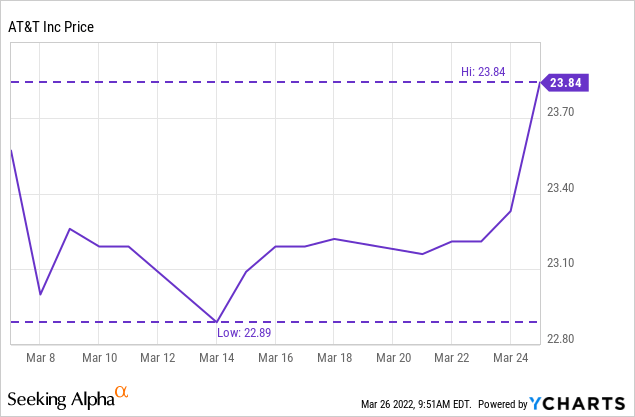 Since we had entered that trade, the stock price had only fallen below the $23 strike briefly. It quickly popped back high a day later. Over the last couple of days heading into the expiration date, shares moved even higher.
On a side note, Verizon (VZ) is also arguably a great dividend play to write options against too, which we've utilized. These telecom giants such great targets for more conservative investors are their usual lack of volatility. Of course, the share price of T has been more volatile lately due to its transformation. At the end of the day, the underlying business is still a cash cow.
This latest trade now marks the 8th trade we've locked in premium with this name for a grand total of $2.02. Here are all of the trades that are documented and easily found in our "Option Writing Tracker" spreadsheet.
Our initial trade was initiated on September 1st, 2021. We collected $0.37 and closed the trade early to pocket $0.33.
We entered a trade on September 30th, 2021. In this case, we were assigned at $26 but collected $0.40.
On October 13th, 2021, we collected $0.39 writing puts while our other trade was going on; this was at a lower $25 strike price. This one expired worthless.
We then entered a trade on November 1st, 2021, writing calls on our assigned shares previously and collecting $0.16.
That previous trade expired with shares still in our possession; we wrote more calls to collect $0.10.
Shares continued to languish at a rather low level throughout December 2021; we wrote calls on December 20th, 2021, once again collecting $0.10. Heading into January, shares began to rally, and that is when we had our shares called away.
On February 17th, 2022, we were back to milk the cow with a short-term trade of just 7 days – selling puts to collect $0.15.
Then that brings us up to the latest $0.39 we collected with puts that have once again expired worthless.
What's Next?
Since our initial trade, 206 days have passed (including today as I type this.) So essentially, we collected almost the entire previous annual dividend of $2.08 in the course of 206 days.
Going forward, we will continue to monitor for opportunities in shares of AT&T (and VZ) to collect more premium. However, I'll probably be sitting on the sidelines until the spin-off happens at this point. While it could be an interesting company, it isn't something I see myself owning, at least at this time.
With that being said, we've more than made up for the dividend amount that has been lost. Even if we wait another month or two to see how things shake out with the spin-off and where shares eventually find a trading level. While I know it is a more active way to manage one's portfolio, it is quite easy. Once you get the hang of selling options, it can literally be about a 30-second process (depending on how fast your internet connection is!)