AT&T: Another Correction On The Horizon (NYSE:T)
It would be an understatement to say that AT&T's (T) stock movement has left many investors nervous and dismayed. The stock hit new lows before recovering in the last few weeks. During the recent decline in the last few months, the strongest bull case for AT&T has been the strength of its core telecom business which produces gargantuan amounts of free cash flow. The management can use this FCF to give dividends, increase buybacks or build a better runway of growth for the company.
However, recent indicators have shown that the telecom business could be facing major headwinds in the next few quarters. AT&T has recently proposed to put "spectrum guardrails" to prevent competitors from gaining an upper hand in the 5G rollout. It has also been facing issues in the C-band spectrum with FAA. WSJ has reported that AT&T is now planning to reduce the power levels of its 5G cell-towers to meet the requirements of FAA. Even international carriers are now announcing that they would not be flying to some US destinations due to 5G spectrum issues faced by AT&T.
This could certainly impact the coverage of its 5G services. AT&T has also taken objection to T-Mobile's (TMUS) latest advertisement which claims that it is the "most reliable 5G network". Wall Street could turn very bearish towards the stock if there are any signs that the core telecom business of AT&T is lagging behind the competitors.
Looking beyond the spinoff
AT&T announced spinning off its WarnerMedia division in May 2021. While this was positive news in terms of simplifying AT&T's business, it has not helped the stock. Since early May, AT&T's stock had seen a major decline. It has bounced back but it is still behind the broader S&P 500 since the announcement. It is likely that Wall Street is slowly losing faith in the management's ability to steer the ship during the difficult transition period of AT&T.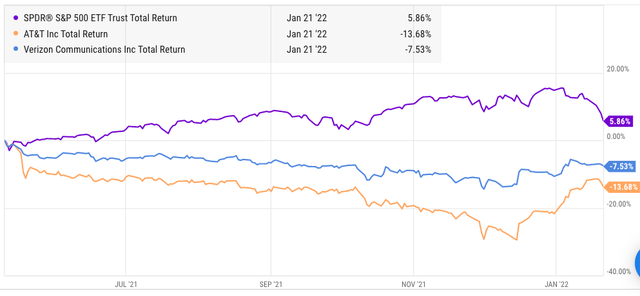 Figure 1: Comparison of AT&T, Verizon (VZ) and S&P 500 performance since early May 2021.
However, long-term investors who would like to look beyond the spinoff should pay attention to the 5G rollout of AT&T. During the entire bearish phase of AT&T stock, the biggest bullish argument has been the steady performance of the core telecom business. If AT&T starts lagging behind in the 5G race, we could start seeing negative numbers in the telecom business within a few quarters. At that point, Wall Street could be very brutal and punish the stock for any performance miss by the company.
Spectrum guardrails and other issues
In September, AT&T published a blog that asked FCC to have "spectrum guardrails." This is obviously an attempt by the company to limit the coverage growth of T-Mobile. After T-Mobile acquired Sprint in early 2020, it was able to access a significant mid-band spectrum. This has given T-Mobile a big lead over AT&T in the rollout of 5G services. T-Mobile has recently published that it has provided coverage to 200 million customers which is earlier than the previous deadline by a few months. This will cover 80% of its customer base. Its management has also set a goal of providing coverage to 300 million customers by 2024.
On the other hand, AT&T is facing issues in the rollout of its C-band spectrum which it acquired in the previous auction. FAA has raised objections to the rollout of this spectrum as it could interfere with aircraft electronics. We could see this issue delaying the rollout by AT&T for at least a few more months. AT&T has now raised an objection against T-Mobile's advertisement which claims that it is the "most reliable 5G network." This shows that AT&T is on the defensive when it comes to its 5G services. T-Mobile's management has mentioned that they will like to be ahead of AT&T and Verizon by two years during the entire 5G era. If T-Mobile is able to show 5G leadership during the next few quarters, it will be a big setback for AT&T and its core telecom performance. This will in turn hurt the stock significantly.
Future AT&T stock trajectory
AT&T's management has mentioned that they would like to keep dividends at 40% to 43% of the FCF after the spinoff. This would come to around $1.12 per share of dividends after the spinoff. Giving AT&T stock a healthy dividend yield of 6.5% would put the price in the range of $17 to $18. Adding another $6 to $8 for Warner Bros. Discovery shares would give the ideal range of AT&T stock to $24 to $26. We can see that the stock price already dipped to this level before regaining some lost ground.
However, AT&T would need to show strong progress in 5G to maintain this price range in its stock. A few more negative news on the 5G front in the next few quarters could lead to further decline in the stock despite a healthy dividend yield.
AT&T has never been a growth stock. After the spinoff, AT&T's stock performance will depend heavily on the success of its 5G rollout. The current indicators are not very promising and we could see a few more hiccups before the management gets its 5G strategy right. If T-Mobile is able to take away even a small market share from AT&T it could result in a big bearish sentiment towards the stock.
Investor takeaway
AT&T is not giving positive indicators in the rollout of its 5G services. It's already facing issues in the C-Band spectrum with objections from FAA. On the other hand, T-Mobile is running ahead with the coverage of its 5G services. T-Mobile has already provided coverage to 200 million people which is over 80% of its customer base. This coverage will increase to 300 million by 2024. We could see T-Mobile take away market share from AT&T in the next few quarters which would be brutal for the stock sentiment of AT&T.
AT&T has asked to put in "spectrum guardrails" and objected to T-Mobile's advertisement as the most reliable 5G network. This shows that the management is very defensive and gives an indication that AT&T's future 5G rollout could suffer significant headwinds. Despite a very attractive dividend yield and a low stock price, investors should not jump into AT&T stock and wait to see positive steps in the 5G service of the company.