Asana: Shareholder Dilution On The Cards, Still Attractively Priced (NYSE:ASAN)
Investment Thesis
Asana (ASAN) is an investment that I was one of the first people on SA to highlight the opportunity, way before it rallied. I continued to make positive calls on the way up. And then, even more importantly, I made a correctly timed call to sidestep this investment and call it a day.
Now, I suspect that Asana will be having to raise equity to support its balance sheet.
All that being said, paying 18x forward revenues, is now much more attractive than it has been for a while.
Note, Asana's fiscal year and calendar year are misaligned. I'll only note its fiscal year.
Investor Sentiment Has Faded For Asana Stock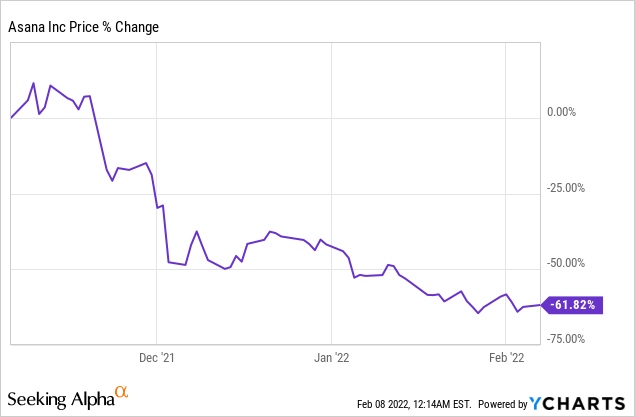 As you can see from the titles below, I was an early bull of the stock and remained a strong bull of Asana well into August.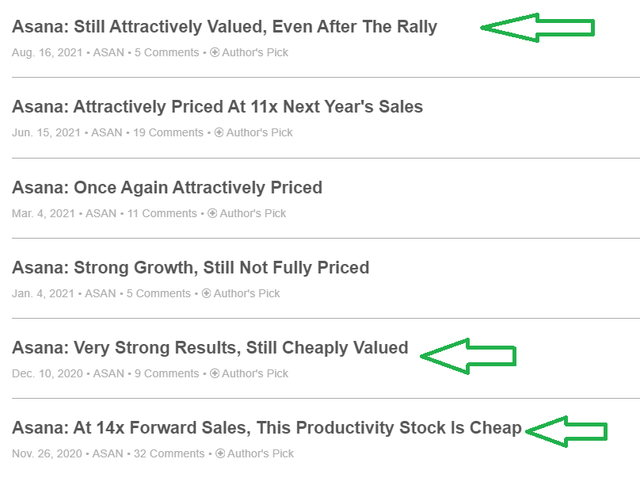 But then, I felt that the valuation no longer made sense and I wrote the following two articles:

As you can see above, I made an about-turn on Asana in November. Since the article with the red arrow was written, the stock is down 50% in a few months.

Given that I called the stock on the way up, and I believe, most people would agree, I impeccably called it on the way down, it stands to reason, that I have a better grasp on this stock than average.
Asana's Revenue Growth Rates Remain Strong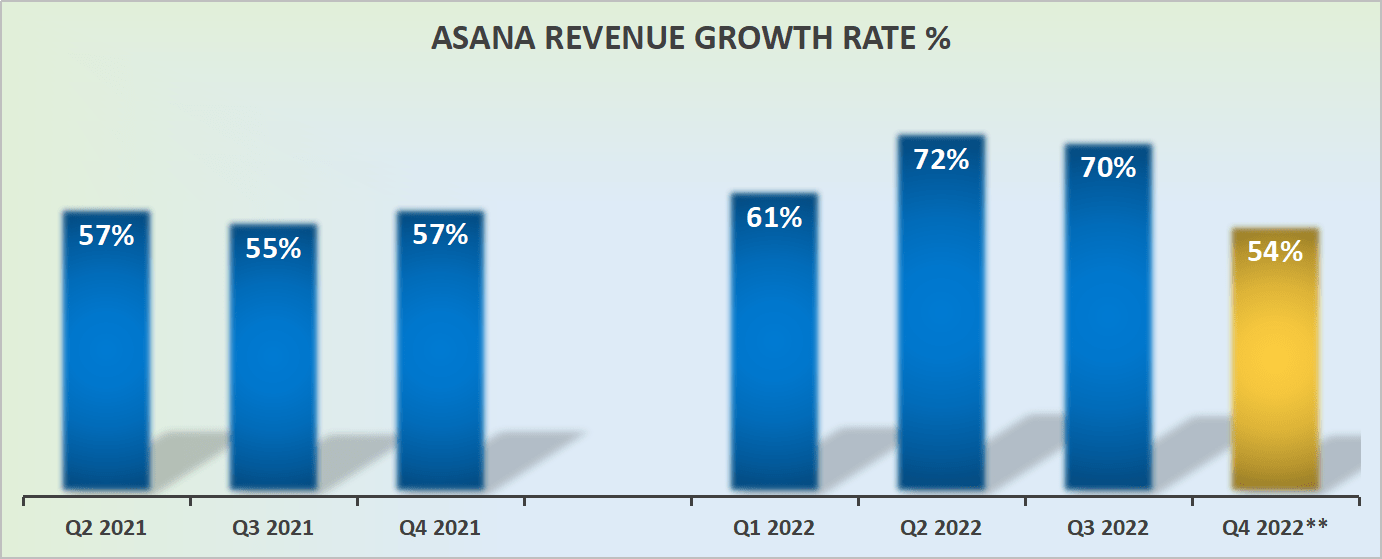 Asana is about to report its Q4 2022 results early next month. Since Asana has a long history of smashing through expectations, I believe that investors will have a lot to be content with when it comes to Asana's top-line growth next month.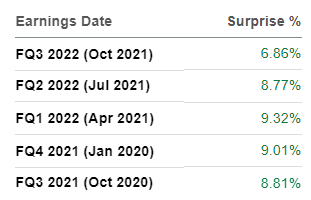 Given that Asana often beats on the topline by slightly more than 5% against the consensus, this implies that Asana's Q4 2022 will probably report nearly 60% y/y growth. This level of growth is nothing short of sizzling hot.
Why Asana?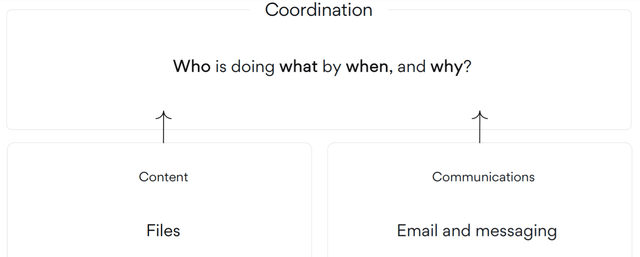 Asana is a workflow platform designed to embrace the hybrid work environment.
Asana is focused on the 3 Ws: who, what, by when. It aims to provide its users with visibility and a coordination platform. One of the distinguishing features of Asana's platform is that it's mostly aimed at large enterprises. This is different from some of its peers.
What's more, not only is Asana well-positioned to participate in a rapidly growing market, but its platform is clearly resonating strongly with customers.

As you can see above, Asana's net retention rate of higher than 120% highlights its customers' satisfaction and willingness to be upsold more products.
Asana's Profits Are Now an Issue, Again
A few months ago, it was bad taste to note that the company's path to profitability left much to be desired.
However, now that shareholder sentiment has calmed down, I believe that investors are starting to rethink whether buy-and-hold always makes sense. Even if you are investing alongside an A-class management team.
On a non-GAAP basis, Asana's profit margins typically report around negative 40%.

Even though its Q4 2022 guidance is pointing towards negative 48% non-GAAP operating margins, I suspect, as do you, that Asana will beat that guidance with ease.
Perhaps, Asana's non-GAAP operating margins meaningfully improve and report "only" negative 40% non-GAAP operating margins.

Given that Asana's computation of free cash flow adds back what many would consider property plant and equipment (green arrow), sometimes known as capex requirements, I believe that it's reasonable to estimate that Asana's actual free cash flow in fiscal 2022 will be approximately negative $120 million.
What's more, given that Asana's balance sheet carries approximately $340 million of free cash flow and it's burning through more than $100 million per year, this implies that Asana will have to raise equity to bolster up its balance sheet.
What's more, lest we forget, of the free cash flow, approximately 50% is in the form of stock-based compensation. And since the stock price has recently tumbled, for Asana to retain key talent in the C-suit, Asana will have to increase the incentive packages.
ASAN Stock Valuation – Starting to Become Fairly Priced
If we're to make an assumption that Asana would go on to grow in fiscal 2023 by 40% y/y, this would translate into the stock being priced at 18x forward sales.
Clearly, this is now a huge drop from where it was just a few months ago. The sentiment that was propelling the stock has now faded away. Now that Asana's stock has none of the positive momentum it previously had, it will have to be carried forward on its fundamentals.
From this perspective, there's clearly a substantial opportunity to impress new shareholders.
What's more, compared with its close peer, monday.com (MNDY), Asana is now trading at a slight discount to monday.com. To illustrate, monday.com is being priced at 20x forward sales, which are two turns higher than Asana.
On the other hand, it must be said that monday.com fundamentals outshine Asana's, with both faster revenue growth and improved bottom-line prospects.
So, it could be said that monday.com should trade at a premium to Asana.
On the other hand, this doesn't detract from the fact that Asana is now clearly meaningfully more attractively priced.
The Bottom Line
Many investors get emotional when it comes to deploying capital. They buy into narratives and get too attached to stocks when the valuation no longer makes sense.
Indeed, often investors are too quick to start to buy the dip. I contend that the best moment to buy the dip is when interest in the stock has faded. Not immediately as it starts to correct.
My point is thus, simply take advantage of lower prices to consider averaging into positions if it makes sense to do so if one feels that bullish sentiment has faded.
All that said, I'm still finding even more attractive places to deploy my own capital. Whatever you decide, good luck and happy investing.