Arch Capital: Options Set A Win/Win Scenario (NASDAQ:ACGL)
So You Know What to Expect from This Article
I live in the valuation camp. Finding quality companies with a high likelihood of future earnings growth at reasonable valuations is the cornerstone of my investing.
The reason: Because buying shares of quality companies at reasonable valuations gives the investor the opportunity to benefit from future company progress.
Otherwise, buying when prices are well above normalized valuation levels can set the stage for heartburn. Why? Because purchases at inflated prices can lead to years of disappointing price action as the company results catch back up to price.
This article will focus on a suggested valuation for Arch Capital Group, Ltd. (NASDAQ:ACGL) based on the company's own historical norms. (Spoiler alert: the company appears fairly valued right now).
Note: An Earnings Report is Imminent
Please note this article is being written several days before an expected earnings report. As a patient value investor who measures holding periods in months/years, the strategies to purchase quality companies do not change dramatically around immediate events.
However, earnings reports make a difference. That looming information release emphasizes the benefit of the options method to be demonstrated.
In other words, in my humble opinion, the thesis and method is useful regardless of the results of the next earnings call.
The Thesis Here
The thesis here is that Arch Capital Group, Ltd is a quality company reasonably priced at current levels. The company has a history of growing fundamentals and maintains a solid market share in its space.
Outright purchase of shares would be reasonable, and holding shares would also make sense.
A key part of the article is to show how judicious use of short Put and Call options in marginable accounts can create opportunities when a stock is at valuation and an earnings report is looming.
Company Background

Arch Capital Group Ltd. is an American Bermuda-based company which writes insurance, reinsurance and mortgage insurance on a worldwide basis, with a focus on specialty lines, the segment of the insurance industry where the more difficult and unusual risks are written. It has operations in Bermuda, the United States, Canada, Europe, Australia, and, in the case of mortgage insurance, Hong Kong. (Google)
The company operates in the financial, property, casualty insurance industry.
General Market Conditions
It is no secret that the overall indices have had a challenging beginning to 2022 after solid one-year returns and outstanding three-year returns. One glance below shows the recent red. It is always a "market of stocks, not a stock market", so my view is that an eye on valuation is even more important in the current environment.
Sector Relative Performance
The good news is that the financial sector has performed better than the other sectors, but the bar is fairly low at the moment. Nevertheless, the sector is solidly in the green YTD.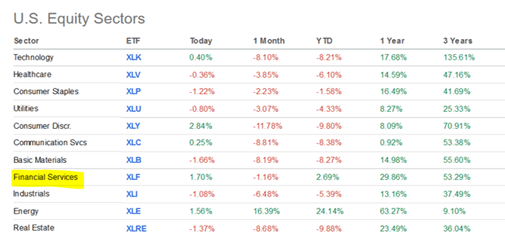 Arch Capital Price Performance vs Index
Shareholders of Arch Capital have enjoyed a terrific ride as the stock price is up 42% in the past year while outpacing the overall market.
It is important to note that the share price is currently at/near 52-week highs.
And, unlike others in this space, the company pays no dividends.
Company Past Book Value Growth
The company has delivered impressive growth of book value historically. From my view, this track record of management performance and the solid position Arch Capital maintains in its market space suggest at least some level of predictability going forward.
It's About Value Creation and The Future
We value investors know that sometimes we use past results to inform future valuations. Yet a critical piece to achieving future goals is the company's ability to create future value.
Arch Capital has market leading components across the entire cycle, which helps set it apart from competitors. From my view, the three pillars suggest the company is well-positioned for the future.
What are Shares Worth?
So what might ACGL shares be worth? The image from FastGraphs below informs the valuation. Please note the orange line represents the growth of past earnings at a 15X multiple. The blue line is the company's own normalized PE over this time period (about 16.5X).
Today the company is priced at around 14X.
The orange line and the green-shaded area allows us to immediately see the trend of earnings growth over the past decade. Note there is some cyclicality to the past earnings.
The black line represents the actual stock price and generally we can see a stable stock price, even during the periods of declining earnings.
The image is helpful because we can note the stock price is at or near the orange line and blue normalized multiple line.
In other words, the price is around fair valuation – not a screaming deal, and not significantly overpriced.
What Might An Investor Do to Create a Win/Win?
So ACGL is a quality company with a track record of success, and shares are fairly valued assuming EPS grows at a healthy clip per forecasts.
What might an investor do today to create a win/win, especially with an earnings report coming likely in the near term?
One idea is to buy shares outright because they are reasonably valued for a quality company positioned to grow (albeit at 52-week highs).
Here is another technique for options-seasoned investors to consider.
Using Options to Create A Win/Win
For those who like the company and have a marginable account, consider the following. Note the example uses just 1 contract representing 100 shares and represents pricing after market close Friday, February 4, 2022:
Step 1: Buy 100 shares of ACGL for $47.60. The initial cash outlay will be $4,760.
Step 2: Sell 1 contract (100 shares) of a September 2022 Call at a strike price of $50. You will receive $278 in premium immediately.
Step 3: Sell 1 contract (100 shares) of a September 2022 Put at a strike price of $45. You will receive $190 immediately.
How This Creates a Win/Win for Your Portfolio
If you want to start a position or add to a position, the results of the 3 steps above are now-predetermined:
Cash outlay: The initial $4,760 cash outlay goes down to $4,292 because you immediately collected $468 in Call and Put premium.
Possible Outcome #1: If the price of the stock is above $50 at close on September 19, 2022, your shares will be called away for $5,000. Your cash outlay was $4,292, so your return on that outlay is 27.2% annualized.
Possible Outcome #2: If the price of the stock is below $45 at close on September 19, 2022, you will be forced to buy 100 more shares for $4,500. You will own 200 shares for a total cash outlay of $8,788, or $43.94 per share.
A nice discount on a stock priced today at $47.60. And that we think will rise in the future on company growth.
Possible Outcome #3: If the price of the stock is between $45 and $50 at close on September 19, 2022, you keep the $468 premium for a 9.8% return for the contract period of 223 days.
Wrap-Up
Arch Capital Group is a quality company well-positioned for future growth. The stock price today is priced about at valuation. We value investors like a deal (or, put another way, I am a cheapskate). While at current levels I recommend a hold because there is no major discount, use of short Call and Put options can build in a margin of safety.
Investors would be well served to learn options skills as another arrow in the investing quiver.