Apple March Event: Boring Is Beautiful (NASDAQ:AAPL)
On Tuesday, technology giant Apple (AAPL) held its first product event of the year. The company was expected to unveil a couple of new products, and management did just that. The new devices shown off fit nicely into the company's product portfolio, but today's event wasn't a game changer in any way. While that seems to imply I'm being negative on the company here, I'm actually looking to argue just the opposite.
Before I get to my main argument, let me first discuss one stumble here. Apple announced that its TV+ streaming service had struck a deal with Major League Baseball to show two exclusive games on Friday nights. This helps bring a new area of content to the service, and over time that should boost subscribers and thus revenue. However, this announcement was a bit poorly timed, as it comes during a very contentious labor negotiation between the league and its players, on the same day where the league is expected to cancel more games for the upcoming season that's already been delayed. The players and owners are fighting over money, so throwing a new revenue stream in here might only increase the fight between these two sides. I know Apple probably had this news all set ahead of time, but it's a bad look to announce a deal for baseball coverage where this isn't even a guaranteed season to look forward to at this point.
As was widely expected, Apple on Tuesday announced the third version of its iPhone SE. The new smartphone keeps the same form factor and 4.7 inch display along with the Home button as its prior generation, while adding 5G compatibility and upgrading the A13 chip to the A15. Some camera software was also upgraded, while the new generation features improved battery life. The one slight surprise was the $429 price tag, up $30 from the previous generation, while a new 256 GB storage tier was introduced.
Those who have read my Apple coverage over the years know I'm a big supporter of the iPhone SE line. I still use the original version, as I certainly love a smaller form factor. This is not designed to be a flagship phone, rather one that fits in a particular niche but still is an impressive hardware offering. Apple is catering here to the smaller phone lovers and also those who don't want to spend big to enter the Apple ecosystem but still want current generation hardware. A lower price point probably would have been better for emerging markets, especially with the US dollar racing to new yearly highs currently, but I'm sure the phone will still do quite well.
The price raise over the prior generation should also help reduce concerns a little about this phone having terrible margins, as commodity costs are certainly soaring. However, it does appear that Apple made some moves to save on costs, by not upgrading every single piece of hardware, as well as not doubling the base amount of storage to 128GB like it did with the iPhone 13. The new 256GB storage option will also allow for a little average selling price improvement on the SE line as well as help with margins.
Apple also unveiled a new iPad Air on Tuesday, a tablet that's not totally at the top end but above the regular iPad and iPad mini on the price spectrum. This is one product where I think margins may be slightly hurt, given the amount of upgrades seen. The $599 price point was kept, but Apple went from the A14 to the M1 chip, upgraded the front camera, and added 5G compatibility. The new chipset makes it twice as fast as a comparable Microsoft (MSFT) Windows laptop in the same price area. The new iPad Air is seen below next to the new iPhone SE.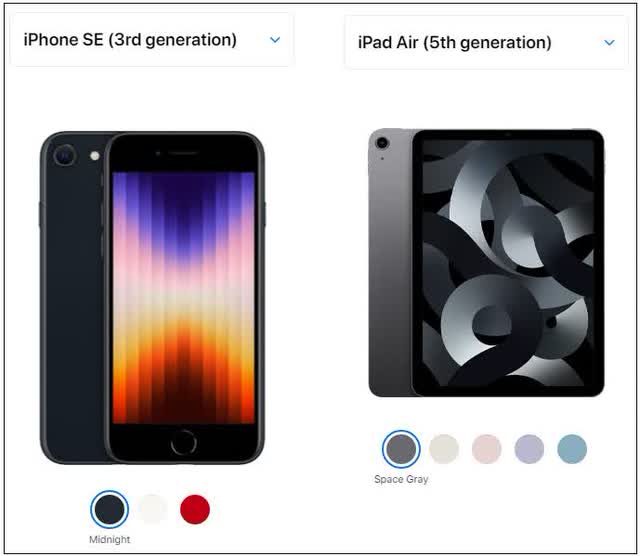 Finally, Apple unveiled a new M1 Ultra chip. It has a 20-core CPU, with 16 high-performance CPUs and a 64-core GPU. It's nearly eight times faster than the original M1 chip, has twice the capabilities of the media engine in the M1 Max, and comes with 114 billion transistors and 128GB worth of unified memory. This new chip can be part of the new Mac Studio line, with the M1 Ultra version starting at $3,999 and that's without the 27-inch Studio Display that costs another $1,599.
I know that every time Apple holds one of these events, there are people out there looking for blockbuster news. Today's event did not do that, but it wasn't supposed to. For the most part, this was about updating two older devices to get 5G compatibility, in an effort to drive some upgrades while also bringing more consumers to the Apple ecosystem. The new M1 Ultra chip will power a new generation of devices, many of which are still to come, with the Mac Studio providing a new high end offering for the company. None of the devices unveiled Tuesday are expected to be top sellers for their respective product lines, but they aren't designed to be that. They are here to address a part of their device markets, and each does so in its own unique way. These new products are part of the roadmap that can help Apple increase its total revenue base over time, with analyst estimates shown below.

As for Apple shares, they remain about $25 off their all-time high currently. The Russian invasion of Ukraine has sent most non-energy names lower, as investors worry about risks to global growth and supply chains. The main impact on Apple will be with regard to cost pressures over time from rising commodity prices, which might have an impact when we get more product launches later this year. There will also be a small sales headwind from the company's decision to stop business in Russia, but I don't think that's something major that would result in many investors fleeing the stock.
In the end, Apple's event on Tuesday wasn't tremendously exciting, but that's not really a bad thing. Spring events like this are usually designed to provide decent upgrades to a small number of products, and that's exactly what was done here today. The new iPhone SE targets a specific area of the smartphone market, while the iPad Air is a nice tablet that's not an entry level device nor a top of the line one. The new M1 Ultra is the next step in Apple controlling its own chips, and will be more of a factor in new Macs coming at a later time. Apple shares are down a little on Tuesday, but they are trading more on headlines surrounding the Ukraine situation than today's event. For those looking for a game changer, this show wasn't for you, but for long term investors, the event was the perfect way to keep the Apple train running.