American Tower: Total Return And Buying Bolt-On Companies Fuel Growth (NYSE:AMT)
American Tower (NYSE:AMT) is a buy for the dividend growth investor and total return investor. American Tower is one of the largest providers of wireless communications services and is a growth investment that should be in all tech portfolios because of the expanding demand for 5G wireless streaming capability. The quarterly dividend was just increased to $1.40/Qtr. The dividend a year ago was 1.24/Qtr. So this is an increase of 13% year over year. Also, the dividend has been increased by 38 quarterly increases in a row.
As I have said before in previous articles.
I use a set of guidelines that I codified over the last few years to review the companies in The Good Business Portfolio (My IRA portfolio) and other companies that I am reviewing. For a complete set of guidelines, please see my article "The Good Business Portfolio: Update to Guidelines, March 2020". These guidelines provide me with a balanced portfolio of income, defensive, total return, and growing companies that hopefully keep me ahead of the Dow average.
When I scanned the five-year chart, American Tower has a good chart going up and to the right in a steady, strong slope for four of the five years, with a pause in 2020-2021 when the market dipped due to the COVID virus. The past six months have been weak as the company digests the purchase of Core Site Reality, a data center company, and Eaton Tower with 5500 sites across Africa. This creates a buying opportunity to buy AMT at a discount.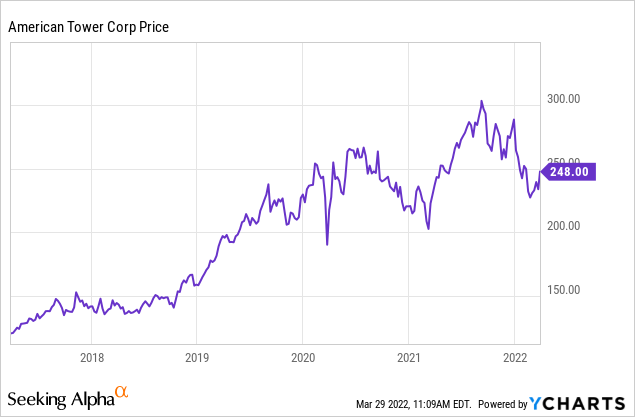 The Fundamentals
The method I use to compare companies is to look at the total return. If a company cannot beat the market, why do you want to invest in it? The great American Tower total return of 186.60% compared to the Dow base of 93.66% makes American Tower a good investment for the total return investor that also wants a steadily increasing income. Looking back five years, $10,000 invested five years ago would now be worth over $23,100 today. This makes American Tower a good investment for the total return investor looking back, which has future growth as the United States and foreign demand wants more of AMT's services.
Dow's 74 Month total return baseline is 93.66%
| | | | |
| --- | --- | --- | --- |
| Company name | 74 Month total return | The difference from the Dow baseline | Yearly dividend percentage |
| American Tower | 186.60% | 92.94% | 2.3% |
American Tower does meet my dividend guideline of having dividends increase for 8 of the last ten years and having a minimum of 1% yield. American Tower has a slightly above-average dividend yield of 2.3% and has had increases for nine years, with a 5-year dividend growth rate of 19%, making American Tower the right choice for the dividend growth investor. The dividend was last increased in March 2022 for an increase to $1.40/Qtr. The five-year average payout ratio is high but normal for a REIT, at 88%. After paying the dividend, this leaves cash remaining for increasing the business of the company by developing new towers, expanding the capabilities of the existing towers, and buying other companies.
I have capitalization and growth guidelines where the capitalization must be greater than $10 billion and the growth greater than 7%. American Tower passes these guidelines. American Tower is a large-cap company with a capitalization of $111 billion, well above the guideline target and higher than my last report. American Tower 2022 projected cash flow of $4.7 billion is excellent, allowing the company to have the means for company growth and increased dividends. American Tower's S&P CFRA rating is three stars or hold with a one-year target price of $300. American Tower is below the target price at present by 24% and has a moderate to high FFO PE of 24, making American Tower a long-term buy at this entry point if you consider the solid growing cash flow that drives the stock price and the implementation of 5G worldwide. Already there is talk of 6G implementation in the near future. If you are a long-term investor that wants good increasing future total return growth, you may want to look at this company.
I look for the earnings of my positions to consistently beat their quarterly estimates. Click For the last quarter, on February 24, 2022, AMT reported FFO earnings that missed expected at $2.10 by $0.20, compared to last year at $1.42. Total revenue was higher at $2.44 billion more than a year ago by 15.1% year over year and beat expected total revenue by $30 million. This was a mixed report with the bottom-line missing expected, the top line increasing compared to last year, and beating expected. The next earnings report, Q1, will be out in April 2022 and is expected to be $2.49 compared to the previous year at $2.48, an increase. The graphic below shows details of the yearly comparisons between 2020 and 2021.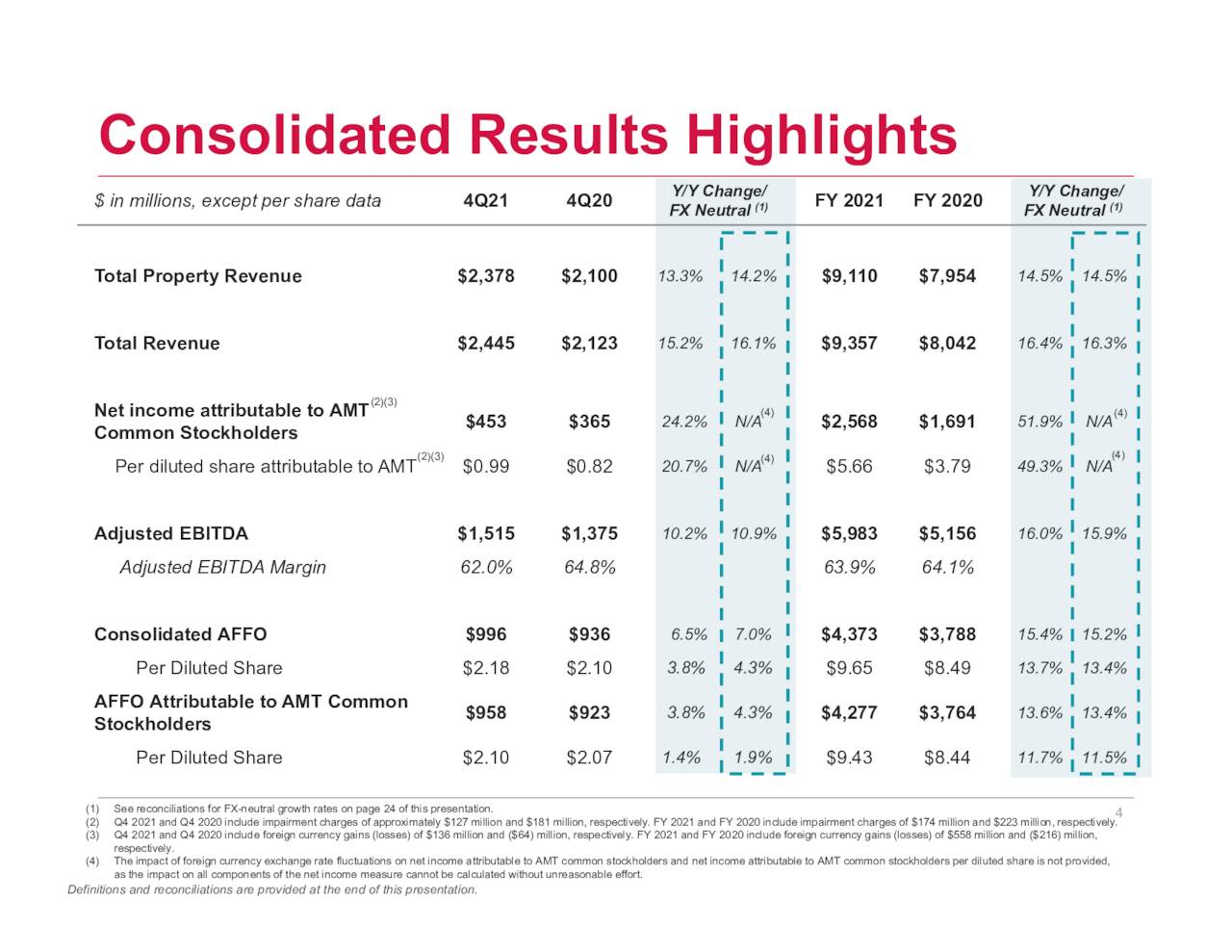 American Tower is one of the largest developers and providers of wireless communications services in the United States and foreign countries. American Tower operates as a real estate investment trust (REIT), which owns, operates, and develops multitenant communications real estate. Foreign operations include Germany, Ghana, Nigeria, South Africa, Uganda. Brazil, Chile, Colombia, Costa Rica, Mexico, and Peru. AMT has a good estimated 2022 cash flow of $4.7 billion/year, and the company uses some of the cash to expand the company by buying bolt-on companies, increase dividends each year; all two increase the value for the shareholders. A quote from the Deutsche Bank 30th Annual Media, Internet, and Telecom Conference by CFO Rodney Smith sums up the good expectations for the use of cash flow to increase growth and increase shareholder return.
We did have a very busy 2021, a few transformational acquisitions. Certainly, the big acquisition we did in Europe, buying the Telxius assets, and then following that up with another $10 billion acquisition of a data center business in the U.S., So we were very busy, but that didn't change the priorities of the company. Our priorities continue to be driving organic growth to make sure that we put together a collection of assets around the globe that are well-positioned to drive organic growth through the increased consumption of mobile data around the world. And we see that continuing to happen in the U.S. as the U.S. market transitions to 5G. We see Europe at the early stages of transitioning to 5G deployments as well. In many of the emerging markets that we're in, in India, in Latin America, throughout Africa, they're all continuing to build out 4G networks and densify those networks. So we see mobile data consumption really around the world continuing to rise. And our #1 priority is making sure our assets are well-positioned to grow organically. And then, in addition to that, it's being prepared to grow inorganically and to make sure that we're scanning the globe and not just in tower assets, as you saw with the CoreSite acquisition, but other asset classes that allow us to extend our growth rates longer term.
Overall, American Tower is a great business with my 10% CAGR projected growth as the worldwide economy grows going forward with the increasing need for more streaming capability. I feel this growth rate will be at least 10% because of the 5G implementation. The good earnings and revenue growth provide AMT the capability to continue its growth as the business increases by buying bolt companies and investing in the 5G expansion. This shows the growth going forward with a projected increase in top and bottom lines. American Tower has good growth and will continue as the United States and the foreign population grows with the need for more integrated streaming and phone communications. The growth is being driven by the 5G implementation, which is being balanced by a slowing economy because of the coronavirus. The graphic below shows the projected strength and the forward guidance for 2022.
One of my guidelines is would I buy the whole Company if I could. The answer is yes. The total return is excellent, and the average dividend yearly yield has grown at a high rate over the past five years, making American Tower a great business to own for the growth and the long-term income investor. The Good Business Portfolio likes to embrace all kinds of investment styles but concentrates on buying companies that can be understood, makes a fair profit, invests profits back into the business, and also generate a good income stream. Most of all, what makes American Tower interesting is the increasing long-term demand for streaming capability, with 5G implementation mostly in foreign countries worldwide.
A qualitative guideline I don't mention often is how you think of your investments. Don't just think of buying shares as pieces of paper, but think of yourself as an owner of the company and understand the business they are in and how they made their profit. If you can't understand the business, don't invest in the company.
Risks and Negatives of the business
The obvious risk for American Tower is that another mutation of the COVID virus will not be controlled by the vaccines and remedies used today, and we will have another downturn until a new vaccine is developed. AMT has great world services, and they keep adding companies to their sales by buying bolt-on companies with integration risks. There is also the risk of a new method of streaming transmission reducing the need for towers like satellite streaming. Also, right now, we have the invasion of Ukraine, causing a bit of uncertainty in the world markets, and we don't know how long this will last.
Conclusions
American Tower is a good investment choice for the dividend growth investor with its average dividend yield but with good dividend growth and a great choice for the total return investor. American Tower is 1.0% of The Good Business Portfolio, and the position will be increased whenever cash is available. If you want a growing dividend income and a good total return in the growing computer streaming and communications business, AMT may be the right investment for you.
With three months in the year, the total return for the Good Business Portfolio is behind the Dow average from 1/1/2022 to March 25 by 3%, but this is just three months with nine more to come in the year. Each quarter after the earnings season is over, I write an article giving a complete portfolio list and performance. The latest article is titled "The Good Business Portfolio: 2021 3rd Quarter Earnings and Performance Review".