Align Stock: Still Room For Growth (NASDAQ:ALGN)
Align Technology (NASDAQ: NASDAQ:ALGN) is a high-quality company with strong fundamentals down 38% from all-time highs. Investors should expect significant upside due to ALGN's market share potential, a superior product, and strong competitive advantage. In this article, I will discuss why investors should own a piece of this medical device company.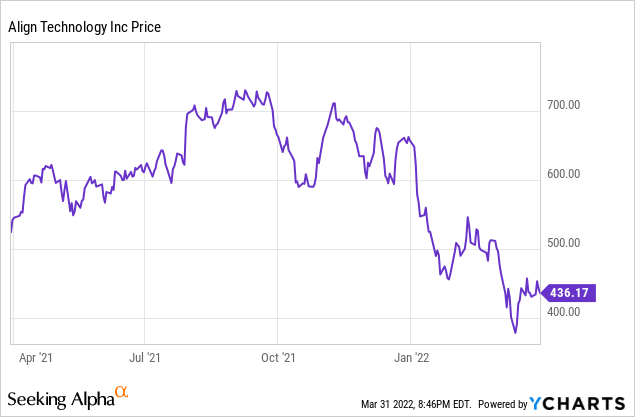 Overview
Founded in 1997, Align Technology is a global medical device company that is primarily known for its clear aligner product, the "Invisalign." Invisalign, as shown in the main article image, is a product that treats malocclusion (i.e., misalignment of teeth). The Invisalign, amongst other products including retainers, training products, and dental adjustment tools makes up ALGN's Clear Aligner operating segment. The Clear Aligner segment accounted for 82% of total revenue as of 2021, and their flagship product is the core driver.
The second operating segment for ALGN includes Systems & Services, which accounted for 18% of sales in 2021. This segment is anchored by their "iTero Scanner" intraoral scanning product which ALGN sells to different dental practitioners around the world. Additionally, this segment includes a suite of software products that ALGN aims at integrating into the workflow processes of dental labs and practitioners.
Clear Aligners Market Tailwinds
According to Align's 10-K, 60-75% of the world are subject to some form of teeth misalignment. Additionally, of the 21 million global orthodontist cases started in 2021, ALGN believes that 19 million were able to be treated using the Invisalign clear aligner. A recent report from Fortune Business Insights indicated that the global clear aligner market is set to grow at a whopping 19.7% CAGR from 2021 to 2028. This presents a significant market opportunity for Align Technology to be at the forefront of the clear aligner space and establish market leadership.
ALGN has said that of the 60-75% of the global population affected by teeth misalignment, 500 million people can benefit from using Invisalign treatment. To put these statistics into context, ALGN only has 12.2 million patients to date – a mere 2.44% of the total addressable market. Industry tailwinds combined with ALGN's market potential exhibit ample room for long-term growth.
Total orthodontic cases started per year (2017-2021)
Strong Product and Competitive Advantage
Align Technology's strong business model is anchored by its clear aligner product, which provides a fundamentally better solution than traditional metal wires and brackets. As a person with crooked teeth as a child, I can speak from experience that monthly visits to the orthodontist and getting food stuck in my braces were not the most fun childhood moments. Constant cuts to my gums and the inability to eat candy further prove that ALGN has come up with a better solution than braces.
First, ALGN's intellectual property provides them with a significant competitive and strategic advantage. Currently, ALGN has a whopping 642 active US patents, 724 active foreign patents, and 736 pending global patent applications. This intangible asset as a source of competitive advantage significantly increases barriers to entry for industry peers, protecting ALGN's product suite and market share. To put this into perspective, one of ALGN's main pure-play competitors, SmileDirectClub (NASDAQ: SDC,) has only 32 active U.S. patents, a fraction of Align's IP protection. SDC is an example of a company that has struggled to compete with ALGN in the clear aligner market. We can see this through the 3yr stock price line chart below, as SDC has significantly underperformed both ALGN and the S&P 500.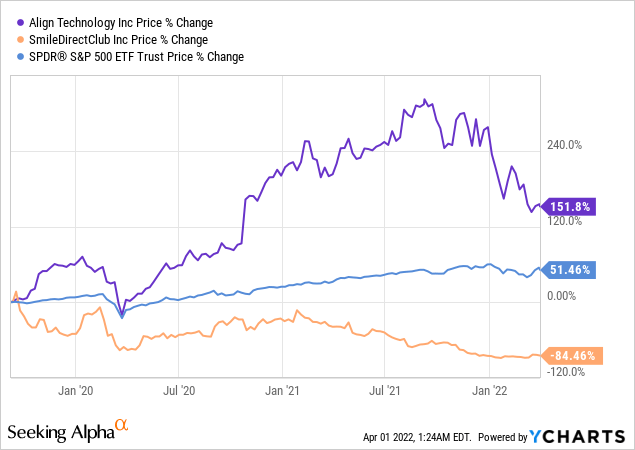 Second, growth in the systems & services segment paves the way for high switching costs, another source of competitive advantage. As ALGN continues to integrate its proprietary software, scanning solutions, and training products into dentistry practices, switching costs will become very high for General Practitioners (GPs). As of December 2021, ALGN has provided training, marketing, and clinical support to approximately 122,500 orthodontists and GPs. The more GPs that are trained on ALGN's systems and integrate them into their workflows, the less likely they will switch to another product.
As depicted in the chart below, ALGN has almost doubled the number of Invisalign-trained doctors from 2017 to 2021. From a shareholder perspective, this ensures a strong and growing customer base, thereby resulting in consistent revenue.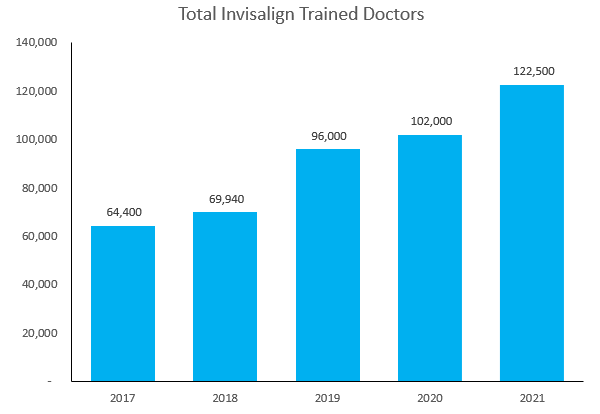 Total Invisalign trained doctors per year (2017-2021)
Through the growth of its GP and orthodontist base, Invisalign adoption will continue to increase as they penetrate the market. As more teens and adults with malocclusion use ALGN's clear aligners, the business will benefit from word-of-mouth marketing, thereby reducing customer acquisition costs.
Financials
Align's competitive advantage and strong business model are backed by some stellar financials. As shown in the figure below, ALGN is a business with zero debt and ample cash on the balance sheet. It's safe to say ALGN will be able to comfortable service both its short- and long-term liabilities.
Furthermore, ALGN has seen phenomenal revenue growth from 2017 to 2021, growing at a CAGR of 28%. Considering 2020 was a flat year with virtually no revenue growth, this is very impressive. As shown in the figure below, ALGN is also earnings positive, most recently posting $772 million in net income of $3.952 billion in revenue, resulting in a healthy 19.5% profit margin. It is important to note that ALGN's 2020 earnings are significantly inflated due to a $1.4 billion income tax benefit. The line on the chart below shows SG&A as a percentage of revenue. As Align continues to onboard more GPs and orthodontists, its sales and marketing costs will be significantly lower in the future, which will increase ALGN's operating and net margins.
As expected, 2020 was a tough fiscal year for Align with operating income down 25% in 2020 and flat revenue over the period. However, as COVID-19 fears subsided, ALGN posted a stellar $1.172 billion in operating cash flow and $976 million in operating income in F'21. In the most recent quarter, ALGN's Systems & Services revenue was up 61% from Q4'20 to Q4'21. Full-year revenue within the segment was up a whopping 90%, confirming digital acceleration and adoption within dental practices (see image below). 30% of iTero Scanner revenue was derived from services, resulting in recurring revenue for ALGN. As Align onboards more GPs to its software and scanner platform, it will continue to lock in high-margin recurring revenue from services and training.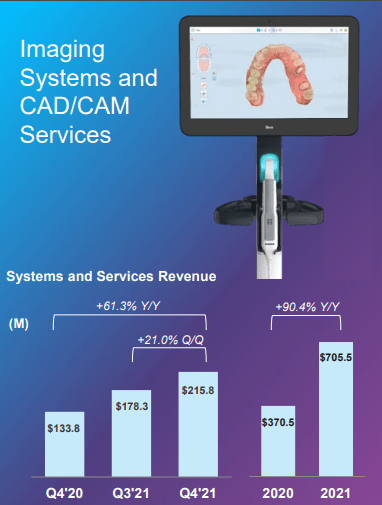 Valuation
Currently, Align Technology is trading at a P/E and P/FCF ratio of 46x. As shown in the chart below, the multiple has significantly compressed since July 2021. With that being said, ALGN is trading at 30x P/CFO – a reasonable multiple for a company with plenty of growth ahead. While a 46x P/E multiple may seem high, the iShares US Medical Device ETF (NYSEARCA: IHI) is trading at 47x earnings, similar to ALGN's valuation.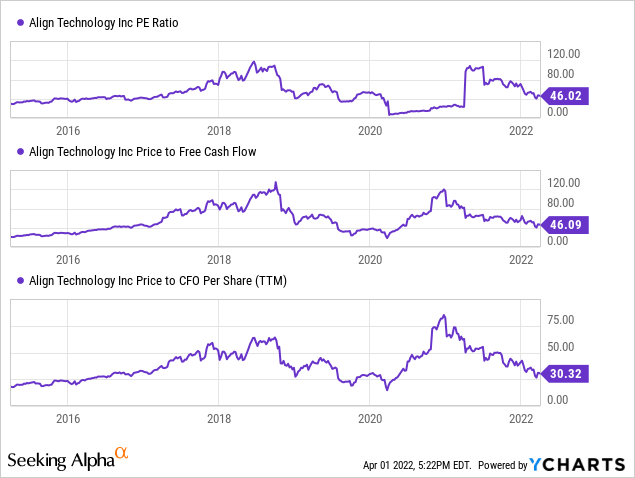 Of the three publicly listed competitors, SDC is not CFO positive. Compared to Envista's 24x P/CFO and 25x P/E multiple, ALGN does seem slightly overvalued. However, as shown in the chart below, ALGN has historically traded at a higher P/CFO multiple than NVST, and its multiple has compressed by more than half since 2021. When factoring in its higher gross margin and revenue expectations, ALGN's higher multiple is justified.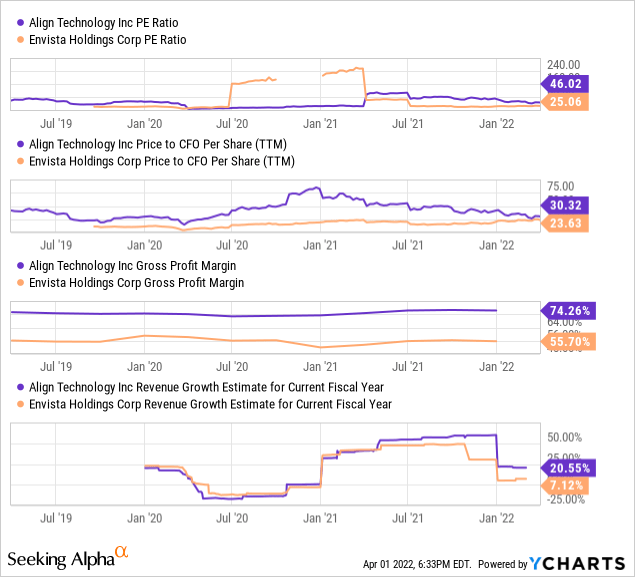 Risks
Like anything, every investment comes with a certain level of risk. While ALGN is by far the dominant leader in the clear aligners market, SDC and Envista Holdings (NYSE: NVST) are both pure-play direct public competitors that sell and market their own clear aligner products. In January 2020, SmileDirectClub changed its business model to further compete with Align. It used to operate a D2C model, where they would ship aligners directly to the end-user. SDC is now focusing its efforts on growing its professional channel via selling to GPs. Additionally, private startups such as Candid, Alignerco, and Byte are another potential risk that can disrupt ALGN's market leadership. As the clear aligner market continues to grow, industry peers will be competing for market share, posing a significant risk to ALGN.
Any expiration of Align's IP protections could negatively impact their business and increase the threat of new entrants. More importantly, if customers are not willing to adopt clear aligners, this could affect ALGN's ability to gain market share. Align has been expanding its marketing partnerships with entities including the NFL and Golden State Warriors. In order to increase product adoption amongst customers, Align must ensure effective sales and marketing efforts.
Align is also highly dependent on GPs and orthodontist adoption of its clear aligners and imaging systems/scanners. As mentioned above, ALGN has consistently increased the number of Invisalign-trained doctors from 2017 to 2021. Nonetheless, if GPs are unwilling to adopt the Invisalign system, this can result in adverse effects on the company's competitive positioning. Even if GPs adopt the technology but prefer to treat customers with braces, clear aligner shipments will decrease. Hence, ALGN must continue to promote its products effectively and maintain good relationships with GPs.
Final Thoughts
Overall, Align Technology is a great business with a strong competitive advantage. While there might be some challenges in penetrating the market and increasing adoption, Align Technology is on the right track for significant growth in the coming years. Backed by stellar financials and a reasonable valuation, I believe ALGN is a buy at current levels as there is room for long-term capital appreciation.