A Novel Approach: Local authors share an inside look at the world of self publishing | South County Life Magazine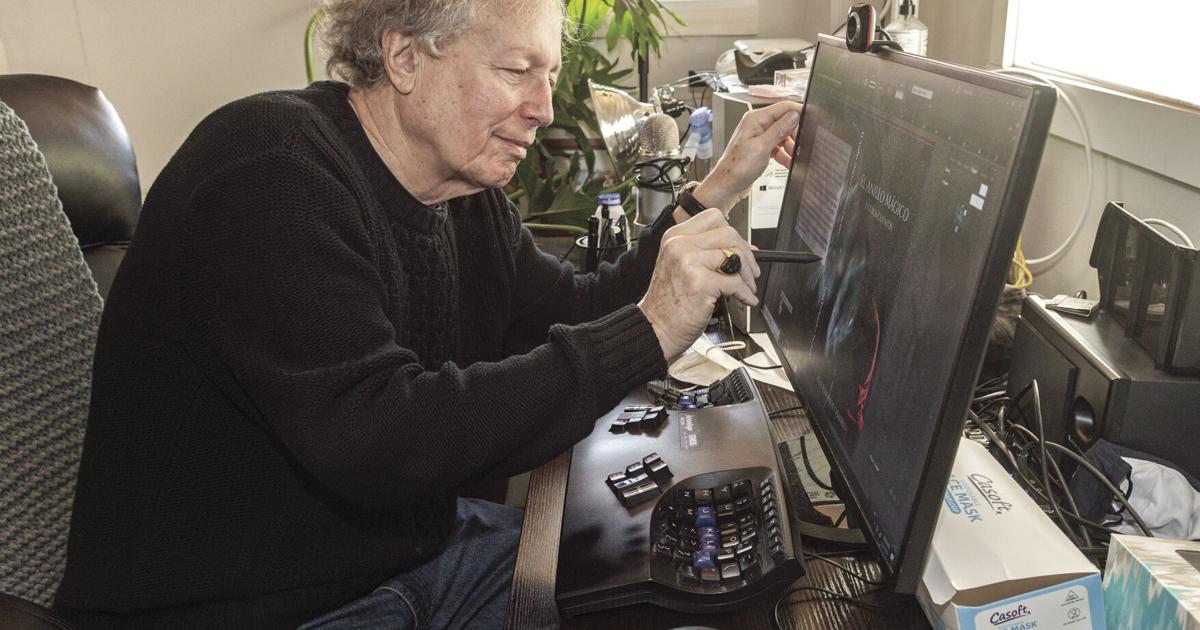 In each of us, goes an old adage, is a book. The stories of our lives can offer interpretations and understandings of the world, a piece of advice, or simply just catharsis.
As authors, we weave our understandings and experiences into narratives. They show up in fiction, non-fiction, poetry and imagery, to name a few places. Packaging them as hardcover or softcover books, online ebooks, audiobooks or even CDs and DVDs can bring those narratives to life.
"It is a labor of love," said Michael Grossman, owner of Ebook Bakery in South Kingstown and advisor to many self-publishing authors. "I'm in publishing because I love words. We do it because we love it. Publishing these works brings people into our lives. It's exciting."
And today, self-publishing stories is an option for more people than ever before, thanks to technology and the Internet.
Self-publishing was once reserved for the vanity press — those with money who could pay for the printing of a book that large publishing houses rejected.
 But the last 20 years have brought a revolution in technology, the growth of the internet and a digitized society that looks for all things online. Consider for a moment that Kindles, iPhones, iPads, ebook readers and other similar kinds of devices easily found today did not exist.
With these developments, indie authors have now found far easier ways to self-publish their work and have it be discovered by others. They have been breaking through barriers to the print-on-demand, audiobook, CD and DVD markets.
This sea change has brought an entire industry of cottage businesses and full-scale publishing houses to nurture this transformation — some would call it an uprising — in the publishing world.
Amazon Kindle Direct, Google, Apple iBooks, Smashwords, Barnes and Noble Press, Lulu and Kobo Writing Life are just a few of the platforms that host and sell the work of these nascent authors.
Here are the stories of one local self-publishing entrepreneur and several authors from South County and elsewhere who have jumped into self-publishing with gusto and a strong desire for their voices to be heard. They are among the upstarts pushing back against the big traditional firms and seeking a rightful place in publishing.
Gatekeepers
Large publishing houses are gatekeepers, or bullies on the block, say activist self-publishers. These publishing houses still account for most of the publishing in the world. They screen ideas and, by rejecting works, create an elitist attitude about what's worthy and not worthy of publication, these activists say.
Many well-known authors started out by self-publishing and were not accepted by large publishers until they first gained popular appeal.
These authors wanting to be heard and self-published include Dr. Seuss (Theodor Seuss Geisel), William Golding, James Joyce, Isaac Asimov, John le Carre, Zane Grey, Marcel Proust, Jack Canfield, Mark Victor Hansen and William Faulkner.
That list also includes Dr. Gene McKee, a retired Narragansett physician, and client of Ebook Bakery.
"Unless the writer has thoughts of making The New York Times bestseller list, I think for the novice, self-publishing is the way to go," said McKee. He published "Doc" (2012) and "Bloodletting to Binary" (2016), both chronicling medical school training and the start of his practice in South County.
By self-publishing, authors can find "total control, no middle man, (it's) relatively inexpensive, no time constraints," he said. "And for your efforts, a bit of decent writing that one day some aspiring writer in the family might find interesting."
"I did this as a legacy," McKee said. "Leave money in the will, it will be spent. Leave a book and it's something they will hang on to. It's a souvenir to pass on."
Going the traditional publishing house route is also fraught with more rules. Novices need to write query letters to potential agents for representation to publishing houses. Potential authors also need to provide either full manuscripts or sample chapters — depending on whether  they wrote fiction or non-fiction.
If these large publishing houses select the material, they become involved in shaping, editing and marketing it, and authors often times receive scaled-down payments of royalty fees. They also buy the rights to exclusively publish the book.
Advocates insist that self-publishing allows authenticity and that someone's self-published writing can be very good without changes made by large publishing houses.
Do-it-yourselfers can find online tutorials that can teach them about the preparation of a manuscript and  will list options for software that can do much of the work and companies or one-person operations willing to do the heavy lifting when writing is an author's only desire.
For instance, McKee sought help in self-publishing from Ebook Bakery's 78-year-old Grossman. Both men said that their relationship became more than one simply centered around work: They became mentor and muse to each other.
In Authors' Words
Take the path of Betty J. Cotter of Charlestown, for instance. She has published a number of books, including "The Winters" (2012).  It is a fictional story about the Winter family living through the suicide of family patriarch Jim Winter and the ways tragedy, family relationships and greed interweave as they try to cope with and recover from their loss.
Cotter said she turned to self-publishing after becoming frustrated while trying to get "The Winters" published. Her first novel, "Roberta's Woods" (2008), was published by Five Star, a library imprint of what was then known as Thomson Gale and is now part of Cengage Learning.
"My agent could not get 'The Winters' published, despite the fact that an excerpt had won the R.I. State Council on the Arts fellowship competition. I parted amicably with my agent and turned to Michael (Grossman) for help," she said. "He knew much more about the process of ebook publishing than I did, and I thought that would be a good route to go — it seemed to be the wave of the future. I wanted a physical book, too, that I could sell at author talks."
Cotter also said that Grossman helped her negotiate a lot of technical matters, including designing the cover, postcards and business cards for publicity.
"Aside from that, he has been a champion of my work and the work of other local writers," she said. "He is a fine writer himself of both poetry and nonfiction; he understands the dilemmas and obstacles writers face."
Narragansett physician McKee said, "The editing and content advice he gave was invaluable. He didn't try to change the tone of the book or insist on his point of view. It was still my book, with my language. That control was important to me."
Another self-published writer-physician at Ebook Bakery is Robert Reece of North Falmouth, Massachusetts.
Reece had been an author of mostly material for medical journals and textbooks. After retiring, he said, he tried autobiography, followed by three novels based on his experiences in medicine.
"I chose self-publishing because I am not a youngster, and finding an agent and waiting for them to shop my work around to publishers seemed like a lengthy process," he said. "Because I've not been a recognized name in fiction, I knew that getting visibility was an uphill battle."
His books are carried by Amazon and occasionally by indie bookstores open to authors who self-publish.
"Revenue has been meager. I'm glad I don't depend on the sales to make a living," he added with a laugh.
Another author — a poet, driven by a desire for expression rather than money — is Nancy Lee Jasper of North Andover, Massachusetts. She said, "I started writing about a medieval Icelandic poet who was a good poet and a bad man."
"I sent some of these poems to a writer who said that if I came up with a book, she would buy a bunch of them and send them to friends in Iceland," she said. "This was enough motivation for me."
For Clay Berry, pastor of the Wakefield Baptist Church, his purpose was to help others.
"I felt called to write these books as a response to mental health issues faced by my family and many people I know and care about," he said. "I use the books as tools to encourage hope for those suffering mental illness and for those caring for people who struggle in such ways."
Berry said that while his books are also available on Amazon, he typically buys a supply to distribute personally.
He published his first novel, "Through a Shattered Looking-Glass" (2017) through EBook Bakery. That was followed by "Those Frightening Things You Should Let Win" (2018) and "A Place of New Beginnings" (2019).
"Working with Michael Grossman was ideal since he was local, knew the publishing business, and I had no clue how to get started," Berry said.
Statistics show the potential promise and predicament of self-publishing.
While it has grown over the last two years — and especially during the COVID-19 pandemic — it still lags far behind in revenue. Recent numbers show $162 million for ebooks sales alone, as compared to a $26 billion U.S. book publishing market, according to Statista, a portal for consumer information and market data.
According to another collector of market data, ProQuest affiliate Bowker, self-publishing grew at a rate of 40% in 2018 and has in the last two years kept pace.
Helping the Novices
Knowing these numbers is what makes an entrepreneur and author like Grossman eager to help those who call his shop.
Revenue is an upfront point, Grossman said, that he makes with authors, especially the dreamy ones expecting fame and fortune in self-publishing. It does not happen often or frequently, he said, but most continue anyway.
While the writer is still responsible for the upfront work of pulling together thoughts and ideas into a draft manuscript, Grossman and others try to be coaches with manuscripts and refer them to editors who can assist with writing, editing and shaping the manuscript.
Grossman also works with a local writers' group to critique their work and offer advice free of charge. It's part of his passion, he said, for the written word and helping others.
Terry Schimmel and Enid Flaherty, authors participating in the group, pointed to the experience he brings as a writer, author and publisher.
"He recognizes that each writer has his or her own unique style, but that each of us continue to grow in our writing and seek insightful critique of our work," Schimmel said. "More than anyone in the group, his critiques analyze both the strengths and weaknesses in the piece submitted."
Through this kind of assistance, he can help writers avoid the costs of hiring editors to help improve a story's plot, episode development and character creation, as well as general and technical editing, proofreading and more.
While some new authors may be skilled in these areas, others prefer outside advice and will turn to those offering the services.
"We can all paint a house, too, but maybe you don't want to," quipped Grossman. Charges for any aspect of self-publishing can vary for a number of reasons, he said.
Turning the typical self-published indie manuscript into a book could cost between $1,000 to $2,000 to complete in his shop, Grossman said. Additional formatting and technical preparation, including changes to a prepared book in draft stages, will drive up the costs.
"I'm sure I don't charge enough, but that's the way it is. This isn't about making a ton of money for myself," he said, noting he charges about $75 an hour — cheaper than most attorneys.
His paid fees also include getting ISBN numbers (unique international numbers to identify versions of the book) for each format in which a single book would appear. These protect authors and officially recognize their individual work.
He and other self-publishing companies arrange postings to Amazon and other book distribution sources, assist with printing-on-demand for those wanting hard copies for distribution, and format the book as a CD and DVD that incorporate audiobooks.
In her book, "How to Self-Publish Your Book" (2013), Carla King listed do-it-yourself software as well as advice about selecting companies to do work. She warned readers to compare companies on features, services and pricing.
Grossman agreed and pointed out that he has an hourly rate because "that leaves the author in control and in charge of how much money he or she wants to spend on the project."
He also said that if he thinks a book has wide appeal, he will suggest that the author try a major publishing house first. They have the setup for marketing, websites and tours  that might be needed for a popular book, he added.
"My job is to give them the best advice without an axe to grind. I'll give them my thoughts, but they make the decision," he said, adding that it's a lot like buying a book.
"You can and you can't judge a book by its cover," he added with a laugh.