A Look At 'FAANMG' Stocks Vs. S&P 500: Margins, Valuation, Earnings
By Tajinder Dhillon
January has marked one of the most volatile starts on record and the sell-off in high-growth technology stocks was vicious. In a prior note (Data Insight: A Turbulent Start to the Year for Global Equities, January 27, 2022), we observed that technology stocks suffered from the largest drawdown in the Russell 1000 index. 94% of constituents within the information technology sector have experienced a drawdown of at least 10%, while two-thirds of the sector have experienced a drawdown of at least 20%.
Netflix Inc. (NFLX), while having GICS Sector of Communication Services and a Refinitiv Business Classification Sector of Technology suffered a 21.8% decline in share price on January 21st which marks the sixth-largest daily decline in history. This came after management provided lower 22Q1 guidance for net subscriber growth of 2.5 million compared to analyst expectations of approximately 4 million.
Meta Platforms Inc. (FB) experienced an almost identical fate as Netflix Inc, declining 26.4% on February 3rd, equivalent to a $232.4 billion dollar market cap decline. This was Meta's worst one-day performance since its IPO and the largest single-day market value decline in U.S. history.
In this note, we look at the 'FAANMG' basket of companies that are classified as high-growth technology companies which will be of interest given the macro-outlook of higher inflation and higher interest rates. FAANMG consists of Meta Platforms Inc., Apple Inc. (AAPL), Amazon.com Inc. (AMZN), Netflix Inc., Microsoft Corp. (MSFT), and Alphabet Inc. (GOOG) (GOOGL). The FAANMG Index currently makes up 23.8% of the entire S&P 500 index on a market cap basis and 21.6% for the Russell 1000 index.
Using Refinitiv Datastream, users can take advantage of the 'User Created Index' (UCI) functionality within the product, which allows one to create custom equity indices using a variety of weighting methodologies. Once created, the index can be automatically maintained for users, with new values calculated daily. To find this functionality, please click on 'UCI Manager' within the Refinitiv Datastream Excel add-in as shown here.
Using the UCI functionality, we can gain further insight into this basket of stocks by creating our own FAANMG index using the constituents described above.
Year-to-date, the FAANMG index declined 9.7% on a cap-weighted basis vs. a decline of 6.5% for the S&P 500. On an equal-weight basis, the FAANMG index declined 14.0% vs. a decline of 4.4% for the S&P 500 equal-weighted index. Of course, these declines are miniscule compared to the last 10 years, where the FAANMG index has dramatically outperformed the S&P 500 as shown in Exhibit 1.
Exhibit 1: Price Returns for FAAMG vs. S&P 500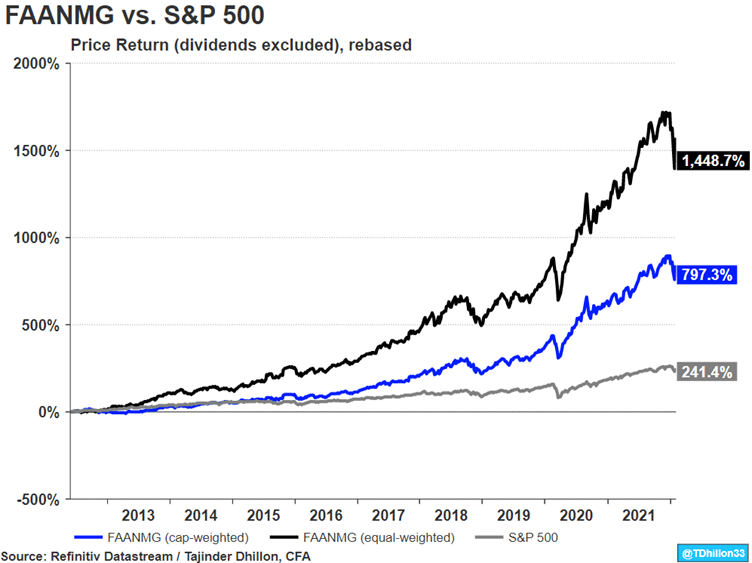 We look back to May 2012 as Meta Platforms Inc. is the youngest company out of the FAANMG Index. On a cap-weighted basis, the FAANMG Index has gained 797.3% vs. 241.4% for the S&P 500. If we convert this to compound annualized growth rates (CAGR), this equates to 25.0% and 13.1% respectively. Note that these are price returns only.
On an equal-weight basis, FAANMG has significantly outperformed its cap-weighted index, gaining 1,448.7% or 32.4% annualized. The reason for the outperformance can be attributed to smaller companies in the index receiving a much higher weight using this approach. For example, in May 2012, Netflix Inc.'s market cap was 0.1% relative to Apple Inc ($3.8 bn vs. $495.9 bn).
We can also look at other metrics aside from price-performance as shown in Exhibit 2. With the January sell-off, the forward 12-month P/E ratio for the FAANMG Index declined almost five turns from 32.8x to 28.2x. This compares to a forward P/E of 20.3x for the S&P 500, marking a 38.9% premium which is slightly above the historical 10-year average premium of 29.2%.
Exhibit 2: Forward 12-month P/E Ratio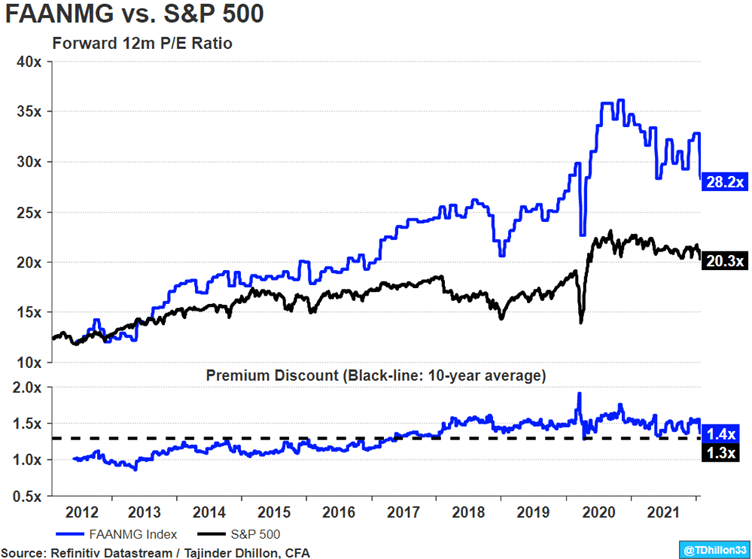 At a company level, three out of the six constituents in the basket are trading below historical 10-year averages. Netflix Inc. is the cheapest out of the group as it currently has a forward 12-month P/E of 36.5x vs. a 10-year average of 118.9x, marking a 69% discount. Amazon Inc. is second cheapest with a forward P/E of 60.5x (51% discount vs. 10-year average), while Meta Platforms Inc. trades at a 41% discount to its long-term average (18.2x vs. 30.6x).
While the focus will be on higher interest rates, macro headwinds, and supply chain disruptions, FAANMG stocks continue to deliver robust top-line growth and strong margins. Exhibit 3 shows how strong EBITDA margins are for the FAANMG index, which currently reads 33.0%, dwarfing the average EBITDA margin of 20.3% for the S&P 500 and 12.4% for the Russell 2000 Index.
Exhibit 3: Forward 12-month EBITDA Margin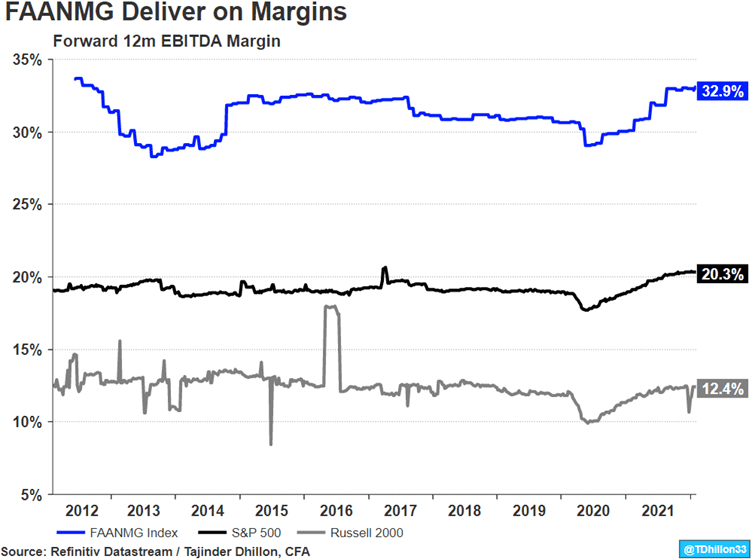 How do earnings look for FAANMG?
As we are approximately halfway through the U.S. earnings season, we analyze earnings and revenue growth for the FAANMG index using data from our S&P 500 Earnings Scorecard as shown in Exhibit 4.
21Q4 blended earnings growth for the S&P 500 index is currently forecasted at 30.0% with 281 companies who have reported results. Our growth rate is a blend of actuals and estimates for yet-to-report constituents. When looking at FAANMG constituents, we arrive at an aggregate blended earnings growth rate of 28.9%.
2022 looks to be a tough year for FAANMG from an earnings growth perspective, mainly due to difficult year-over-year comparisons. It is currently expected to deliver weaker earnings growth compared to the S&P 500 in three of the four quarters (22Q1, 22Q2, and 22Q4). Looking at FY2022 growth rates, S&P 500 is expected to deliver earnings growth of 7.7% compared to 1.2% for FAANMG on an aggregated basis.
Exhibit 4: Earnings Growth for FAANMG and S&P 500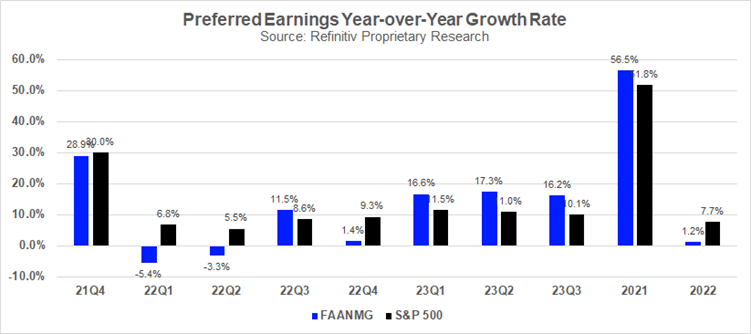 However, top-line growth continues to be robust as shown in Exhibit 5. FAANMG delivered aggregated 21Q4 revenue growth of 14.8% vs. 13.4% for the S&P 500. For 22Q1-22Q4, FAANMG is expected to significantly outperform the broader index.
Looking at FY2022 revenue growth, FAANMG is expected to grow revenues 13.5% vs. 7.2% for the S&P 500 Index.
Exhibit 5: Revenue Growth for FAANMG and S&P 500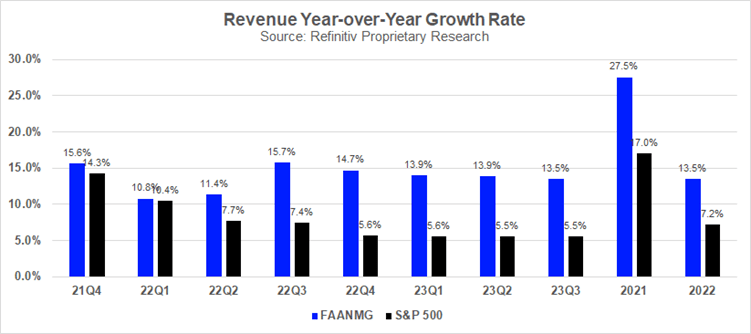 With such high expectations for top-line growth, any misses could result in a large whipsaw reaction during times of heightened market volatility
Editor's Note: The summary bullets for this article were chosen by Seeking Alpha editors.