5 Things to Know Today, Dec. 14, In Montgomery County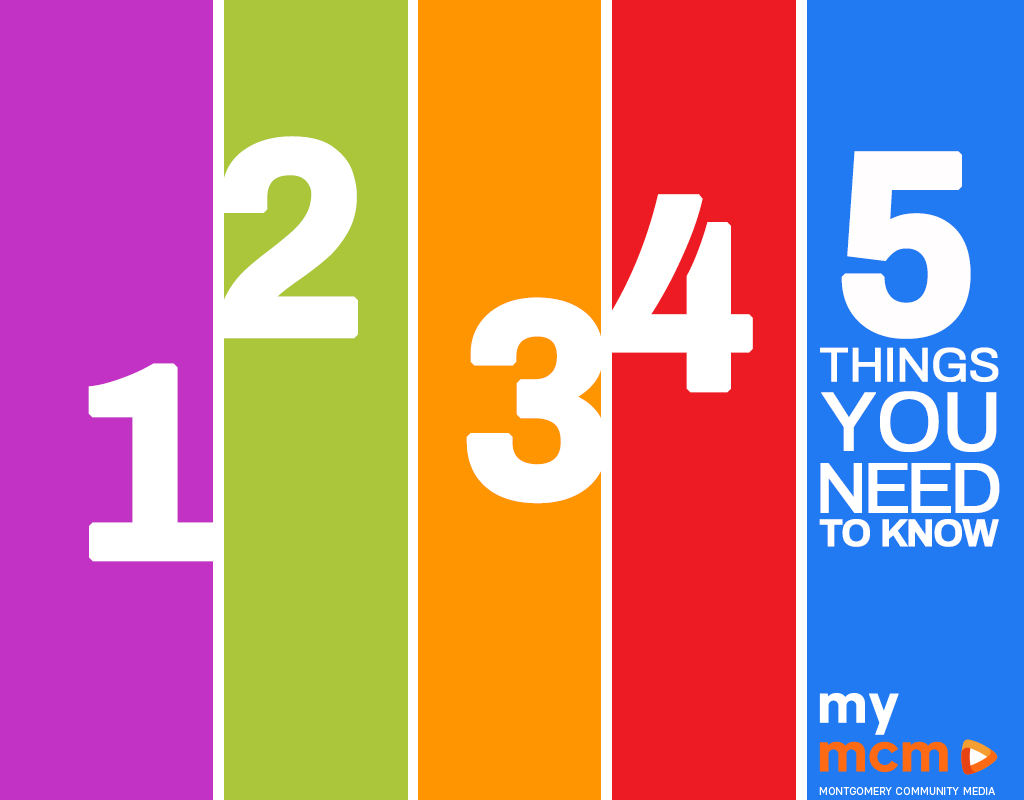 It's Tuesday, Dec. 14 and here are five things to know in Montgomery County.
1. Council Meeting: The Montgomery County Council meets virtually today starting at 9 a.m. See the agenda here and watch live on YouTube.
The council is also hosting the Thrive Montgomery 2050 Listening Session at 7:30 p.m.
Next Montgomery County Council Thrive Montgomery 2050 Listening Session Rescheduled for Tuesday, Dec. 14 at 7:30 p.m. to Prevent Scheduling Conflict with Montgomery County State Delegation Bill Hearings.
📰Read more: https://t.co/SCwWobUBVb pic.twitter.com/I95kbViN0M

— Montgomery Council (@MoCoCouncilMD) December 8, 2021
2. MCPL: Montgomery County Public Library is hosting a free event on LinkedIn Boot Camp.
💻 @MCPL_Libraries workshops for job seekers and entrepreneurs this week:

Dec. 14 and 16: LinkedIn Boot Camp (Part I / Part II)
Dec. 15: Introduction to Entrepreneurship
Dec. 15: How to Apply for Jobs with Montgomery County Government

Learn more ➡️ https://t.co/IwMaP2gDJB. pic.twitter.com/7fWA9Jrlu1

— Montgomery County MD (@MontgomeryCoMD) December 12, 2021
This two-session/two-day workshop focuses on both the mechanics and strategy of using LinkedIn as a tool to conduct a successful job search. Register here: https://mcpl.libnet.info/event/5648279
3. Board of Education: Scott Joftus was named the newest member of the Montgomery County Public Schools Board of Education. He will fill the District 3 seat left vacant when long-serving member Patricia O'Neill died in September and he will be sworn in today at Carver Educational Services Center in Rockville.
Joftus Unanimously Chosen as new Board of Education Member
4. Food Distributions: Hughes UMC Mid County Hub Food Distributions from 12:30 p.m. to 2:00 p.m. at 10700 Georgia Avenue, Silver Spring MD 20902. For more information click here.  Also, UpCounty Hub Drive-thru Distribution from 2:00 p.m. to 3:00 p.m. at Germantown Elementary School 19110 Liberty Mill Rd. Germantown, MD 20874.
5. Bhagvad Gita: Montgomery County Celebrates birthday of Bhagvad Gita, the sacred text of the Hindus. In recognition of Montgomery County's religious, ethnic and cultural diversity and in respect for the diversity of its own workforce, on March 28, 2006, the County Council passed legislation ( Bill No. 1-06: Special Days of Commemoration ) to designate certain days of commemoration relating to the religious, ethnic and cultural heritage of County residents. On July 7, 2006, the County Executive signed the legislation into law
And as a reminder to our loyal readers…Find the latest coronavirus news updates in Montgomery County here.
For the latest news and events in Montgomery County, stay with MyMCMedia. We hope you will also follow MyMCMedia on Facebook, Twitter and Instagram.