3 Best Cybersecurity Stocks (NASDAQ:NLOK)
Cyberattacks Raise Concerns
Cyber stocks have been gaining momentum as concerns about a severe ramp-up of digital attacks in the wake of the Russia-Ukraine battle escalate. The buildup of Russia's invasion of Ukraine has the world on edge, with cybersecurity defense in action and fears of cyberwarfare mounting. While there is no clear solution on how to thwart hackers, one thing is sure: governments, corporations, and individuals are equipping themselves with cybersecurity solutions and software, which is why we have selected three cybersecurity stocks to watch. Although we don't typically recommend stocks that are not strong buys, this particular industry is in high demand, and thus, it's timely to put forth some recommendations.
The State of Cybersecurity Companies & Stocks
Cybersecurity has grown in popularity, as the race to digitization and technological advancements requires protecting vital information, networks, and programs from digital attacks. Cyber attacks typically aim to access or destroy sensitive information and extort money from users. Because today's hackers are becoming increasingly sophisticated, the implementation of cybersecurity is becoming more challenging.
Cyberdefense protects and secures organizations that keep our communities functioning. It's crucial to fortify vital information in financial institutions, hospitals, government agencies, work, etc. We rely on the critical infrastructure of these organizations to protect our identities from identity theft and losses. Companies like NortonLifeLock (NLOK), Palo Alto Networks (PANW), and Rapid7, Inc. (RPD) are necessary tools for protecting our future, as they detect suspicious activity and respond aggressively in the face of attacks.
Conflict in Ukraine amplifies the need for cybersecurity. Cyber activists and volunteers have joined forces after Russian hackers destroyed the Ukraine Ministry's Internal Affairs network; Putin's attack on Ukraine has been met with fierce resistance by Ukraine's 'IT Army.' "We have a lot of talented Ukrainians in the digital sphere: developers, cyber specialists, designers, copywriters, marketers…we continue to fight on the cyber front," said Mykhailo Fedorov, Vice Prime Minister and Minister of Digital Transformation. The hacks and technological disruptions have become so extreme that they garnered Big Tech's attention. Google (GOOG) and a wave of tech companies recently announced the blocking of YouTube, Russia's RT, and Sputnik accounts in restricting Russian state media from using and spreading misinformation. In addition, Elon Musk came to the rescue after receiving the following tweet from Mykhailo Fedorov, "While you try to colonize Mars – Russia try to occupy Ukraine! While your rockets successfully land from space – Russian rockets attack Ukrainian civil people! We ask you to provide Ukraine with Starlink stations and to address sane Russians to stand."
Starlink is Elon Musk's high-speed broadband satellite-internet service that uses many constellation satellites in low Earth orbit to provide coverage everywhere, focusing on remote and underserved areas. As Russia hacked and adversely affected Ukraine's tech abilities, within less than 48 hours, Musk launched thousands of satellites into orbit, restoring outages throughout Ukraine, drawing additional attention to the importance and need for cybersecurity measures. As businesses and nations continue to express the need for defense against cyberattacks, we would like to dive into our three cybersecurity stock picks.
3 Best Cybersecurity Stocks
1. NortonLifeLock Inc. (NLOK)
NortonLifeLock Inc. (NLOK) is a cyber safety solutions company, ranked #1 out of #45 in its industry according to Seeking Alpha's Quant Rankings. The company protects computers and mobile devices worldwide against malware, viruses, and online threats. It possesses excellent long-term growth prospects given its evolving security capabilities and the recent acquisition of Avast (OTCPK: AVASF), an antivirus company.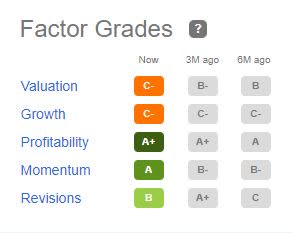 Norton's acquisition allows the two software companies to increase their user base significantly, collectively focusing on stronger identity protection and privacy. Their combined strength will help make them stronger in cybersecurity. The company continues to have a strong balance sheet and recent earnings in line with projections. EPS of $0.44 were in line, and revenue of $702M beat by 9.86% YoY, resulting in two FY1 Up Revisions in the last 90 days.
NortonLifeLock Growth
We consider NLOK one of the best cybersecurity companies despite having only a buy recommendation and C- growth grade. It is a long-established brand that should increase sales given its Avast acquisition. "Sales should get a boost from the acquisition of Avast, with the combined entity expected to have over 500 million users worldwide and approximately $3.5 billion in sales. From $2.62 billion annually to $3.5 billion, this means a 34% growth for Norton, which is enormous," writes Chetan Woodun. Norton has also experienced strong momentum over the last year, as evidenced in the below momentum grades.
Year-to-date, NLOK shares have seen an increase of 11.55%, +48.54% over one year, and +75% over five years. In addition, Norton's share price continues on an upward trajectory. Despite its C- valuation grade, the stock still comes at a 15% discount compared to the sector with a forward P/E ratio of 16.68x. NLOK's PEG ratio is solid at 0.37x, 15% below the sector, indicating good expected growth, and as we look at the company's sales number and profits, it's no surprise that they have turned up excellent grades.
Norton Profitability
Product innovation and customer growth have allowed NLOK to maintain excellent profitability. After solid Q3 financial results, the company paid a quarterly dividend of $0.125 and is one of the few cybersecurity stocks with dividends. Its forward dividend yield is 1.73%, and based upon its B- dividend safety grade, Norton's ability to continue to pay a dividend looks promising, among other metrics.
Looking at its profits and recent Q3 earrings results, Norton continues to deliver high operating leverage while improving cybersecurity offerings. "Q3 gross margin sustained at 87%, and operating margin was 52.8%, up 180 basis points year-over-year. We remain diligent in our cost structure in pursuit of efficiency opportunities and to create capacity for reinvestment to drive growth," said Natalie Derse, NortonLifeLock CFO.
2. Rapid7, Inc. (RPD)
Rapid7, Inc. (RPD) is a cybersecurity solutions company focused on cloud-native solutions focused on software developments that utilize the cloud to develop and run scalable applications for cybersecurity risk management. Tech stocks have done well over the past few years. Despite market volatility, technology like cloud computing should experience tailwinds. The focus on digital transformation is seeing a secular shift to cloud computing and software as a service (SAAS), benefiting cybersecurity, as depicted below.
Cloud Computing Growth Trend
Rapid7 has an average valuation. With C- Valuation factor grade trading at $104/share, we believe RPD still comes at a relative discount, given it's trading closer to its 52-week low of $72 versus a 52-week high of $145. Given the current landscape and need for cybersecurity increasing, we believe the stock will continue on its one-year price increase +35% and a 5-year price increase of +582% and maintain an upward trajectory.
RPD Momentum and Growth
Growth investors should find this stock appealing given RPD's pullback and relative discount compared to its software peers. The solid momentum grades below evidenced its improving financial performance and strength coming into the new year. In addition to momentum strength, RPD has excellent growth grades and a customer base that continues to grow.
Companies in the cybersecurity space are benefiting from hacks and the ongoing need for security in an evolving tech era. The "average revenue per customer has been growing at a very consistent pace over the period, with 18% new customer growth over Q3 2020. Growth per customer has been consistent, with 20% per year since 2018 being the norm. RPD has 9,909 customers, up 17% over the prior year, with 39% of the Fortune 100 as customers," writes Seeking Alpha author Off His Game. Recent Q4 results were also solid, with an EPS of -0.16 beating by $0.01 and revenue of $151.64M beating by 34% YoY.
"Security transformation saw year-over-year organic ARR growth of over 50% exceeded our expectations for the quarter and the year, driven by our team's strong execution and a growing need for customers to manage increasingly complex security environments. We ended the year with $599 million of ARR, growth of 38% over the prior year, and growth of over 30% on an organic basis," said Corey Thomas, Rapid7 CEO, during the Q4 Earnings Call. As we see the numbers and realize the growth potential and need in the cybersecurity sector, we have one more stock recommendation.
3. Palo Alto Networks, Inc. (PANW)
Despite recently dropping from a buy to a hold rating, we believe that PANW is another cybersecurity stock to consider. Met with robust Q2 results and revenue growth that surpassed earnings expectations, Palo Alto Networks provides cybersecurity solutions worldwide. PANW offers firewall appliances and software and subscription services to cover the threats to computers and mobile devices. Despite its D- Valuation grade, cybersecurity is in demand, and PANW is a leading cybersecurity player with stellar momentum grades and exhibits strong metrics for both profitability and growth.
PANW Growth
Following excellent Q2 2022 Earnings results, PANW was met with 31 FY1 Up revisions and an A- revisions grade. EPS of $1.74 beat by $0.09, and revenue of $1.31B beat by $35.21M. "Driving these results are the transformation of our firewall business and our focus on capturing the growth in next-generation security…We were pleased with our ability to grow our product revenues at 21%. This contributed to our Q2 revenue upside and was the head of our guided mid-teens growth for the full year, which we will be raising," said Nikesh Arora, PANW Chairman, and CEO.
Palo Alto Networks EPS
Palo Alto has a B+ Profitability grade. While the underlying metrics are not that appealing, coupled with its growth and organizations' need for cybersecurity, network and cloud security, and automation, PANW is a leader in its industry and at the forefront of consolidating these needs.
By creating a way to consolidate network security into fewer devices and reduce overhead, PANW has also capitalized financially. PANW has managed to increase its security client base by 48% YoY and 47% of its Forbes Global 2000 customers, indicating that we should see robust margin expansion as customers continue to spend on their cybersecurity needs. We plan to continue to watch PANW's price performance impress.
Consider adding cybersecurity stocks to your portfolio. PANW has stellar momentum, showcasing the strength of its price over the last year. Its A+ rating and price-performance indicate excellent positioning in the sector and exposure to vital secular trends, which is why we believe it is a great stock pick.
Conclusion
For investors that want to consider the best stocks to alleviate some of the fears dominating the markets, this article focuses on high-growth cybersecurity stocks for the current environment. Be on alert and look for investments that can thrive in difficult times. Cybersecurity has long-term tailwinds, and our Factor Grades and Quant Ratings can help you make vital tactical investment decisions. Finding knowledgeable investment resources is a great way to be a successful investor in volatile markets.
On a personal note, Seeking Alpha has multiple staff in Ukraine, and our thoughts and heartfelt prayers are with them and their families during these trying times. Seeking Alpha supports those families and our many employees of Ukraine. In the words of Karen Weissberg, VP Global HR at Seeking Alpha, "For better or worse, we've learned to deal with dramatic world events in the past two years, and it all comes down to priority and focus as the key elements in succeeding in turbulent times… We stand with Ukraine and are hoping for the best. We've been planning for the worst since December, making sure critical projects are scoped and have coverage by developers that are not in Ukraine – and now we will execute accordingly."